Longtime Philly rapper Gillie Da Kid has become entangled in a heated Twitter feud with fellow rapper Soulja Boy, which erupted Monday night and has spiraled out of control.
Soulja Boy, 24, a Chicago native, had trouble letting the war of words go and at one point, tweet-threatened "Umma shoot that n----- right in his bald head. ... I'll be in Philly ASAP." This is apparently not their first beef. Here's a look at today's lowlights, blow-by-blow: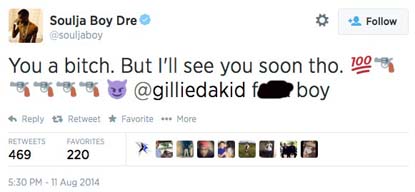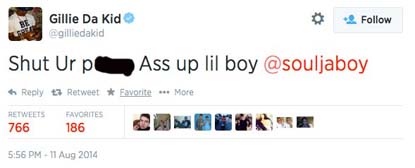 It is unclear how or why the feud started but it appears to be about Soulja Boy's opinion of older rappers (Gillie has been wrapping since the 1990s) and how he just wants them to retire.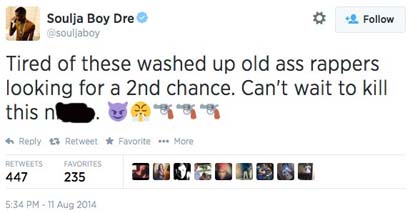 Things quickly escalate when Soulja Boy tweets about coming to Philly.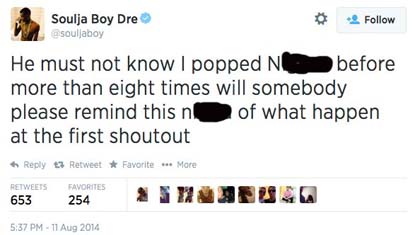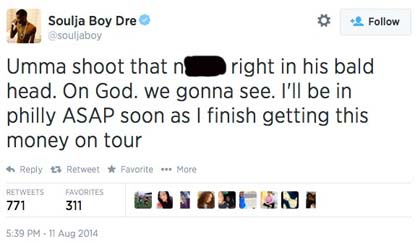 Gillie Da Kid then makes an accusation that Souja Boy used drugs.
U snorted a whole 8ball boy @souljaboy

— Gillie Da Kid (@gilliedakid) August 11, 2014
But Soulja Boy quickly responded to clear up that rumor.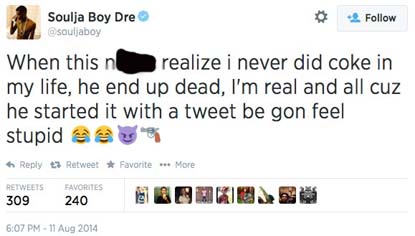 Soulja Boy's most recent Tweet directed at Gillie Da Kid includes a picture of himself and his net worth.
�� @gilliedakid I'm gonna tweet this to you once a day till ur dead. ✌️ pic.twitter.com/1adbCiETgB

— Soulja Boy Dre (@souljaboy) August 11, 2014
And here's Gillie Da Kid's latest tweet:
When I catch @souljaboy pic.twitter.com/yiHtWkrWL2

— Gillie Da Kid (@gilliedakid) August 11, 2014