NBC 10's Tracy Davidson, husband separate

News blogs, sports blogs, entertainment blogs, and more from Philly.com, The Philadelphia Inquirer and the Philadelphia Daily News.
NBC 10's Tracy Davidson, husband separate
Dan Gross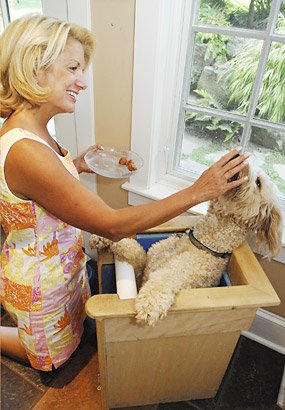 NBC 10 anchor/reporter Tracy Davidson and her husband, David Tinsch, a videographer/producer, have separated, sources tell us, and the couple have placed their Ardmore home on the market for $1.1 million. "My husband and I have been together for more than 20 years," Davidson told us Monday. "We have always kept our lives private and will continue to do so," she wrote in an e-mail. Tinsch did not return a request for comment.
The couple's dog, Charlie, a goldendoodle, was recently featured in the Daily News and with Davidson in a video on Philly.com. He has mega-esophagus, which makes it difficult to digest food unless he eats sitting up. The couple built a wooden box in which Charlie sits while eating. In an essay that Davidson wrote for our "Hurtin' Pup" contest, she told us that she cooks about 300 meatballs per week for the pooch.