The E! Network took over Sunday evening's red carpet runway as personalities, like Ryan Seacrest and Giuliana Rancic, caught up with the most honored celebs at the 2014 Golden Globe Awards.
During an online stream of E!'s red carpet coverage, "Fun Facts" were displayed in the corner of the screen about each celebrity being interviewed. When Michal J. Fox came up to the mic, the online graphic read: "Michael J. Fox was diagnosed with Parkinson's disease in 1991."

Fox wasn't the only celeb to get the very inappropriate 'fun fact' treatment. During Robert Redford's interview, the graphic read: "Robert Redford was stricken with polio as a child."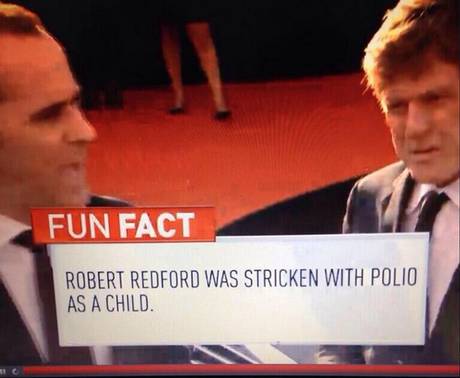 The major entertainment network isn't taking lightly to the situation and has issued a statement addressing the incident:
"We regret the insensitive classification of Michael J Fox's Parkinson's diagnosis during our E online live stream," the network said. "We understand the serious nature of the disease and sincerely apologize."
The Robert Redford fact seemed to go under the radar and E! has yet to mention their knowledge of it.