Brooke Hogan, the 25-year-old daughter of wrestler Hulk Hogan is engaged to a Dallas Cowboy.
The reality star-turned-recording artist posted a series of blurry photos to her Instagram account over the weekend of her boyfriend Phil Costa popping the big question during a trip to Vegas. In one, Costa is seen down on his knee while Hogan looks at him, stunned. "Happiest moment of my LIFE," she shared in the caption accompanying the photo. "I am marrying my best friend. I wouldn't choose anyone else. I am so lucky and so grateful." Sin City's mock Eiffel Tower lights up the background.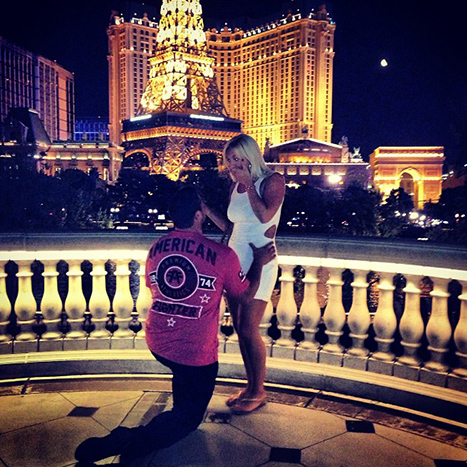 While the rest of the Hogan family has publicly responded to the couple's engagement with congratulatory tweets, the Hulk has remained silent, with the exception of a cryptic tweet posted Sunday: "Where's the truck that ran over me twice? Hogan and Vegas doesn't work brother HH," he wrote.
Costa, a New Jersey native, played football at Holy Cross High School in Delran. He went on to play college football for Maryland and is now entering his fourth year in the NFL.