Archive: February, 2013
Molly Eichel, Daily News Staff Writer
Comedian and writer for last night's Oscars telecast Jesse Joyce has a tradition of tweeting out jokes that programs he writes for don't use, including one about the Philly Sanitation Deparment:
I'm surprised that the Philadelphia Department of Sanitation didn't get a best costume nod for Bradley Cooper's sweaty garbage bag #Oscars

— Jesse Joyce (@jessejoyce) February 25, 2013
Technically, it would be either DelCo's santitation department or the Philly Streets department but who's counting, right?
Molly Eichel, Daily News Staff Writer
The Philly DoGooder Awards, held tonight at the University of the Arts to fete the best in non-profit video storytelling, announced that they would be doling out awards to Philly.com's own Leah Kauffman for Innovation in Storytelling and City Representative Desiree Peterkin-Bell for Innovation in Urban Mechanics. But the third award, for Innovation in Community Building, went unannounced.
Drumroll, please...
The award goes to HughE Dillon, the proprietor of PhillyChitChat.com and society photographer for Philly.com and the Philly Post, was handed the award by Mayor Michael Nutter, who said that Dillon created a new platform for sharing stories behind the community, through the lens of his camera and the words on his blog.
Molly Eichel, Daily News Staff Writer
Congratulations to South Philly girl Amber Rose and fiance Wiz Khalifa!
Rose gave birth to a son today, while proud dad Wiz tweeted out the announcement, revealing the babe's name as Sebastian "The Bash" Taylor Thomaz (although I figure the 'Bash' and Thomaz are not birth certificate accurate).
Rose, who used to work as an exotic dancer at Delilah's Den under the name Paris, previously dated Kanye West. West is expecting a baby of his own with Kim Kardashian, who was rumored to be the source of the Rose-West split.
Molly Eichel, Daily News Staff Writer
First it was Burger King, now Jeep.
Whoever is hacking corporate Twitter accounts and posting all levels of craziness on them really enjoys Philadelphia's hip-hop scene, sending shout-outs to Meek Mill and Jhalil Beats for the second time in as many days (the other guys are part of Mill's crew).
While I'm sure the people at Jeep aren't happy to be hacked, it's nice to see Philly hip hop getting this kind of national exposure.
Molly Eichel, Daily News Staff Writer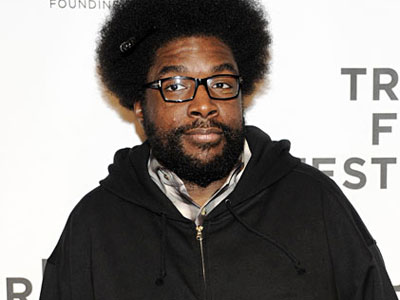 South Street's Fluid Nightclub is closing. The Roots' Questlove tweeted his displeasure at the nightclub's closing earlier today. Fluid has been around for 16 years, a millenia nightclub years.
"Part of the bigger dynamic is how drastic South Street has changed," said manager Oronde Gibson, who has worked at Fluid for 14 years. "It's gone from a mom and pop artsy-type thing to a corporate type-thing."
Gibson has seen South Street and Fluid's complete evolutiion, reminiscing about a time when the Roots (then known as the Square Roots) played outside on the sidewalk. Now, he said, no one wants to deal with South Street parking issues, so most kids just stay up in Fishtown or Northern Liberties.
Molly Eichel, Daily News Staff Writer

The Burger King Twitter account was hacked for about an hour; it's profile picture was changed to McDonald's insignia, followed by tweets about BK employees using heroin and various other shenanignans. The account was just suspended by the good folks at Twitter.
But before it was taken down, Twitter users learned whoever hacked the feed is a big hip-hop fan, specifically of Philly rapper Meek Mill and Chester producer Jhalil Beats.
Started from the bottom now we here! Shoutout to @meekmill @pmon215 where that DC3 AT?!?!?! @jahlilbeats

— McDonalds (@BurgerKing) February 18, 2013
Molly Eichel, Daily News Staff Writer
Call it the intonation that set off a million memes.
Artist Jayson Musson, a UArts and Penn grad who spent a large chunk of his career in Philly before recently moving to Brooklyn, is sampled prominently in viral hit "Harlem Shake." How prominently? He's the guy who actually says Harlem Shake.
"Harlem Shake," from NYC-based producer Baauer, is viral hit, reaching number one on iTunes. YouTube reported that 4,000 "Harlem Shake" videos are uploaded daily. The videos, generally about 30 seconds in length, feature people dancing awkwardly to the Baauer song and than launching into the Harlem Shake when Musson's voice comes in, bellowing the name of the song.
Molly Eichel, Daily News Staff Writer
Philly's own diminutive comedy superstar Kevin Hart won his second consecutive MVP in the NBA All-Star Celebrity game this weekend.
Hart, who is about 5'2" by most accounts, took home the title despite scoring only five points. (Hart also won MVP last year, putting eight points on the board.) But that didn't stop Hart, and his West Coast team, from trouncing the East, even taking down fastest man alive Usain Bolt.
Hold up.