Archive: February, 2012
Tirdad Derakhshani, Inquirer Sideshow Columnist
Tabloid site RadarOnline says astrophysicist Stephen Hawking frequents a California sex club, a venue where sexual things reportedly take place.
Radar cites anonymous sources who say the 70-year-old Hawking who runs the Institute for Theoretical Cosmology at Cambridge University and is considered to be the globe's smartest dude, has been a member of Freedom Acres swingers club in Devore, Calif., for 50 years.
"I have seen Stephen Hawking at the club more than a handful of times," an unnamed club member tells Radar. "He arrives with an entourage of nurses and assistants."
Tirdad Derakhshani, Inquirer Sideshow Columnist
Update! He has a name!
Ben Affleck just confirmed that his newborn boy has been named.
"We are happy to announce on February 27, Jennifer gave birth to a healthy baby boy, Samuel Garner Affleck," he says on his Facebook page.
Tirdad Derakhshani, Inquirer Sideshow Columnist
Philly-born musician and producer Kenny Gamble, will be one of three citizens honored next month by the National Public Housing Museum for his contribution to the "well-being of inner city residents and communities," the Chicago-based museum has announced.
Gamble, 68, began his career in the early '60s assisting the morning drive time DJs on WDAS (1480-AM) and went on to pioneer the Philadelphia Soul Sound in collaboration with Camden native Leon Huff.
The duo were inducted into the Rock & Roll Hall of Fame in 2008.
Dan Gross
Guns N' Roses frontman Axl Rose tried to explain from the stage of the Electric Factory Monday why the band failed to perform at a Dec. 2002 show at what is now the Wells Fargo Center.
When the band never came out a melee ensued with fans throwing chairs and wreaking havoc in the arena. Rose told the Electric Factory crowd about an hour into the band's set that he had canceled the 2002 show that morning because he was sick.
"My manager told me he canceled it and then didn't," Rose said before explaining how Clear Channel, the concert promoter now operating as LiveNation "Wanted us to f--- up, because they wanted to end the tour. 'Cause they had some s--- going on in Florida or something… I don't know… a whole bunch of bulls---. But I got really sick. It had nothing to do with fur coats and basketball games, you know."
Molly Eichel, Daily News Staff Writer
Today, we have a Q&A with Matthew Quick, the author of locally-set "The Silver Linings Playbook," which is being adapated into a film starring Bradley Cooper and Robert De Niro. Quick releases "Boy21," his third novel -- and his second geared at teenagers -- next week.
Quick also talked to us about what he's working on, including a return to adult fiction that he kept mum on because it wasn't finished yet. Quick's next book is "Forgive Me Leonard Peacock," another YA book. "It's about a kid who decides to kill his former best friend and then himself and the hope he finds in a very unlikely way," Quick said.
So, not light reading material?
Tirdad Derakhshani, Inquirer Sideshow Columnist
It's been confirmed! (Well, not really, but it's complicated ....)
Oscar-winning Black Swan star Natalie Portman, 30, has made an honest ballerino out of Benjamin Millepied, 34, in a secret marriage (conducted in a super-secret bunker deep in the bowels of North American Aerospace Defense Command NORAD below Cheyenne Mountain?).
Word of their marriage spread when intrepid shutterbugs noticed the couple sported wedding bands Sunday at the Academy Awards.
Molly Eichel, Daily News Staff Writer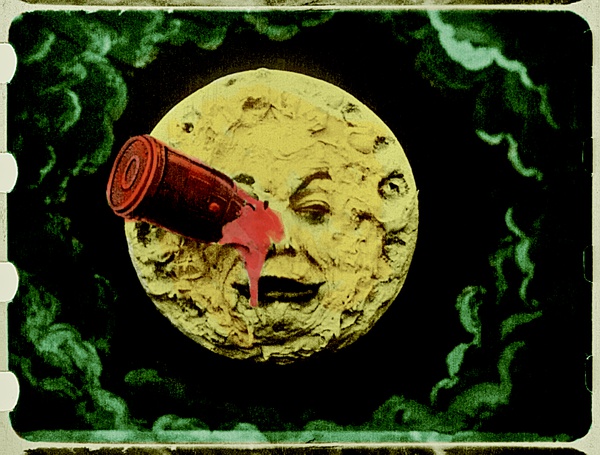 "The Artist" may have taken Oscar gold, but we preferred the other critically-lauded homage to early cinema: Martin Scorsese's "Hugo," which comes out on DVD and Blu-Ray today.
Georges Melies' sci-fi film "Le Dans la Lune"/"The Voyage to the Moon" is at the heart of "Hugo." Despite being released a century ago, it's still quite amazing to watch.
Dan Gross
Syndicated sports talk show "The Nick and Artie Show," featuring Howard Stern sidekick Artie Lange and comedian Nick DiPaolo comes to SportsRadio 610WIP weekdays from 10 p.m. to 1 a.m. starting Wednesday night.
The show will be heard on 610WIP, but not its FM signal at 94WIP. It may also be streamed online at NickandArtie.com.
Lange attemped suicide in Jan. 2010 and never returned to the Stern show where he had spent nine years. He was off radio until last summer when he and DiPaolo filled in for Tony Bruno on his Fox Sports Radio show. The Nick and Artie show launched in October and in December the show was picked up by Sirius XM Satellite Radio's Extreme Talk channel, the first time Lange was heard on Sirius since leaving Stern.