Archive: January, 2013
Molly Eichel, Daily News Staff Writer
Bensalem-born pop star Christina Perri and Philly-based indie band Good Old War are in the middle of lawsuit between Bill Silva Management and two former employees.
Silva sued Thomas Gates and Ryan Chisholm in Superior Court alleging the erstwhile employees for intentional interference with contract and unfair competition. The suit seeks $50,000 in damages.
Perri is best known for her songs "Jar of Hearts" and "A Thousand Years," the latter of which was on the "The Twilight Saga: Breaking Dawn" soundtrack. Good Old War, who have a nice folk-bent, released their third album "Come Back as Rain" in March.
Dan Gross
LeSean "Shady" McCoy lived up to his nickname Saturday night when he embarked on a Twitter battle with his baby mama, calling her names and insisting his followers also harass her on the social media site.
Jenice Armstrong
Don't believe everything you read online. I was reminded of that after I did a quick Google search before getting on the phone with Eve, the Grammy-award winning rapper, and then congratulated her on being pregnant. She's not.
"It's been circulating a lot. A lot. I don't know where it came from," Eve said of the pregnancy rumors. "I've been saying my due date is the album, May 14th, just turning it into that. But no, I'm not pregnant."
What about the boyfriend, I asked. According to reports I'd read, she's dating a hunky British entrepreneur named Maximillion Cooper and also getting heat from some fans upset with her being in an interracial relationship.
Esther Lee, Philly.com
Nearly ten years after being unceremoniously dumped by banker beau Aaron Buerge, South Jersey beauty Helene Eksterowicz has finally found true love – with a one-of-a-kind, 2-carat rock to prove it.
The second season winner of ABC's hit reality TV series The Bachelor took to her Facebook Saturday to announce her engagement to boyfriend Andrew Goodman. She shared an image of her ring with People StyleWatch Wednesday afternoon, adding, "It's exactly what I've always wanted."
So what exactly did Goodman, a senior technology consultant for IBM, concoct for his lucky lady?
Dan Gross
Philly hip-hop heroes The Roots will perform their own set and also back Naughty By Nature at the group's annual Roots Picnic, taking place June 1 at Festival Pier.
Last year's event was two-days long, but the Roots Picnic is now one day solidly-packed with an eclectic lineup.
Molly Eichel, Daily News Staff Writer
North Philly-born and raised rapper Meek Mill is suing Philadelphia and its police Officers Andre Boyer and Michael Vargas in Federal Court for falsely imprisoning the Maybach Music Group member for nine hours and posting pictures of him while he was in custody to Instragram.
The complaint states that officers Boyers and Vargas stopped Mill at 11th and Girard while he was driving his Range Rover on October 31st of last year.
The complaint continues:
"Following the vehicle stop, police officers Boyer and Vargas handcuffed plaintiff at the scene, transported him in custody to the 22nd Police District, took photographs of plaintiff which the officers posted and published, or caused to be posted and published, on Instagram and other social media websites, depicting plaintiff in police custody, held plaintiff in custody against his will in a jail cell for approximately nine (9) hours, after which time plaintiff was released on November 1, 2012, at 4:30 a.m., without being charged with any criminal activity and having caused plaintiff to miss a scheduled promotional appearance in Atlanta, Georgia."
Jonathan Takiff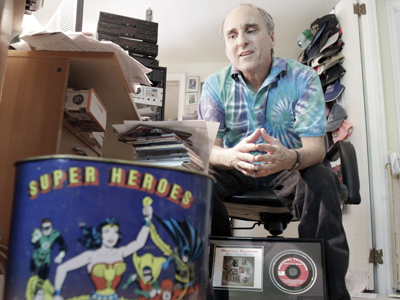 There's a time honored, but not so honorable tradition in broadcasting. On-air talent hardly ever gets to say "so-long" to listeners or viewers when they're being canned. Today, the ax fell on WMGK's Michael Tearson. But will you hear the tree fall?
One of Philly's true pioneers of progressive rock radio, Tearson broke into the biz with his late 1960s years at a then student-run, all-volunteer WXPN, then moved to WDAS-FM, for many moons to WMMR and later back, briefly to a now professionally steered XPN. Tearson has been holding down the fort at WMGK since April 2002 with a two hour (6 to 8 a.m.) "Saturday Morning 60s" heritage music show that he put together with amazing first hand knowledge and a great record library from his South Jersey home studio.
But this morning, MGK program director Charlie Lake told Tearson the party is over after this Saturday's show. And since that episode (and several more) are already in the can, M.T. won't get to say his farewells. A pity. This isn't just "another one bites the dust," it's one of the classic rock outlet's true "keeper of the keys" getting locked out, no longer to share his small insights and big picture perspective, or what veteran reporters like to call our "institutional knowledge."
Molly Eichel, Daily News Staff Writer
"As a kid I used to tell jokes on the steps. Look at my stage now."
North Philly-born comedian Kevin Hart released the first trailer for his stand-up movie "Let Me Explain" recently. His movie, filmed on his most recent tour, hits theaters July 3.
Hart's previous stand-up outting, "Laugh at My Pain," made $7.7 million in 2011, a feat for a self-produced stand-up movie.