Archive: January, 2012
Molly Eichel, Daily News Staff Writer
Seems that presidential candidates are getting their grooves on this election cycle.
Video was released of Mitt Romney warbling "America the Beautiful" during a campain stop last night:
Molly Eichel, Daily News Staff Writer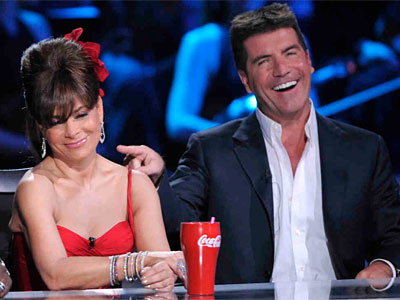 Paula and Simon in happier times
Looks like Simon Cowell is cleaning house. News broke eariler that host Steve Jones and judge Nicole Scherzinger will not return to the second season of the Cowell-controlled "The X Factor," the okay-rated singing competition. Now it looks like Paula Abdul can be added to the list of those who will be lining up for an unemployment check.
TMZ says Abdul received her notice from a lawyer, and hasn't heard from Cowell yet. Cowell personally recruited the kooky former pop star in a bid to recreate their former "American Idol" magic. Cold, Simon.
Dan Gross
Sportscaster Lou Tilley introduced District Attorney Seth Williams to speak Friday at a Ritz-Carlton event kicking off the Philadelphia Soul/Greater Media Radio's Stand Up campaign against child sexual abuse.
As the event ended, Tilley went over to shake Williams' hand and compliment the speech, only it wasn't Williams, but a member of his security detail, whom Tilley had mistaken for the district attorney.
Tirdad Derakhshani, Inquirer Sideshow Columnist
Comic and red carpet gadfly Joan Rivers and her daughter and partner in crime, University of Pennsylvania alum Melissa Rivers, will make a guest appearance on Fox29's Good Day Philadelphia tomorrow (Tuesday, Jan. 31) morning at 9:30 a.m.
The Riverses will chat about tomorrow night's episode of Joan & Melissa: Joan Knows Best? (The show airs 9 p.m. Tuesdays on We tv.
Here's the episode description from We tv:
Dan Gross
Sixers center Tony Battie wasn't hard to miss Thursday night while sipping Michelob Ultras during porn actress Richelle Ryan's dance set at Tattletales (6900 New Falls Road) in Levittown.
Chase Utley, who's been spending the offseason with his wife Jennifer and their baby boy Benjamin in California, was seen with a few friends heading into L'Etage (6th & Bainbridge) about 11 Saturday night.
Dikembe Mutombo stopped by the Union League after a National Constitution Center board meeting Thursday night. The retired NBA star and former Sixer is an NCC board member. At the Union League, Mutombo drank cranberry juice and talked politics and fundraising with Dana Spain, Philadelphia Animal Welfare Society President. PAWS is raising money for its second local animal adoption center and Mutombo has been very successful raising money for his charity efforts in his native Congo. Click here for more info on PAWS, or Mutombo's foundation.
Dan Gross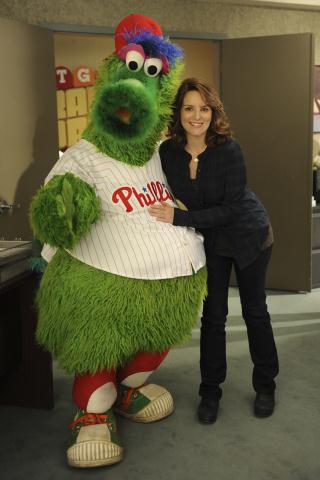 Tom Burgoyne, the Phillie Phanatic's best friend, says the Phanatic didn't know his "30 Rock" episode was airing Thursday until "The Phanatic got a text from Swoop." Apparently, the Phanatic and the Eagles mascot are buds.
Burgoyne said he and the Phanatic spent about 5 hours in October shooting the scene in which Alec Baldwin's character Jack Donaghy gets the Phanatic, TastyKake, soft pretzels and other Philly staples to impress visiting Kabletown (Comcast) executives.
Burgoyne says Upper Darby native Tina Fey was happy to meet the Phanatic and told him she was glad the show was able to land him since the script had to be approved by Major League Baseball. "I told her the Phanatic would love to be on every week," he said.

Dan Gross
Partial Sixers owner Will Smith will attend his first game Friday and sit courtside as the team takes on the Bobcats on Jrue Holiday bobblehead night. The Overbrook native superstar is in the area shooting "After Earth" with director M. Night Shyamalan. The futuristic thriller also stars Smith's son Jaden. The team's been waiting for the chance to present Will Smith his custom No. 76 jersey that the team made for the new ownership group when it was announced in October.

Tirdad Derakhshani, Inquirer Sideshow Columnist
Newly-emancipated bachelor, lady's man and hot tub jockey Ashton Kutcher, was reportedly tripping the light fantastic miles away in Sao Paulo, Brazil, even as his estranged wife, Demi Moore, was being rushed to the hospital with a range of alleged maladies identified variously as exhaustion, epilepsy, anorexia and drug-and-alcohol addiction.
The Two and a Half Men heartthrob caught a Bruno Mars concert, then let it loose on the dance floor with a bevy of superbly hot – professionally-hot – supermodular babes, including Victoria's Secret model Alessandra Ambrosio.
Celebuzz.com says, "finally as he wrapped up a night of partying, the 33-year-old actor was spotted outside with petite brunette, but it doesn't appear that the two left together."