Molly Eichel, Daily News Staff Writer
Must watch: "Good Day Philadelphia's" Mike Jerrick stepped in for a sick Karen Hepp to perform Jennifer Beal's iconic dance from classic '80s jam "Flashdance." Co-host Sheinelle Jones tweeted the end of the show was must-watch so I tuned in. And she was right.
It was all in preparation for "Flashdance: The Musical" playing at the Academy of Music through Nov. 24.
Here's Jennifer:
Philadelphia News, Weather and Sports from WTXF FOX 29
Gabrielle Bonghi, Philly.com
A couple pairing straight out of a teen girl's fantasy has become more than just a fling. Gossip Girl actress Leighton Meester and Adam Brody, best known for his role as Seth Cohen on The O.C., are engaged reports Us Magazine.
The couple began dating earlier this year but before that they worked on 2011 film, The Oranges, and reunited in 2013. Both Meester, 27, and Brody, 33, starred in successful TV shows created by screenwriter and producer Josh Schwartz.
Molly Eichel, Daily News Staff Writer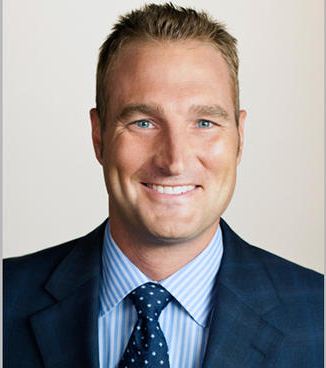 Big things are afoot at Comcast SportsNet and NBC10. It was announced today to staffers at both stations that starting in January, CSN would provide complete sports reports for NBC10's sportscasts.
What does that mean for on air personalities? I hear that sports reporter John Clark has been offered a position in the new world order. Vai Sikahema (who has been transitioning to anchor status as of late) will still cover the Olympics in Sochi for NBC10, but some of his coverage will also appear on CSN.
When I asked about whether jobs will be lost at either station, reps from both said that logisitics were still being figured out.
Gabrielle Bonghi, Philly.com
Teresa Giudice, 41, and her husband Giuseppe "Joe" Giudice, 43, were indicted Monday on additional charges of bank fraud and loan application fraud, announced Attorney Paul J. Fishman in an official press release.
The Real Housewives of New Jersey couple were originally indicted with 39 counts on July 29, 2013; that included conspiracy to commit mail and wire fraud, bank fraud, making false statements on loan applications and bankruptcy fraud, as well as charges against Joe Giudice for failure to file tax returns from 2004 through 2008.
On Monday, they were hit will two additional counts: one count of bank fraud and one count of loan application fraud. This amounts to a total of 41 counts against the pair.
Leah Kauffman, Philly.com
Rumors have been floating around that 34-year-old Voice coach and Maroon 5 front man, Adam Levine will be crowned People's 'Sexiest Man Alive' of 2013. Past sexy men include Channing Tatum in 2012, Bradley Cooper in 2011, and Ryan Reynolds in 2010.
Levine became engaged to Victoria's Secret model Prinsloo Behati last July.
Do you think Adam Levine is the sexiest man of 2013?
Molly Eichel, Daily News Staff Writer
How can you not love this photo of Kanye West and fiancee/mother of his child Kim Kardashian dining at the Wendy's on 15th and Chestnut last night?
Instagram user boogasuga snapped the above pic, featuring 'Ye chowing down, while Kim, who has made a big to-do of her recent post-baby weight loss checks her phone.
West brings his Yeezus tour to the Wells Fargo Center tonight. Tickets are still available.
Gabrielle Bonghi, Philly.com
"Pour it up, pour it up – that's how we ball out."
Rihanna and Drake made it rain dolla-dolla bills at a Houston strip club on Thursday. The pair met up after Drake performed in Dallas for his "Would You Like a Tour" show; Rihanna was also present at the concert along a friend and her manager. She was coincidentally in the same area for a rescheduled "Diamonds World Tour" date.
The story goes like this: Rihanna arrived solo to V Live Gentlemen's Club at 2 a.m. A half hour later Drake showed up and requested that the club security bring the female singer over to his section. Johnni Blaze was the dancer who entertainment the duo for over three hours, who told E! they were "really cool people" and "looked like a couple." Rihanna even gave the exotic dancer some advice on her singing career, telling her to "dream big." Drake kept to himself but spent much of his time throwing money at Blaze.
Molly Eichel, Daily News Staff Writer
So, on Tuesday's "LIVE with Kelly and Michael," host Michael Strahan talked about a 1999 game he played against the Doug Pederson-led Eagles in which he intercepted a pass and ran the ball in to the end zone for a touchdown. In spectacular fashion, Strahan celebrated wtih a Ricky Martin-style pose.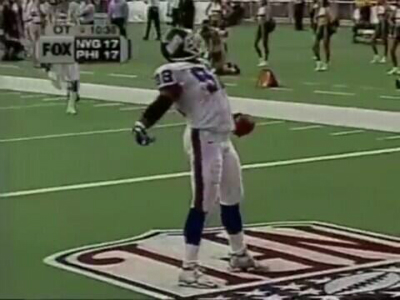 On today's show, producers tracked down a clip of the game with Strahan's celebration. Cute, right?