Archive: February, 2013
Molly Eichel, Daily News Staff Writer
Philly-born twister Chubby Checker is suing Hewlett-Packard and Palm for violating his trademark over an app that allows women to guess the size of a man's member based on his shoe size. (Happy Valentine's Day, y'all!)
Checker, born Ernest Evans, trademarked his name in 1998 so he could use the name on other products, including music, "other entertainment, hamburgers, lamp chops, veal chops, chicken, popcorn, candy, hot dogs, chocolate and spring water," according to the complaint. He's sold 250 million records, including "The Twist" and "Let's Twist Again (Like We Did Last Summer)," worldwide.
Checker claims that H-P and Palm have offered the app since 2006. The complaint states Checker sent H-P and Palm a cease and desist letter on Sept. 6, 2012 but the companies did not comply.
Molly Eichel, Daily News Staff Writer
Last night's episode of "American Idol" saw our two Philly gals, Chickies & Pete hostess/Lawncrest resident Taylor Rand and Council Rock North junior Courtney Calle, sent home after the group rounds.
Rand, who sang Carrie Underwood's "Good Girl" with her group, received praise from judge Keith Urban. The country star singled out Rand and another girl as excellent performers. But, alas, Rand got the boot along with the rest of their group for not being individual enough. "I got off stage and all the cameras were in my face," Rand said. "It was like my body was made of glass and [Urban] took me up to the highest balcony and just dropped me."
Rand's only regret? She wanted a concrete reason why she was let go, rather than a wishy-washy comment. "['Good Girl'] still haunts me," she said.
Molly Eichel, Daily News Staff Writer
North Wales' own Tom Cipriano, better known as Howard Stern's prank phone call obsessed buddy Captain Janks, just broke into live coverage by LA affiliate KCBS of the police shootout of rogue ex-cop Christopher Dorner.
Janks pretends to be an employee of the U.S. Fish and Game Department, speaking on behalf of the first man to spot Dorner. Then Janks says Ronnie the Limo Driver, Stern's head of security, was the first person to shoot at Dorner.
Screen your phone calls, TV people.
Molly Eichel, Daily News Staff Writer
Mazel tov to embattled former Phillie Lenny Dykstra who is going to be a grandfather.
Dykstra's son, Cutter and new fiancee, "Sopranos" star Jamie-Lynn Sigler, are expecting their first child together, Sigler's rep confirmed.
"She couldn't be more excited!" a source told People magazine, which is good because it would be weird if she was just kinda "meh" about the whole thing.
Molly Eichel, Daily News Staff Writer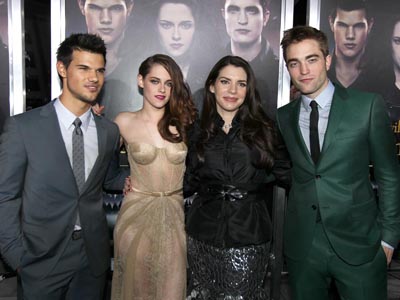 Stephenie Meyer, author of the mega-crazy best-selling Twilight series, will participate in a free book signing in Philly on February 22 at the Free Library's Central Branch. Each attendee can get only two books signed (so choose your favorites, teen girls and vamp-obsessed housewives). Meyer's appearance was just announced so that's why you don't see any tent cities of rabid fans popping up around the Free Library yet.
Meyer will be in town to promote "The Host," the film adaption of her book. Joining Meyer will be "The Host" actors Max Irons (son of Jeremy) and Jake Abel. "The Host," about a race of parasitic aliens, hits theaters March 29, and stars Saoirse Ronan.
Want more literary goings-on in Philly? Today, I've got notes on a New Hope author's scandalous new memoir and interview with new Philly resident, Pulitzer Prize-nominated Karen Russell (Swamplandia) in today's column.
Molly Eichel, Daily News Staff Writer
NBC cancelled Philly-set drama "Do No Harm" after only two episodes. The show was a modern take on Jekyll and Hyde in which a surgeon (Steven Pasquale) turns into a cruel-intentioned badboy each night night. The cast also featured Phylicia Rashad, Samm Levine and Alana De La Garza.
The first episode of the show did not get off to a good start, carrying the dubious honor of the lowest rated in-season premiere since 1987 when current ratings metric were implemented. Last night's ratings only got worse, dropping 22 percent in the demo from the premiere. Episodes of "Law & Order: SVU" will air in its place for the next two weeks.
Settings for "Do No Harm" included the School District of Philadelphia building and the Franklin Institute.
Molly Eichel, Daily News Staff Writer
NBC10's Aditi Roy is leaving Philly for the West Coast.
We hear Roy has a new job already lined up, I've got a call into the former morning anchor to see where she'll be heading. According to PhillyChitChat's HughEDillon, Roy cites her engagement as the reason for moving away. She plans to wed in May.
Roy has already had a prolific career, working for NBC News for a summer and popping up on the "Today" show. Most recently, Roy was a morning anchor.
Molly Eichel, Daily News Staff Writer
Rydal's pride and joy Bradley Cooper and David O. Russell, the director of the Delco-shot/set "Silver Linings Playbook," are meeting with Veep Joe Biden today, according to Politico.
According to Biden's aide:
"[T]he Vice President will meet with director David Russell and actor Bradley Cooper of 'Silver Linings Playbook' to discuss the importance of ensuring access to quality treatment for those with mental illness."
The item goes on to say that Diamond Joe Biden is meeting with Cooper and Russell to foster a dialog about mental health in the wake of the Newtown, Conn. shooting. In "Silver Linings," Cooper plays a man with bipolar disorder. Recently, Cooper and co-star Robert De Niro talked with Katie Couric about the role of mental health in the film.