Archive: January, 2013
Esther Lee, Philly.com
It's a new year, and Lady Gaga has resolved to continue writing those controversial, very public open letters to her critics.
Thursday's target was Kelly Osbourne, daughter of Ozzy and Sharon, also a fashion critic in her own right. And although Osbourne is no Cathy Horyn (whom Gaga has previously taken up issues with), she is, like Gaga, a celebrity who is also subject to widespread public criticism.
Which is why the co-host of E!'s brutally honest, tongue-in-cheek humored show Fashion Police opened up to Fabulous Magazine about being bullied and targeted by Gaga's little monsters: "I'm the thinnest I've ever been and the healthiest I've ever been, said Osbourne in October, adding that Gaga's fans were, "the worst."
Tirdad Derakhshani, Inquirer Sideshow Columnist
Movie star Mark Wahlberg, who was in town for a red carpet screening of his new film, Broken City, stopped by the Fox 29 studio this morning for a chat on on Good Day Philadelphia with Mike & Sheinelle. He stuck around to deliver the weather report. (The start of a beautiful second career?)

Broken City stars Wahlberg, 41, as a former cop who uncovers a scandal involving New York City's mayor.

The red carpet Broken City shindig was at the Prince Music Theater, 1412 Chestnut St. on Tuesday.
Philadelphia News, Weather and Sports from WTXF FOX 29
Tirdad Derakhshani, Inquirer Sideshow Columnist
Brighton-born English singer Conor Maynard, whose good-boy-next-door looks get seriously sexed-up in his debut album, Contrast.
He gave us all goosebumps last spring with the single, "Can't Say No." (16,897,350 views on YouTube alone!)
Here, sing along, baby!
Dan Gross
Mark Wahlberg and director Allen Hughes will be in town Tuesday to attend a red carpet screening of their new film, "Broken City," at 7 p.m. at the Prince Music Theater (1412 Chestnut).
Mayor Nutter and Greater Philadelphia Film Office chief Sharon Pinkenson will introduce the pair and make a special presentation to Wahlberg, who has shot several films in the area, including "Invincible," "The Lovely Bones," and "Shooter."
Power 99 and 105.3 WDAS-FM are giving away tickets to the private screening.

Molly Eichel, Daily News Staff Writer
Rydal's own Bradley Cooper is single again, according to Page Six. Cooper was hot and heavy with Zoe Saldana, his co-star in "The Words," written and directed by Cooper's childhood buds. They initially started dating shortly after "The Words" wrapped filming, breaking up in March, and rekindling their romance romance in September.
The genetically blessed couple were set to spend the holidays with Cooper's family in Paris, but Saldana spent her NYE in South Beach with friends, instead (including belly button-less supermodel Karolina Kurkova, the Miami Heat's Chris Bosh, his honey Adrienne Bosh and team mate Dwyane Wade who was with his main squeeze, actress Gabrielle Union).
P6 says the relationship lost steam while Cooper was busy promoting the Delco-set "Silver Linings Playbook." His schedule was only bound to get busier as awards buzz for the flick heats up. Yesterday, we suggested Katie Holmes find a Bradley Cooper-esque leading man for her next boyfriend, maybe he's just heeding our advice. But this means that Cooper will be spending his 38th birthday on January 5 solo (hey, B.Coop, call us!).
Molly Eichel, Daily News Staff Writer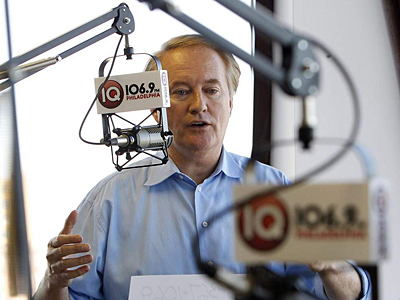 Larry Mendte posted on his Facebook page that he had been let go from conservative talk radio station IQ 106.9, where the former anchor had been serving as the morning drive host. In the post, the gracious Mendte makes it clear that his departure from the station was not his decision.
In an interview with the Daily News, Mendte said there was no indication why he was let go from the station, who gave Mendte his walking papers on December 21. Mendte believed his show had solid ratings and loyal fanbase. "It just never really had a spot. They were trying to find a place for it," Mendte said. "I was a big experiment [because I had never done radio before]." Mendte, unlike the other hosts, did not have a contract.
Mendte doesn't know what's in store for IQ 106.9, although rumors have swirled that the station might be sold. Mendte himself has another gig to fall back on: He does commentary pieces for New York's Pix11. "Actually I'm going to get a lot more sleep," Mendte said, laughing. "I was waking up at 4:30 [a.m.]. and not getting home until 8:00 [p.m.]. Something had to give," Mendte said. "I love Philly so much and it was an opportunity to come back."
Dan Gross
An attorney has sued "Red Tails" and "Hustle & Flow" star Terrence Howard and his ex-girlfriend, claiming the pair settled a criminal case and potential civil suit behind his back, despite his agreement to represent the ex.
Esther Lee, Philly.com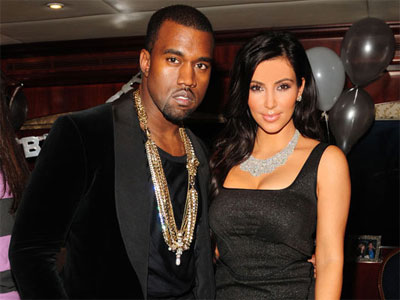 Check out exclusive Entertainment Tonight footage of Kim Kardashian as she discusses her pregnancy while hosting a 1OAK Nightclub New Year's Eve event at The Mirage in Las Vegas last night.