Molly Eichel, Daily News Staff Writer
Radio station B101 will be no more on Dec. 26. But it's only the name that's retiring. The station will be known as MoreFM at 101.1.
The format of the station will not change, the DJs won't change, the place on the dial won't change. Just the name.
In a statement, station owner Jerry Lee said that the name change did not reflect poor ratings. And he's right. B101 consistently dominates in the Philadelphia radio market in the ratings, a feat for an independently-owned station.
Molly Eichel, Daily News Staff Writer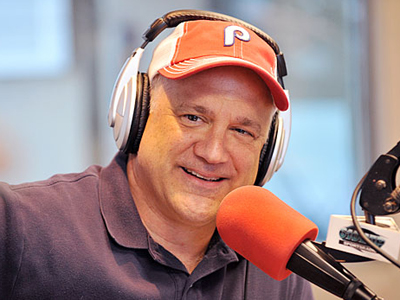 WIP host Glen Macnow just left his afternoon hosting stint along with Anthony Gargano, citing a contract dispute for his early departure. Macnow's contract is up at the end of the year and he's currently in negotiations.
I reached out to Macnow via e-mail:
"As I said on the air, my contract with WIP is finishing up. WIP management and I have agreed that I should take some time off the air until my contract situation at the station is resolved. I just finished my 20th year at the station. Just let me say that I've cherished the opportunity to work with three great partners in Jody McDonald, Ray Didinger and Anthony Gargano. I love the people at WIP and I particularly love the Philadelphia fans I get to talk with every day. I hope to continue talking with them."
Nick Vadala, Philly.com
No, Kanye West may not have called himself "the next Nelson Mandela." But he would like you to know that entertaining the heaving, unwashed masses (AKA "us") is more akin to being in a war than being onstage. So spoke the "Tupac of product," and so it must be done.
In a recent interview with SaturdayNightOnline.com, West compared his profession to that of police officers and soldiers, saying that he's "giving of my body on the stage and putting my life at risk" every night on his 'Yeezus' tour. And you thought that performing 27 songs you wrote yourself every night was easy:
"When I think about when I'm on the 'Can't Tell Me Nothing,' and 'Coldest Winter' moment, like that mountain goes really, really high. And if I slipped… You never know. And I think about it. I think about my family and I'm like, wow, this is like being a police officer or something, in war or something."
Nick Vadala, Philly.com
'Transformers' star Shia LeBeouf got into another dustup in a London bar over the weekend, subsequently revealing his apparent connections to the seedy criminal underworld. That's right, Louis Stevens can have people whacked.
What started as a simple argument between LeBeouf and another patron at the bar quickly escalated into a threat of murder, with the star allegedly telling his opponent "I can get you killed." And all that over an autograph.
Sources told The Sun that the argument started after a female customer approached LeBeouf for an autograph, her boyfriend coming to her aid when the object of her attention stopped taking kindly to having his meal interrupted. LeBeouf then allegedly went after the man in question, eventually leading to the star being escorted from the premises.
Nick Vadala, Philly.com
Michael Bay has officially grown tired of the haters, as indicated in a recent blog post on the director's website titled "I Do Not Apologize For Any Transformers Movies." YOLO, Mr. Bay.
As most anyone with an internet connection knows, its high web fashion to hate Michael Bay right now. We rag on his mindless-yet-highly-profitable explosion fests, mock his casting choices, and won't let him live down Pearl Harbor. Now, though, it seems that Bay has grown tired of all the shade getting thrown his way, and wants us to know we're not changing anything.
And, as you might guess, it's the media's fault:
Gabrielle Bonghi, Philly.com
Paul Walker was not your average celebrity. Although he was best known for his acting roles in sexy blockbusters like She's All That, Into the Blue, and the Fast & Furious franchise, the man's heart was laced with pure gold.
Upon news of his death, stories have been pouring in from Paul's friends, family, fans and brief acquaintances that shine a light on his kind-hearted spirit. One story will make your heart melt onto the floor.
A decade ago, a soldier and his fiancé were shopping for an engagement ring in a Santa Barbara jewelry store when Paul Walker just happened to waltz in. Kristen and Kyle Upham were eyeing up a $10,000 engagement set that was way over their budget. Walker took notice. "He called the manager and he said, 'Umm, the ring that those people are looking at – put it on my tab,'" said former store clerk Irene King.
Nick Vadala, Philly.com
In between denying allegations that he tried to buy his infamous crack video and providing intermittent NFL picks on his appearance on The Sports Junkies this morning, Rob Ford let slip that he learned to play football in Shippensburg.
What initially was planned as a quick pick segment on Washington's 106.8 The Fan quickly turned into a Q&A session about the crack cocaine issue that's been dogging the Toronto mayor for months. Ford, for his part, called the allegation that he attempted to pay $5,000 to keep the tape that started it all under wraps an "outright lie" and told the Sports Junkies to talk to his lawyer.
With that, Ford turned the conversation back to football, and subsequently revealed his connection to the Washington Redskins, a team for which he holds a special place in his allegedly crack-addled heart. Turns out ford actually learned to play football from a group of Redskins players at a football camp at Shippensburg when he was 16:
Nick Vadala, Philly.com
Danny Wells has returned to the great Warp Pipe in the sky. Wells, who played Luigi on the animated adaptation of Super Mario Bros., passed away last week in his native Toronto. He was 72.
For an entire generation of children, Wells was the Luigi—miles ahead of John Leguizamo's interpretation in the 1993 film—thanks to his live-action appearances between animated segments. Eschewing the later gritty live-action update in Super Mario Brothers, The Super Mario Brothers Super Show! instead featured Wells in Luigi's trademark green overalls, sporting a waxed-up stache and always fiending for his next meal. This, after all, is the essence of Luigi's character, and Wells nailed perfectly.
The red half of the Super Mario Bros., Lou Albano (yes, that Lou Albano), passed away in 2009 at the age of 76. Written as Luigi's slightly older fraternal twin brother, Albano's Mario served as a boisterous foil to Wells' downplayed Luigi. They were, in effect, the original Jay and Silent Bob.