Christopher Wallace, aka the Notorious B.I.G., died at age 24 in a still-unsolved shooting in Los Angeles 20 years ago Thursday. As Sean "Diddy" Combs said on social media Thursday, that fateful 1997 day brought the loss of a man some call "the greatest rapper of all time."
20 years ago today we lost the greatest rapper of all time, The Notorious B.I.G. #WeMissYouBIG pic.twitter.com/00ZEnOe8Vq

— Sean Diddy Combs (@diddy) March 9, 2017
That was an identity Biggie Smalls, as he is affectionately known, would come into after his untimely death. But back in 1994, he was just a new emcee rocking clubs and concert venues in support of the recently released Ready to Die, an album that would ultimately cement his place in hip-hop history thanks to hits like "Juicy," "Big Poppa," "Gimme the Loot," "Me & My B----."
Those shows brought Biggie to Philadelphia in December 1994, just two months after the September release of Ready to Die. The then-freshly famous rapper played a high-profile show at the Philadelphia Armory (32nd and Lancaster) with other rap stars, including the Wu-Tang Clan, Run DMC, Warren G., Naughty By Nature, and Snoop Doggy Dogg, who at the time was a month away from standing trial on a Los Angeles murder charge.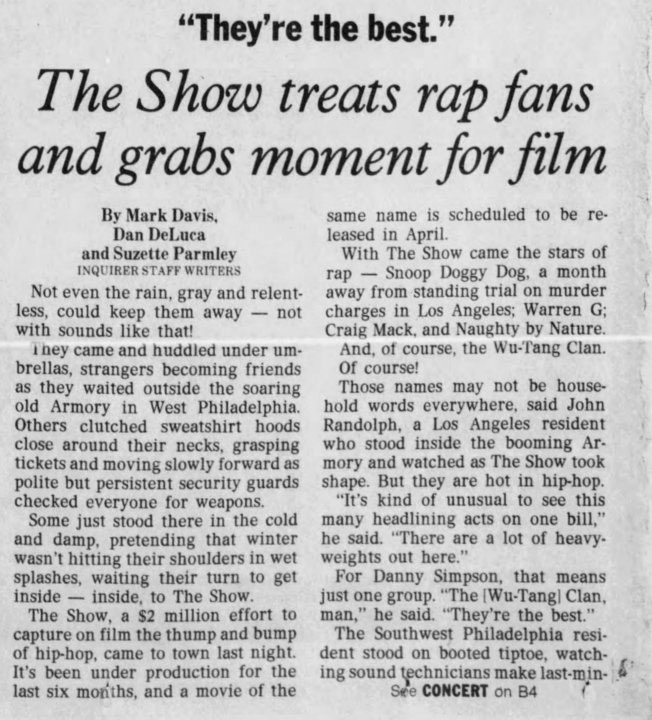 Dubbed "The Show," the concert served as an early, first-hand, live introduction to the Notorious B.I.G, who previously found success with the track "Party and Bull----," off of the Who's the Man soundtrack. Biggie, in fact, was so new to Philly's press at the time that his performance at The Show earned just one sentence in a review from Inquirer writers Dan DeLuca, Mark Davis, and Suzette Parmley.
"Kaseem is hot for the Notorious B.I.G.," the Inquirer review of the show reads. Kaseem, for context, was a 2-year-old boy brought to the concert by his father: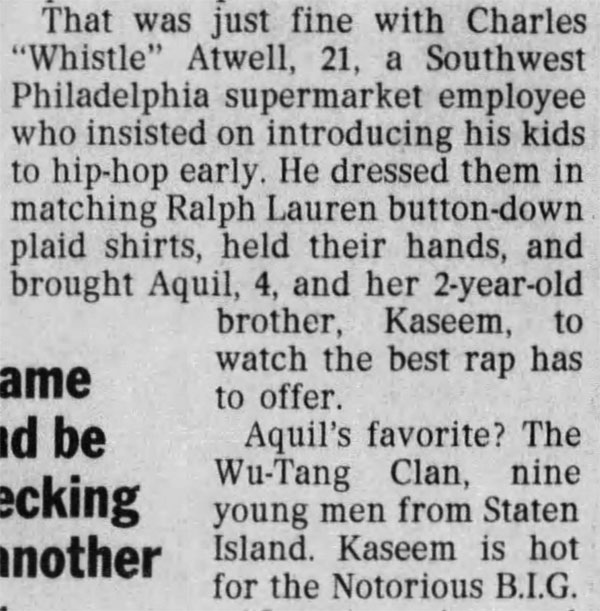 Luckily, however, part of Biggie's Philly performance at The Show was filmed and later released in 1995 as part of a documentary of the same name. That project, directed by Brian Robbins of Good Burger fame, detailed the state of hip-hop music at the time.
The Philly performance itself cost $2 million and six months to prepare, according to the 1994 Inquirer article. The article also goes on to state that security was provided by the National of Islam, who "checked every concertgoer for weapons, delaying the music by more than an hour."
"Security is real tight," said Charles Atwell, the man who brought his 2-year-old along to the show as mentioned above. "I like that. The brothers are holding it down pretty well."
The scene made quite an impact for the Inquirer reporters, who concluded in their writeup that the show's sound "shook the rafters [and] rattled the windows" so severely that "not even the rain, gray and relentless, could keep down all that wondrous thunder."
(As you can tell, rap was pretty new to us at the time.)
Biggie was slain in a 1997 shooting in Los Angeles, six months after the similar death of fellow rapper and rival Tupac Shakur. Neither murder has yet been solved. His legacy, however, lives on in the current state of hip-hop.
"[His music] is still just as impactful, as if he were this new, dope rapper from Brooklyn, now," Biggie's widow, Faith Evans, recently told CNN. "Something about his word play, his confidence; he was pretty witty, and he was intelligent. It's absolutely timeless."