Neil Gaiman inscribes poem on man's back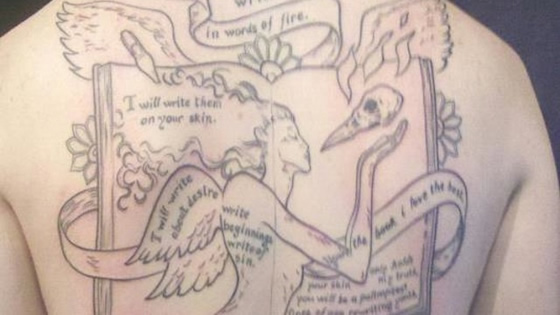 Graphic novelist Neil Gaiman writes a comic panel poem for a fan's tattoo.
Neil Gaiman inscribes poem on man's back
Gaiman's poem is intricately interlaced with the figure drawn by Mack, sliding and winding and undulating its way down the page.
Here is the poem.
(The line breaks correspond roughly to how the poem is organize
d on the image.)
I will write in words of fire.
I will write them on your skin.
I will write about desire.
Write beginnings, write of sin.
You're the book I love the best,
your skin only holds my truth,
you will be a palimpsest lines of age rewriting youth.
You will not burn upon the pyre.
Or be buried on the shelf.
You're my letter to desire:
And you'll never read yourself.
I will trace each word and comma
As the final dusk descends,
You're my tale of dreams and drama,
Let us find out how it ends.
Want to know more about Gaiman's recent work, including his dark children's novels? We had a chat with the British-born Minneapolis transplant while he was in Philly for his U. of Arts speech. Read it here.
(PHOTO: The print version of Olivier's Gaiman and Mack-designed tattoo which is on sale on the CBLDF website.)