Since the first Harry Potter came out in 1999, the series has become somewhat of a surrogate religion for fans. But whether you're a Ravenclaw, Gryffindor, Hufflepuff, or Slytherin, you'll be able to worship at the altar of JK Rowling that is Universal Studios' Wizarding World of Harry Potter expansion soon.
Universal revealed new details about their Harry Potter expansion in a webcast this morning, sayting that it will be a reconstruction of the book's Diagon Alley, where wizards of all stripes go to get their magic shopping done. So, while fans might not be surprised by some attractions (because, you know, they read the book), they'll certainly be excited. Between the Leaky Cauldron restaurant and the planned Harry Potter and the Escape From Gringotts, I'm excited, and I'm not even a fan. To be fair, though, it does look astonishing: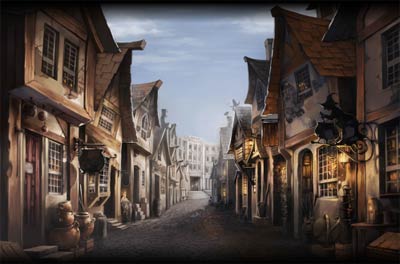 The latter attraction, presumably, is based on the infamous bank heist in the eighth Harry Potter film and seventh book. Based on the photos, it will be complete with a giant, fire-breathing dragon perched atop the roof, so remember to bring your cameras. The concept art is stunning:
But if you get bored with the new attractions, don't fear—you'll be able to hop a Hogwarts Express tain over to the original Harry Potter park, which essentially is Hogwarts Castle and Hogsmeade village. So, yes, you'll be able to lace up your wizardry kit and head over to magic school. Just like Harry.
All this expansion comes at a price, however. In order to make room for the Harry Potter expansion, Universal had to tear down its iconic Jaws ride, and in the future they'll be removing the excellent Back to the Future ride for a Simpsons attraction. So, different, but still nerdy.
Diagon Alley will open up sometime this year, though a specific date has not yet been announced. But until then, keep practicing those enchantments—Hogwarts will be waiting.
Can't see the video? Click here.