An intense energy fills the massive space. The Ice Box at the Crane Arts is full of all types of personalities. A Rittenhouse socialite in a new purchase from Barney's Co-Op teeters back and forth in heels not meant for a warehouse floor. Next to her stands a paint-covered artist in a new overall purchase from Circle Thrift. It really is a who's who. No really, who is who? At the Crane Arts in Kensington, hundreds gather each year to celebrate InLiquid, an organization celebrating the 15th anniversary of its annual benefit on Feb. 7.
InLiquid is a nonprofit that provides resources and opportunities to artists in the Philadelphia community. Opportunities and resources in this community can be scarce. This forces many, not only artists, to flee to more global American cities like New York and Los Angeles. InLiquid is fighting to change that and has waged this battle since its inception in 1999.
I had the opportunity to sit down with Rachel Zimmerman, founder and executive director of InLiquid. We chatted about this struggle, the Philadelphia arts community, and how InLiquid got its start 16 years ago. I met Zimmerman in the cluttered offices on the third floor of the Crane Arts. You can tell that this is an artist's work space. Papers are strewn over mounds of artworks piled high, wrapped tightly in bubble wrap to protect them from the elements. Elements like my sugar-free Red Bull.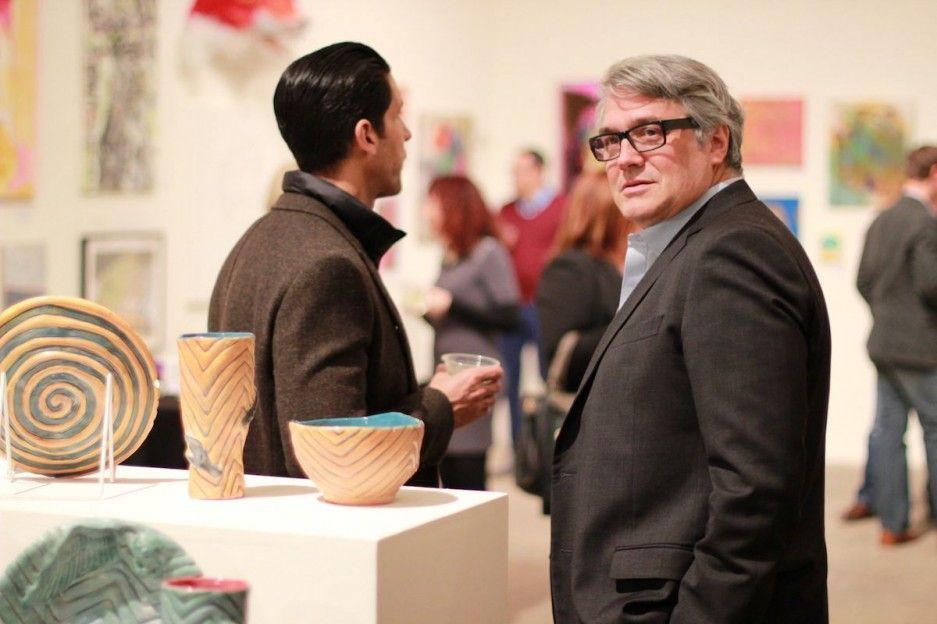 "InLiquid has always acted as a connector between the artist and the people interested in the arts," Zimmerman told me. "People are unaware about how much talent actually exists in Philadelphia. We have become this great feeder city. We have done a really good job educating artists here. Creating inexpensive places for artists to make their work. But then the thought is that if you are going to be a successful artist, you are going to show in New York or other places. You really need to support the artist within their hometown. You can buy really good art in Philadelphia as well. You can do the same thing here in Philadelphia you can do in other cities like New York. It's just a little hard to see at times."
Zimmerman grew up in Philadelphia and was always told in order to be a successful artist, you had to live in New York. "So, I went to NYU. I studied photography. I worked in photo galleries in New York and then came back to Philadelphia. And then realized that I didn't want to live like that in NYC. It's really hard. It's a grind. Coming back here, I kept meeting more and more artists doing work but were frustrated with the lack of opportunities."
Zimmerman, a petite woman donning a pixie haircut and an all-black wardrobe, struggled finding a rewarding day job. When working as a black-and-white medical photographer for CHOP, she kept meeting more frustrated artists. This is when the idea of InLiquid was born.
"There wasn't a central point to find all the information," she recounts. "We are very institutional heavy but there was a wide gap between the institutions and the smaller community based organizations. There had to be a way of connecting them. We did a trade with a design company for our website. At this point in the late 90's, no one had websites. We thought that this would be a great way to put all the information in one place so that everyone would have access to the same information. That the people who are interested in the Philadelphia Museum of Art would also be interested in the Asian Arts Initiative, you just need to make that connection for them."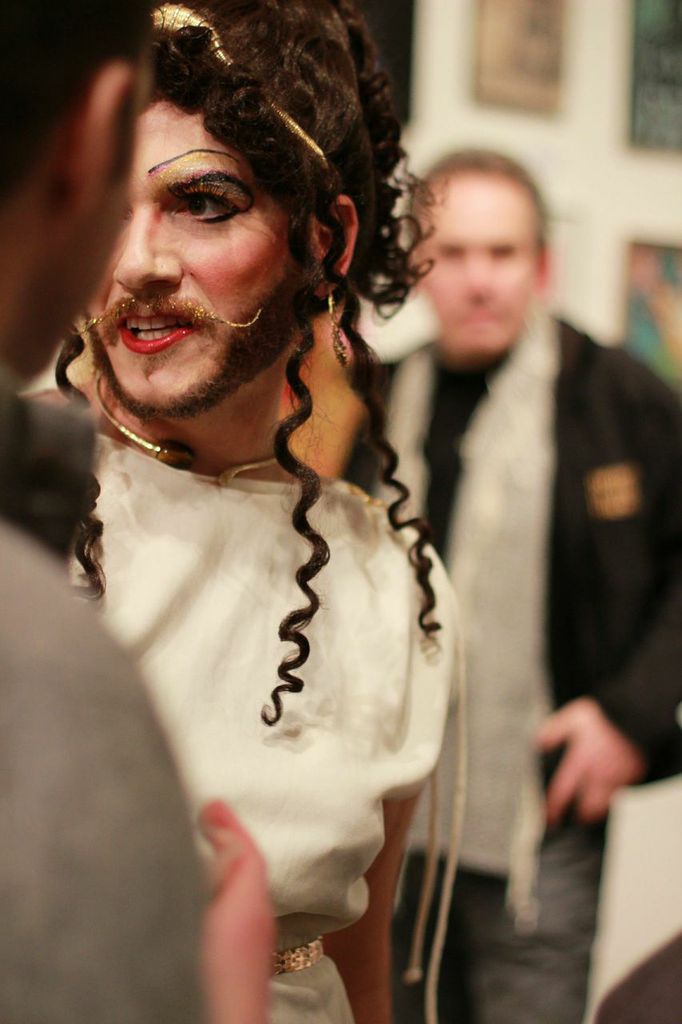 InLiquid started as a website because they didn't really have the capability of doing anything more than that at the time. "We went to our friends, borrowed slides and just launched it," she recounts. "We filled a particular niche and created a community among the artists so they could collaborate. When you have merging and established artists working together, they reinforce each other. You have the established artists with the credibility and the newer artists who have this fresh energy."
Since then, InLiquid has grown to be much more than just a website. The nonprofit has hosted somewhere between 350 and 400 exhibits. Just last year, they worked with approximately 600 different artists in a multitude of capacities. One of those artists is Keith R. Breitfeller.
I spoke with Breitfeller, a painter who has resided in Philadelphia for over 25 years. Breitfeller has been donating to the benefit since 2003 and has been a member since last year. Since Breitfeller became a member, InLiquid has already connected him with two buyers, one based in Dubai. The gentleman in Dubai found Breitfeller's work on the InLiquid website. "InLiquid has provided me with local exposure and the opportunity to sell my work to private collectors here and internationally," he told me on the phone.
When asked how the arts scene has changed over the past 15 years, he answered, "It seems as if the majority of sales are not through galleries, more collectors are finding work through online resources (like InLiquid) and art consultants. They provide an inexpensive platform to present artist's work. A springboard, if you will. "
InLiquid acts like a hub and connector, providing programming and access to information year round. At the core of that are its annual events. "We use the events like the benefit and Art for the Cash Poor as a way to bring everyone together in the same room and then disseminate the information," Zimmerman told me. "The idea is to create that fun dynamic way for people to experience the work. And hopefully create a lasting memory with the art you have bought and the artists who made it. Create a connection that is a little more real and a little more intimate."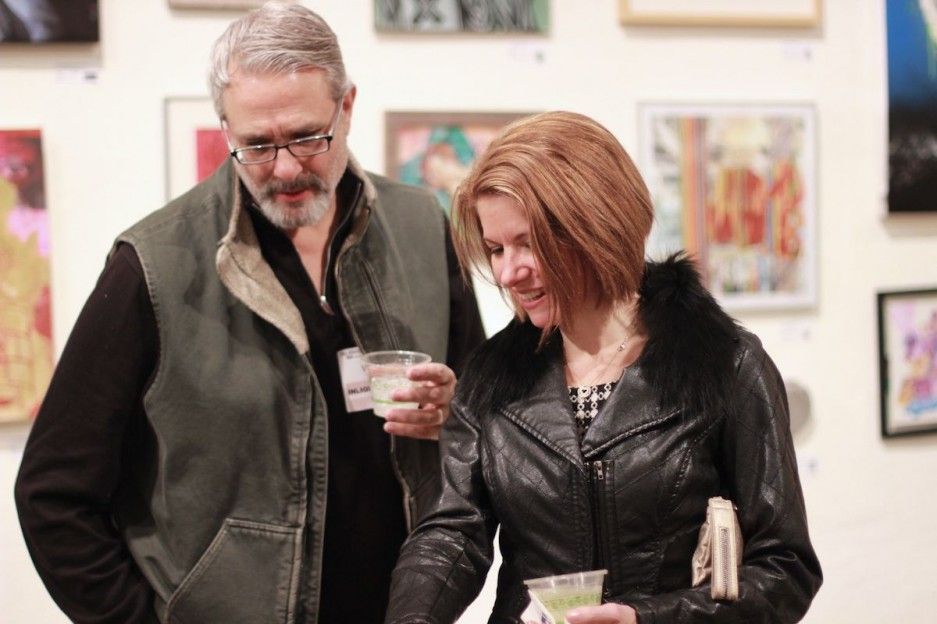 This year's theme for Benefit v.15 is "Win Back the Winter." As with other benefits, this year's benefit features a massive and overwhelming silent auction of 250 works by emerging and established artists. Anne Ravert attended the benefit for the first time last year. "I was first struck by what an impressive space the Crane Arts is," she wrote me. "A really wonderful venue to showcase art. I was also impressed by the unique feeling of the evening. There was a true energy and it lent itself to a wonderful experience. It was one of those events where I made a mental note to not miss this year."
"For me, the benefit is an opportunity to learn what great things are happening in Philadelphia," Zimmerman said. "Not just the art, but the businesses, the restaurants, the designers. Bringing it all together and then sending people out to support each other. It's that way of connecting that makes Philly unique. We are as interesting as other places. We have always been sort of the ugly step child of other cities but we have a very vibrant community that supports each other."
Zimmerman realizes that with recent press coverage, Philadelphia is becoming a sought-out travel destination. She wants the Philadelphia underground arts scene to be one of the destinations people seek when they visit. "People go to Paris and buy this great photograph. Why can't people travel to Philadelphia and buy something other than a Liberty Bell paper weight?" she laughs. "You can buy something meaningful here. Philadelphia is a place to look at art and buy art. Hopefully, people aren't just coming to the Philadelphia Museum of Art but realize they have a whole reason to see art all weekend long."
"For a long time, it was a hard time to see anything beyond the map. The Parkway is great, but there really is so much happening beyond the Parkway."
For more information on this year's benefit and how you can attend, please visit inliquid.org.