For those who get a pang of nostalgia every time they recall memories of Club Shampoo on a Friday night long ago, prepare to get excited.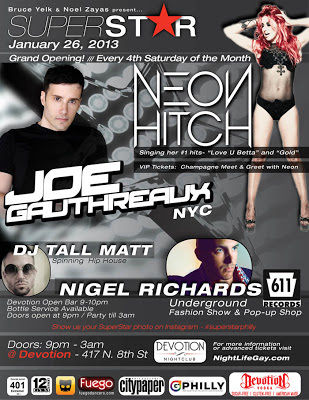 This Saturday January 22nd, the newly re-launched Devotion nightclub will host Superstar, a high charged glamour party with enough pulsing heat and glitter for even the rowdiest party boys.
The night will feature a performance from Neon Hitch, who will perform multiple club bangers such as "Gold" and "Love you Betta." A special meet and greet is available for those with VIP tickets.
Meanwhile, the party will be spinning full blast on three floors with three separate DJs. Joe Gauthreaux will handle the massive main floor, while Tall Matt shakes the chapel on the side floor, and Nigel Richards brings underground beats to the first floor.
Need even more reasons to get your butt here? There's an open bar from 9-10, a fashion show courtesy of 611 Records, and the club will extend hours until 3am.
Tickets here.