Archive: March, 2013
Joel L. Naroff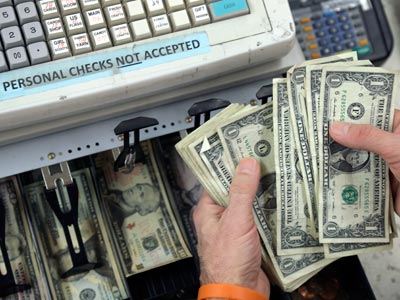 INDICATOR: February Income and Spending
KEY DATA: Consumption: +0.7 percent; Inflation Adjusted: +0.3 percent; Disposable Income: +1.1 percent
IN A NUTSHELL: "The improving job market is overcoming tax increases, allowing incomes and spending to rise."
Joel L. Naroff
INDICATOR: Fourth Quarter GDP (final revision)/Jobless Claims
KEY DATA: GDP: 0.4 percent Jobless Claims: 357,000 (up 16,000)
IN A NUTSHELL: "Rising jobless claims are never good but this may just be the usual volatility not a sign that sequestration and tax increases are starting to eat into growth."
Joel L. Naroff
In a Nutshell: "Better growth but more fiscal restraint means the Fed will keep the pedal to the metal."
Rate Decision: Fed funds rate maintained at a range between 0% and 0.25%
The Federal Reserve completed its March two-day meeting and as expected maintained all the policies it has had in place for quite a while. The funds rate will remain close to zero and asset purchases will continue to be used to keep down Treasury and mortgage rates. How long the policy will be kept in place will be determined by the economy. As long as the unemployment rates remains above 6.5% and the inflation rate is below 2.5%, the Fed will keep pushing as hard as possible. Indeed, in the Fed's survey of when policy will be altered, which is released four times a year, fourteen of the nineteen members (Board Governors and regional bank presidents) don't expect that the funds rate will be increased until 2015 or later. Only one believes it could occur this year.
Joel L. Naroff
INDICATOR: February Retail Sales/Import and Export Prices
KEY DATA: Retail Sales: +1.1%; Excluding Vehicles: +1%/Import Prices: +1.1%; Non-Oil: 0%
IN A NUTSHELL: "At least so far, the increase in taxes has had minimal impact on household spending, showing that the economy retains a lot of momentum."
Joel L. Naroff
INDICATOR: February Employment Report
KEY DATA: Payrolls: +236,000; Private Sector: +246,000; Unemployment Rate: 7.7% (down 0.2 percentage point)
IN A NUTSHELL: "So far so good as rising taxes and sequestration concerns have yet to kill the economy."
Joel L. Naroff
INDICATOR: January Trade Deficit/Weekly Jobless Claims
KEY DATA: Deficit: $44.4 billion ($6.3 billion wider)/Claims: 340,000 (down 7,000)
IN A NUTSHELL: "While the widening trade deficit is a worry, the real story is the labor market, which if you believe the claims numbers, is getting better by the week."
Joel L. Naroff
INDICATOR: February ADP Payroll Estimates
KEY DATA: ADP: 198,000; Small: 77,000; Medium: 65,000; Large: 57,000
IN A NUTSHELL: "The economy is clearly kicking into higher gear as private sector firms look like they are starting to ramp up hiring.
Joel L. Naroff
INDICATOR: February Supply Managers' Non-Manufacturing Survey/CoreLogic Home Price Index
KEY DATA: ISM (Non-Man.): up 0.8 point; Orders: up 3.8 points: Employment: down 0.3 point; Inventories: up 7 points/Core Logic (1 '12-1 '13): up 9.7%
IN A NUTSHELL: "If you are wondering why the stock market is hitting new highs, look no further than the economy as all segments seem to be growing faster."