Structurally stable, questionable foundation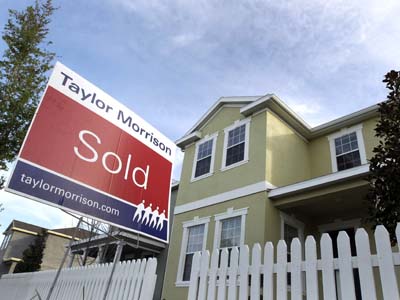 Economics in a nutshell: Housing activity remains solid but whether that is due to underlying strength or fears of higher mortgage rates is still quite unclear.
Structurally stable, questionable foundation

INDICATOR: July Existing Home Sales
KEY DATA: Sales: (Monthly) up 6.5%; Year-over-Year: up 17.2%; Median Prices (Year-over-Year): up 13.7%
IN A NUTSHELL: "Housing activity remains solid but whether that is due to underlying strength or fears of higher mortgage rates is still quite unclear."
WHAT IT MEANS: The housing market has been a critical component in this still lackluster recovery and the jump in mortgage rates raised questions about the sustainability of the improvement. At least through July, all is well. The National Association of Realtors reported that existing home sales surged in July with all regions of the country experiencing a pick up in demand. Similar gains were posted in both the single-family and condo markets. The annualized sales pace was the highest since November 2009 and has increased at a robust pace over the year. At the same time, while the number of homes on the market has increased somewhat over the last few months, it is still below where it was a year ago. This lack of inventory coupled with the surge in demand had the expected impact on prices: they are soaring! And since demand and supply for both segments of the market have moved similarly, the price increases were fairly close with single-family home prices jumping 13.5% and condos up 15.5%.
MARKETS AND FED POLICY IMPLICATIONS: It is great that the housing market is holding up in the face of the jump in mortgage rates but the news is not surprising. Almost every economist has pointed out two simple facts: Mortgage rates are still relatively low keeping affordability fairly high and critically, it is normal that rising rates, especially given how fast they went up, forces people off the fence and pushes buyers to close as soon as possible. I have said many times that I expected demand to rise during the summer with the impact of the rate rise not seen until the fall. Of course, there will be people who say that the rate increase did not matter. The reality is that some people will not be eligible for mortgages and some will not be willing or able to pay the higher prices. That demand, prices and mortgage rates continue to rise together provide some support for the view that sales are being pulled forward. That doesn't mean the market will collapse. Rates are still low on an historical basis. But the rate of sales increases and therefor price gains are likely to decelerate, especially if tapering does start and longer-term rates filter up further, as expected. A five percent mortgage rate by year's end is hardly unthinkable and that should slow the housing market recovery. So enjoy the good housing numbers while you can, and investors are likely to do that, but keep in mind that they could be temporary. As for the Fed, one can only assume they understand consumer behavior and will not assume there has been no negative impact from the rising rates. The members also have to keep in mind that fiscal policy remains the largest negative and unknown factor for future growth. That may not prevent the taper from beginning in September but it is a very good reason to push the start date back a little.