Manufacturing sector picking up steam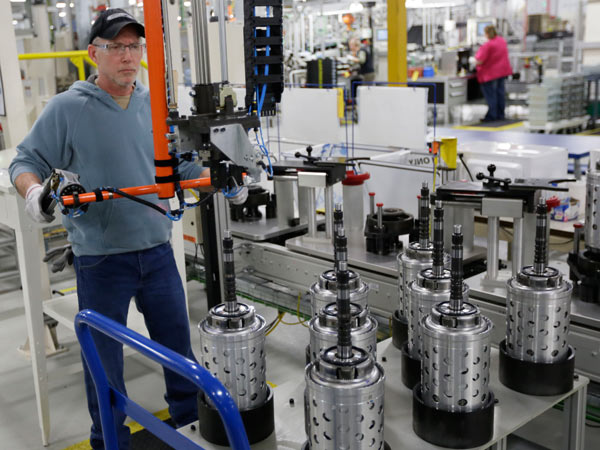 Economics in a nutshell: Sounds to me as if the economy is doing just fine. And it is.
Manufacturing sector picking up steam
INDICATOR: February Supply Managers' Manufacturing Index
KEY DATA: ISM (Manufacturing): 54.2 (up 1.1 points); Orders: up 4.5 points; Production: up 4 points
IN A NUTSHELL: "The manufacturing sector is picking up steam and that is another sign that the only impediment is Washington."
WHAT IT MEANS: Let's see now, consumers are spending, confidence is rising and manufacturing activity is accelerating. Sounds to me as if the economy is doing just fine. And it is. Indeed, a better than expected rise in the Institute for Supply Management's February reading of manufacturing activity confirms that the economy carried solid momentum into this year. The index hit its highest level since June 2011. Just about all the components were solid. New orders jumped, leading to rising production and growing backlogs. That holds out hope that conditions will continue to improve in March. We even saw increases in both export and import demand. About the only negative news was that job gains slowed. Firms are still adding workers but not at the pace you would expect given the rising demand and filling order books.
MARKETS AND FED POLICY IMPLICATIONS: Just about all of today's reports point to an economy on the rise. Except for a surprisingly sharp drop in nonresidential construction, which led to an overall decline in building activity, the news was better than expected. The broadly growing economy should provide some cushion for the government spending cuts. But the issue in Washington is not sequestration but the unwillingness to accept budget reality. Spending needs to be slowed and that includes entitlements. But how you do it matters. Do you cut across the board or target the cuts, including things such as means testing programs. We need to determine which subsidies make sense and which are just political presents. In addition, the tax code needs a major overhaul. The many ineffective and inefficient tax breaks that are essentially welfare payments have to be ended. They shift resources into areas that make only tax sense not economic sense. It can actually be better for the economy if tax breaks are ended if the government's choice of tax winners are economic losers. Capital would then flow to more efficient uses that are not based on tax considerations. But any tax code change means some pay more and in Washington, it is tax payments not economic efficiency that matters. Dumb.