Archive: May, 2012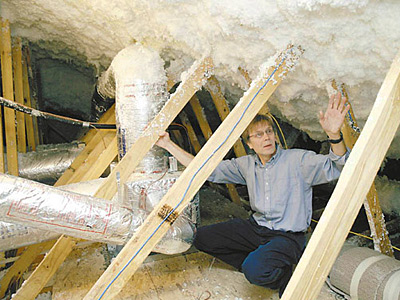 Experts from EnergyWorks, which helps homeowners make their homes more energy-efficient, will chat live today starting at 12:30 p.m. On a mobile phone? Click here to join the chat.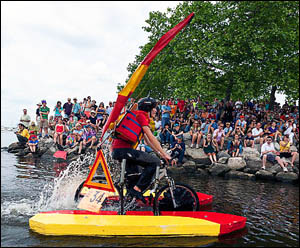 As part of Earth to Philly's Dumpster Diver Dispatch series, I have in the past kept you updated on the progress of the Dumpster Divers team in Baltimore's AVAM Kinetic Sculpture Race. For those coming in late, these are human-powered vehicles tricked out as works of art that must surmount pavement, sand, mud and water. Its a bona fide movement mixing love for art and sustainable transportation, involving thousands of people, started back in 1969 by Hobart Brown after he souped up his son's tricycle with a couple extra wheels. I've also alerted you to the ensuing annual Kensington Kinetic Sculpture Derby held here in Philadelphia, and this year is no exception.
What's exceptional is that the "Dumpster Divers" team (the only team in Baltimore that's done every race) now consists solely of myself -- no longer an official Dumpster Diver -- and my son Skyler, who never was inducted into that group of trash-picking artists.
What's also exceptional was Skyler's determined mastery of the course in his self-designed "Cat-a-maran." And when I put it that way, I'm not just being a doting dad - he brought home an award for the Dumpster Divers, for his performance in exiting the water.