Archive: April, 2012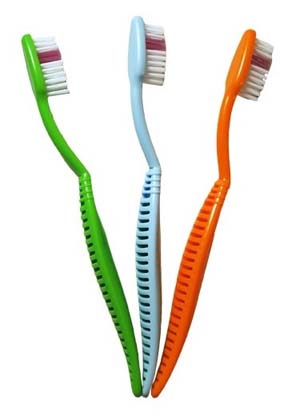 Well, tomorrow's Earth Day, so here's Part Two of our E2P roundup - a bunch of items related to the holiday from products to events to food and film!
Time was, releasing a product with less packaging or some recycled materials was enough for a flurry of publicity about a company's "commitment to sustainability." The field was less crowded, and a token effort would allow you stand out from the mainstream crowd. But with more jumping on the crowded "green" bandwagon, the bar is being raised.
"How high?" you might ask, but the question is really "how low?" when you're talking about compostable Toothbrushes!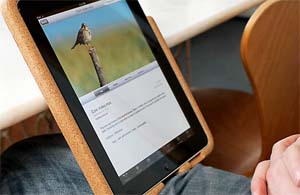 Here's part 1 of our annual Earth Day products round-up, this one from Gizmo Guy Jon Takiff. Watch for part 2 with more products and events tomorrow morning.
How do we know that Earth Day must be right around the corner (Sunday)? Environmental groups focused on the (fraught with eco-peril) electronics industry have been laying on the good and bad tidings.
Cloudy Forecast: Amazon, Apple and Microsoft all got slammed by Greenpeace International yesterday in a report on cloud energy practices. While Google, Yahoo and Facebook are
"taking steps to power their clouds with clean energy," those other "highly innovative and profitable companies are building data centers powered by coal and acting like their customers won't know and won't care," said Gary Cook, Greenpeace senior policy analyst. Some data centers "use as much electricity as 250 European homes."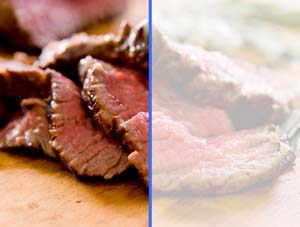 To anyone who has embraced the 'Meatless Monday' concept, I say good for you. Huzzah, and all that. But from a climate perspective, I hope you're not planning on sticking to the one-day-a-week regiment.
Let's just consider one greenhouse gas: Nitrous oxide. A new study has found that to even have a chance at stopping it from increasing by 2030, those of us in the developed world who now eat meat every day will need to change to every other day, that is, only half the time.
Here's how the write-up in Discovery News summarizes the study: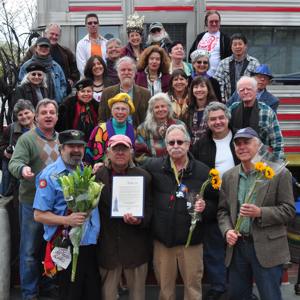 It may have sounded to some like an April Fool's joke, but it was as real as a metal trash can: Yesterday the 20th anniversary of Philly's legendary "trash art" group The Dumpster Divers was marked with a group photo and an official Mayoral Tribute from Michael Nutter.
The celebration was held at the site of the first meeting, April 1, 1992, at the American Diner at 5th and Spring Garden. Silk City diner, which now resides at that location, was gracious enough to allow the Divers to use their premises as the site for their revelry.
The Dumpster Divers' motto is "one man's trash is another man's treasure," and the group has established a name for itself by creating art of trash, recycled materials and found objects, turning traditional notions of artistic beauty and worth on their head while generating some of the most eye-catching and original works of art and craft anywhere. (Disclosure: I was a member of the group from 1994 to 2008. I resigned membership upon launching Earth to Philly so I would be able to chronicle the group's exploits with the crystal-clear eye of objectivity required of all jounalist-bloggers.)