Archive: March, 2012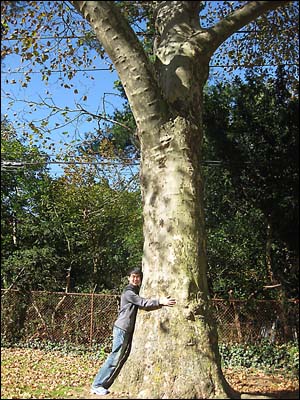 Does this happen to you? I sometimes go past a corner in Roxborough and think, something's wrong. This doesn't look right. At first I may not be able to put my finger on it, but then I realize that a big tree that used to be part of the scenery has been cut down. The scene now has too much sky, and less character than before.
As trees age, cutting them down does sometimes become necessary. And I hope the ones involved were removed for reasons of health and safety rather than commercial expediency. But either way, we need to be sure we're keeping up on the other end, planting new trees that will help beautify our neighborhoods in addition to other benefits (like, you know, oxygen).
If you have space in your yard for a tree, you have until the end of the month to apply for a free one from TreePhilly. Here's the key pitch from their press release.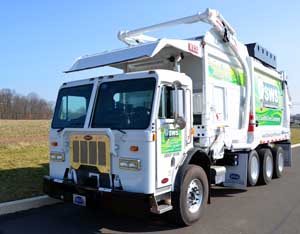 If you go to an Eagles game next season and enjoy a plastic-bottled beer during the game (I know, what are the odds?), that bottle could be part of a former Lincoln Financial Field tarp.
How so? Randy Hendricks, the CEO of Sustainable Waste Solutions, explains: "The Eagles organization has done a tremendous job of looking at everything they buy, and everything they do, for sustainability," and the go-green mindset extends beyond high-profile solar-panel and wind-turbine projects to the nitty-gritty of waste management. Hendricks says the team is on a quest to go "100% landfill-free."
That's where his company enters the picture: "They just had a full field tarp replaced. They were looking into how it could be gotten rid of in the least harmful way, you know, most efficiently - but we said hey, that's a plastic that we can ground up and recycle. That's going to become a beer bottle or something."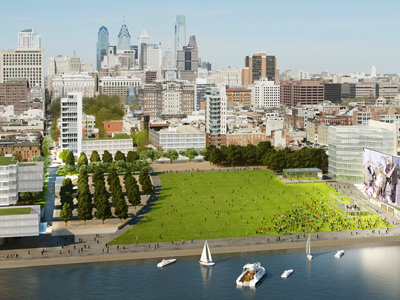 Here is today's Editorial from the Daily News about a victory for fans of the Delaware waterfront.
THE SYMBOL of our squandered, inaccessible Delaware waterfront is not so much the presence of the big-box stores like Walmart, but what lies directly behind Walmart: a hurricane fence plastered with large "No Trespassing" signs (and plastered, as well, with trash). That fence and those signs say everything about how we have, until recently, treated one of the city's great treasures, especially people's access to that treasure.
Slowly but surely, that began to change five years ago, when thousands of citizens participated in creating a new master plan for the central Delaware waterfront, which in turn has led to new trails, a new park, and plans for much more. Last week that very parcel behind Walmart was acquired for a new wetlands park with a $1.25 million grant from the state's Department of Conservation and Natural Resources (and a donation from the property's owners). The park's plan and creation will be overseen by the Delaware River Waterfront Corporation, which acts as the steward of the waterfront.
NOTE: This piece on a new car-sharing model is cross-posted from Jonathan Takiff's Gizmo Guy blog.
What's environmentally friendly, socially responsible and can make you money? RelayRides, putting a new spin on "car pooling" and today hanging out its virtual shingle nationally at www.relayrides.com.
Like ZipCar and regional deals like Philly CarShare (now owned by Enterprise Rent-a-Car), RelayRides operates on the principle that many people only need a car on a "spot" basis, for a couple hours now and then.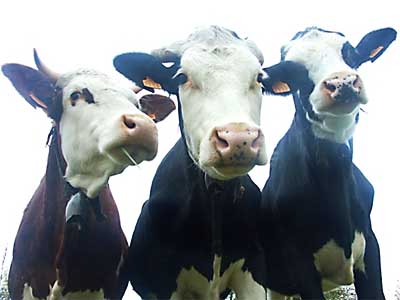 The science of assessing environmental impact is a relatively young one, having only gained traction over the past few decades. Methodologies are still being developed and perfected, and best practices are still in the process of being definitively established. So it's no surprise there is disagreement among experts as to the exact environmental impact of a given industry, with the "fracking" controversy being only the latest high-profile example.
Meanwhile, however, an argument has been brewing over the past half-decade about a key environmental-impact assessment: The role of livestock production in climate change, specifically in greenhouse-gas (GHG) emissions. I've been following this off and on and it's time to take a hard look at it.
At the outset I will remind you of my potential bias (especially since such transparency, or lack thereof, comes into play here): As a vegan, I deplore the institution of animal-based foods and know that they are unnecessary for humans to eat. You may well have a different attitude about the livestock industry, which is why I encourage everyone to read everything at the links herein and see what conclusion you come to.