Archive: January, 2012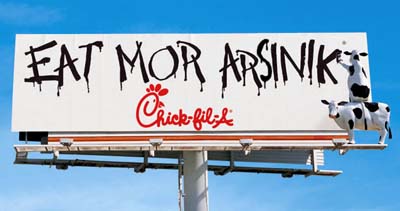 Well, it's good to hear the federal EPA is going to be carrying water - no, not figuratively, literally - to families in Dimock, PA, where drilling by Cabot Oil & Gas Corp., contaminated the water wells of 19 homes three years ago, according to the Pennsylvania EPA.
The agency went back and forth on the question of how to deal with the contamination, and given the hemming and hawing, this still may not be the final answer. But one passage in today's story caught my eye:
EPA toxicologist Dawn A. Ioven, in a memo posted on the agency's website, said well-test results from eight homes showed that four "contained contaminants at levels of potential concern."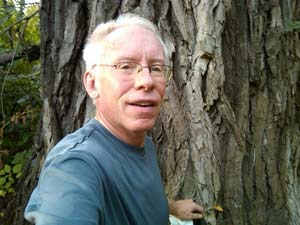 The tacit notion that whatever we throw away or stop paying attention to simply disappears from existence is called the "toilet assumption."
The derivation of the term should be obvious. And it's exactly the kind of thinking that the sustainable movement constantly fights against, working to keep people paying attention and considering consequences that may not be instantly apparent.
William Toffey is definitely working to raise awareness. But unlike most of us, he wants us to pay attention to what is actually and literally flushed down the toilet. Not just human waste but water, both of which make their way to treatment plants and then, in some form or another, out into the wider world.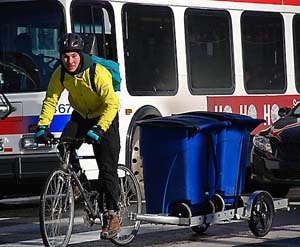 After a much-too-long hiatus, I was able to make it to a Green Drinks Delaware Valley event last week -- this one at the Standard Tap, where Green Drinks is the first Wednesday of each month - and as always I met some colorful and committed people who are trying to bring sustainability to Philly in various ways. Also, as happens sometimes, I got a couple brief audio interviews with some of these people.
Gabriel Mandujano has started a business called Wash Cycle Laundry, which pushes commercial laundering (and everyday household laundering too) into the Green zone. Their wash system has several efficiencies that Mandujano explains in this four-minute podcast interview, but the main hook for now is that all their pickups and deliveries are done by bicycle.
Listen for our discussion on whether bikes might someday also be used to power the machinery involved, a win-win if people could be persuaded to ride them for the exercise. Even more so if they would pay to do so. Hey, you never know, maybe Michelle Obama's "Let's Move' will kick in some funding to help people stay fit while they wash clothes!