Tech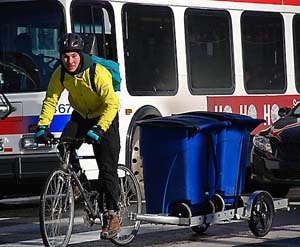 After a much-too-long hiatus, I was able to make it to a Green Drinks Delaware Valley event last week -- this one at the Standard Tap, where Green Drinks is the first Wednesday of each month - and as always I met some colorful and committed people who are trying to bring sustainability to Philly in various ways. Also, as happens sometimes, I got a couple brief audio interviews with some of these people.
Gabriel Mandujano has started a business called Wash Cycle Laundry, which pushes commercial laundering (and everyday household laundering too) into the Green zone. Their wash system has several efficiencies that Mandujano explains in this four-minute podcast interview, but the main hook for now is that all their pickups and deliveries are done by bicycle.
Listen for our discussion on whether bikes might someday also be used to power the machinery involved, a win-win if people could be persuaded to ride them for the exercise. Even more so if they would pay to do so. Hey, you never know, maybe Michelle Obama's "Let's Move' will kick in some funding to help people stay fit while they wash clothes!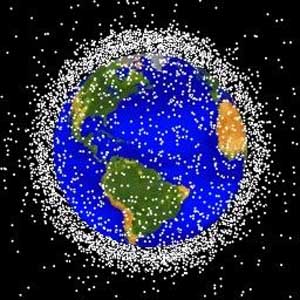 There's an interesting Q&A in today's Inquirer about space junk, entitled "Why we need a trash code for outer space." The danger it presents is not so much of falling on our heads (most of it burns up in the atmosphere) but of staying up there in orbit in perpetuity, ready to smash into something that may not be, but might then become, more space junk.
The green connection, of course, is that it's an issue of litter that has been created, unwittingly or not, and who should be responsible for clearing it up, i.e. cleaning the environment, which in this case is one of several orbits around the earth.
Most of the junk in question - tiny bits of machines that have collided and can do still more damage as they whiz around at dizziyingly high speed - is not a threat to us down here, but to other (super-expensive) stuff up there. And the scenario of their ability to become weaponized junk seems to have been largely disregarded in their deployment.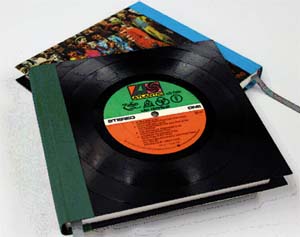 While vinyl is in the midst of a resurgence as a listening medium, there's still way more old vinyl records than there are hipsters to listen to them, and many old, previously cherished LPs wind up in the wastestream as their owners re-collect the content in digital form. This reflects some of the ambivalence a lot of us have about our old records - they have a special meaning, but not so much that we're going to try to get that turntable working again to hear them.
Katie Pietrak understands that dynamic and is capitalizing on it with Vintage Vinyl Journals, a new product that combines acid-free writing journals with covers made from actual vinyl LPs. "We rescue forgotten vinyl and repurpose it," she told me, adding that people use the journals for all kinds of things, including school notebooks, scrapbooksand other tomes that they consider worthy of a special package.
Pietrak stressed the high-quality acid-free paper in the journals and the glue holding them together, she said, is free of VOCs (volatile organic compounds - at first I heard this as BOC, and wondered what she had against Blue Oyster Cult records). In addition to their marginal eco-friendliness these items call us back to what the company's literature calls "a simpler time - when albums started with a pop and a hiss as needle met groove and thoughts were recorded pen to paper."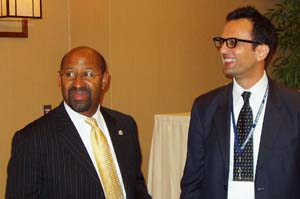 Here at Earth to Philly we've tweaked Mayor Nutter for his oft-repeated declaration that by the end of his second term (let's not pretend we don't know he'll get one) Philadelphia will be "The Greenest City in America." At the United Nations Environment Program on Sustainable Building Practices last week he indicated that the goal may indeed be more of a rhetorical device than a competitive race to number one. Is that a bad thing?
The Symposium on Sustainable Buildings was held Thursday and Friday at the T.C. Chan Center for Building Simulation and Energy Studies at the University of Pennsylvania. Our mayor was joined by other mayors and leaders at an event "to learn more about the mutual global effort to make where we live and work more comfortable and efficient." The T.C. Chan Center has a track record of working with institutions around the world both governmental and non- to create more sustainable buildings, largely by consultation and the development of simulation tools.
Dr. Ali Malkawi, the founder of TC Chan, discussed the center's work in building and retrofitting commercial and multi-family residential buildings around the Philadelphia area "not only to increase the efficiency of the area's buildings, but also to stimulate investment and quality job creation across the region."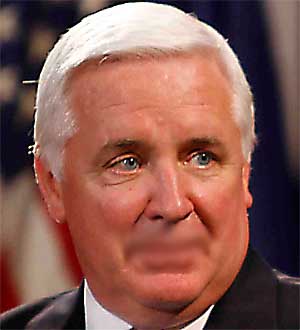 Don't read his lips: Governor Corbett promised no new taxes, and in spite of pressure from environmentalists to tax the gas-drillers of Marcellus Shale, he has technically kept that promise, instead allowing the counties involved to impos a fee in the plan he released today.
As one outlet put it, this has thrown a "curveball" into the debate, with people who were ready to react to the governor's detailed plan one way or another now needing to re-check where they land given this tightrope-sized middle ground Corbett is walking.
Don't worry, though. At the end of the day, by which I mean literally the end of today, Monday, the pros and cons will be lined up and broadcasting their message loud and clear.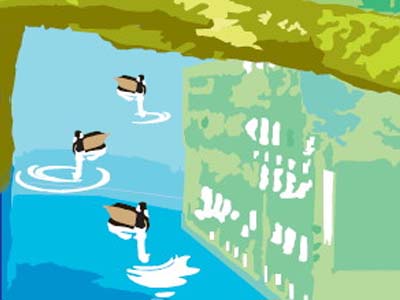 Manayunk's Eco-Arts Festival is back again this weekend, with Main Street (up to Green Lane - so our headline is close enough!) again stuffed with arts vendors, music, kids' activities, an eco-car show and general enviro-education in a festive format.
I could go on about the event - and indeed we tipped you to its ramping-up developments back in July - but you'll find the main details right here.
Worth noting is (relatively) new mom Paige Wolf, the author of Spit That Out! and a tireless advocate for sustainable events in and around Philly. She'll be doing a "green living seminar" she describes this way: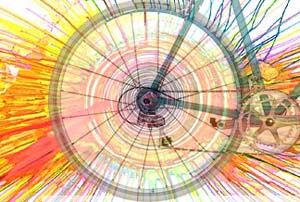 If you missed Manayunk's Eco-Arts Festival last September, or even if you were there, here's your chance to step up your game this year and be a star of the show. Well, one of the stars, anyway. OK, a featured supporting player.
The annual celebration (this is the second - last year it drew 30,000 attendees) brings together eco-minded artists, green businesses and environmentally-oriented community groups for a free event on Main Street, sharing resources and education about green and healthy living.
A press release promises that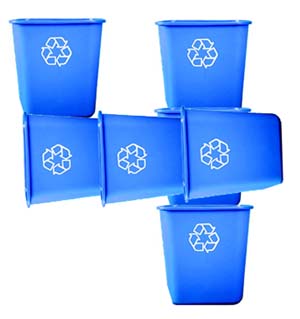 In just four years, Philadelphia has quadrupled its recycling rate That is unequivocally good news and a credit to Mayor Nutter, who has been tirelessly pushing this issue forward since his days on City Council.
The Greenworks Progress Report for 2011 (PDF) puts it this way:
After years of steady growth in the city's recycling rate, the Streets Department again recorded record rates of diversion in neighborhoods
across the city. In the first quarter of 2011, the curbside diversion rate was just over 20%, four times higher than the 2006 rate. Some sections of the city achieved diversion rates over 30%, and many neighborhoods have seen double-digit increases in recycling in the past year.