Tech
Earth to Philly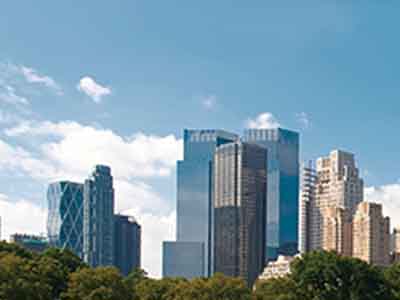 Here's another update from the Energy Coordinating Agency on trends in energy efficiency in Philly.
Last year Philadelphia adopted a city ordinance requiring that commercial buildings benchmark and disclose their energy and water use on an annual basis. Thus Philadelphia joins the growing number of cities across the country like New York and Seattle which are working to improve the energy efficiency of commercial spaces and helping save their owners and tenants millions of dollars a year in lower operating costs.
The Energy Benchmarking ordinance requires that all commercial spaces including universities, schools, and hospitals over 50,000 square feet must benchmark their energy and water consumption using EPA's free software, Portfolio Manager by October 31, 2013. Next year this information will be made available to the public and will be provided at time of sale.
While new technologies and eco-solutions are being generated every minute, you might think some products are beyond rethinking. A pencil. An undershirt. A paperclip.
I probably would have put flip-flop sandals in that category, but if you did, think again, because Pluggz has rethought the humblest of outdoor footwear to create something totally new: Sandals that, for $39 a pair, will bring you the electrical benefit of walking barefoot on the Earth.
That's right, these are thongs you'll get a charge out of. If you check the photo at right you'll notice a little circle near the middle - this is the "plug" - a "custom-formulated carbon and rubber compound" that is situated directly under the weight bearing part of your feet, so that when you walk, you're literally "grounded" by connecting more directly to the Earth.
What with all the rain this summer, you can bet it's been a bonanza for mosquitoes. And for those of us who have even the tiniest patio outside on which to gather for eating, drinking and relaxing, keeping the bugs off of us is always a plus. But how?
The bug zappers from days of yore are energy hogs as well as death-dealing distractions. The coils that you light on fire produce a plume of smoke that works as long as you're enveloped in it. Growing gigantic citronella plants to create an organic fortress is probably the all-around greenest solution, but it takes a lot of forethought and waiting time (not to mention enough fertile ground) to make it work.
The ThermaCELL Mosquito Repelling Lantern ($25 at hardware / home & garden stores) is trying to bridge that gap, keeping the bugs at bay without completely altering the environment, and even providing low-key lighting functionality.
Earth to Philly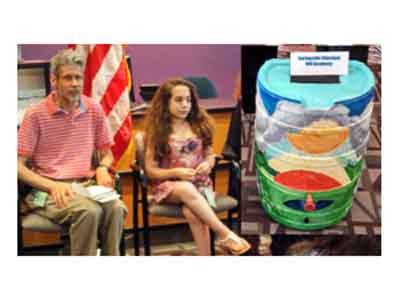 Here's another update from the Energy Coordinating Agency, this time bringing you more information than you thought you needed about rain barrels, courtesy of ECA's Matthew Wilk.
I had been working with Liz Robinson, Executive Director of the Energy Coordinating Agency (ECA) and a few other ECA staff members to coordinate displays for "The Art and Science of Rain Barrels"; an exhibit at the Environmental Protection Agency to raise awareness on the importance of managing storm water in Philadelphia.
I was expecting a small, intimate gathering with just a handful of people, so when I walked into a room filled with teachers, children, artists, community members and executives of non-profits, all mingling and reading information on rain barrels, I was quite surprised! It was really incredible seeing people from all different walks of life all gathered together for a single cause.
Frances Moore Lappe kicked off a whole subgenre of ecolocgy literature with her beststilling Diet for a Small Planet in 1971. The book challenged assumptions about the redistribution of food and how people's everyday actions might impact the global picture. Her latest, EcoMind, is a book devoted to overcoming mental habits that become obstacles to sustainable progress, and it's just out in paperback. We spoke by phone a few days ago.

Earth to Philly: When you originally wrote Diet for a Small Planet you were pulling together a lot of info on food and economics that people hadn't examined to such an extent. Did you see your main mission as conveying this data or changing the way people were thinking about these problems?
Frances Moore Lappe: I would say the latter, although I wouldn't have had that phrase then. But I was sitting in the U.C.-Berkeley library with my dad's slide rule, putting numbers together while the headlines were blaring to us that the world is running out of food famine is inevitable, scarcity is the cause of hunger, and my youthful intuition was that if I could just figure food out -- food is so basic, if we can't figure out why we're not feeding ourselves, all of us, that's a problem -- if I could just figure that one out then that would unlock the mysteries of economics and politics for me.
So I started with that one question, why are people hungry? Is it true that we're running out of food? And within a few months of putting the numbers together I had this shocking moment when I realized that we were actually creating scarcity out of plenty - that there was more than enough for all of us, but we had created this incredibly inefficient food system because the concentration of wealth and power meant that people couldn't buy the food they needed and it got diverted into feed -- and now, of course, into fuel -- and so today we have 20 to 30 percent more food for each of us, and yet there are as many people hungry today as there were when I wrote Diet for a Small Planet.
Mobile, mobile, mobile. Whatever it is, gotta have it on the go, and that includes solar energy. Especially on Earth Day.
So the Juicebar Mobile Charger is really using the word twice: It's for charging your "mobile," and it's mobile itself. Best of all, it can be charged on the go.
About the size of an original iPod, the device has a solar panel built into one side and a couple of stylish buttons on the other.
NOTE: Cross-posted from Jonathan Takiff's Gizmo Guy.
Go-green initiatives from the Philadelphia Phillies and Drexel University (what, no Eagles?) have helped jump start the Keystone Solar farm into being. And today to a "2013 Project of Distinction" honor at the PV America East 2013 trade show meeting at the Pennsylvania Convention Center.
Keystone Solar is the state's largest solar panel project, harvesting some 8,000 megawatt hours of sun juice per year. At the PV (Photovoltaic) show today, this Lancaster County install was cited as a "tribute to innovative energy marketing and exemplary project development." The former reflects on Keystone Solar's securing of a 15 year power purchase agreement with Exelon Generation with the backing of retail energy buys by high profile entities including the Phillies and Drexel, plus Franklin & Marshall College, Juniata College, Millersville University, the Clean Air Council and others.
The greener portions of the Web were abuzz this morning with the 'conversion' of UK environmentalist Mark Lynas from anti- to pro-GMO campaigner, centering especially on a takedown by Tom Philpott at Mother Jones of many of Lynas's arguments.

The good news is that the organic vs. GMO debate is generally growing more nuanced and particular, moving in from the extremes of "only GMOs can feed the world / GMOs will kill us all!" As Philpott points out, Lynas does make a couple of salient points about the opposition. But he proves apparently unable to counter detailed rebuttals to some of his own newly-streamlined "feed the world" claims. Check this passage dealing with Doug Gurian-Sherman points critiquing Lynas, which the latter called "a couple of minor issues with my speech." But, says Philpott, these points
are, in fact, fundamental. Lynas' pro-GMO arguments hinge on the idea that GMOs are necessary because other ag technologies and methods aren't up to the task. But that's just not true. Gurian-Sherman counters that conventional breeding actually outpaces genetic engineering when it comes to increasing crop yields. And he points to the work of Iowa State University scientist Matt Liebman, who co-authored a peer-reviewed 2011 paper (along with a USDA scientist among others) showing that diverse crop rotations along with nitrogen-fixing cover crops maintain crop yields while drastically reducing the need for synthetic fertilizers and herbicides while leaving groundwater cleaner.
The argument over the best way, with all factors considered, to improve agriculture to benefit humankind is not going to be over anytime soon. A Stanford study got major coverage this past fall for its declaration that organic