Food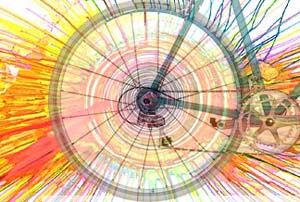 If you missed Manayunk's Eco-Arts Festival last September, or even if you were there, here's your chance to step up your game this year and be a star of the show. Well, one of the stars, anyway. OK, a featured supporting player.
The annual celebration (this is the second - last year it drew 30,000 attendees) brings together eco-minded artists, green businesses and environmentally-oriented community groups for a free event on Main Street, sharing resources and education about green and healthy living.
A press release promises that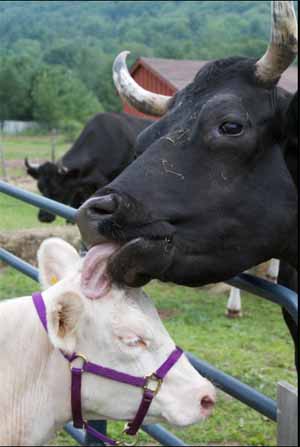 On Monday, after two weeks in quarantine, the cow that entranced our readership with her daring escape and recapture in Upper Darby finally reached her new home, Woodstock Farm Animal Sanctuary. This write-up by Bonnie Cook gives a vivid report on her arrival.
Kayli was off-loaded from an animal carrier this morning and got her first look at the Woodstock Farm Sanctuary in upstate New York where she will graze and chew her cud for the rest of her life.

She met her new handler, Jenny Brown, and bumped noses with two enormous steers, one of whom seemed to be smitten. Kayli batted her long white eyelashes at him, and a quick lick from him on the forehead sealed their friendship.
The week-long saga of Kayli's escape and negotiations to save her, culminating with an out-of-right-field "pardon" from Governor Corbett, is but the latest in a weird news genre, which goes like this: One of the billions of animals we kill for food, by asserting a will to live (that is of course shared by all of these animals), suddenly goes from 'thing' to 'person' in the eyes of the public. And the logical conclusion of that is a reprieve for the newly significant individual.
Hello. Here's a quick animated cartoon as City Council votes on the budget today...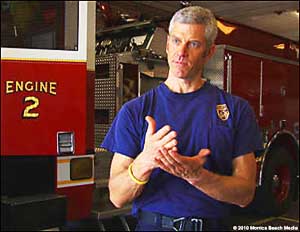 It's too bad the documentary Forks Over Knives opens in Philly just today. That means most of us have just one day to get to a screening before the end of the world tomorrow.
Ha ha! Get it? Some people are so easily persuaded that they actually believe that will happen. But here's no laughing matter: A great many of us are so easily persuaded that we believe there's some kind of need for meat and/or dairy in human nutrition.
Forks Over Knives demolishes that myth, long promulgated by a conflict-of-interest-afflicted USDA (and lately, largely recanted) that for decades pushed the erroneous notion that there were "Four Food Groups" we needed to include in our everyday eating, half of which were meat and dairy.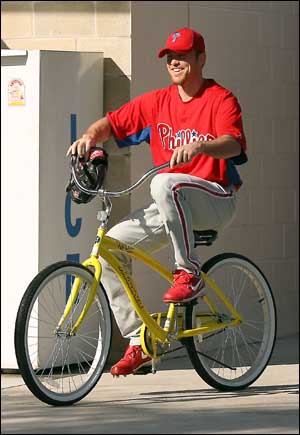 Here are a few items as part of our ongoing coverage that don't necessarily merit a separate post, but put together they add up to a heapin' helpin' of Earth to Philly news.
On the issue of those new bike lanes, on which I'm sure there will be more to come, we have the Inquirer report on the news that bicycling in the city has exploded, according to the Bicycle Coalition...
The coalition's report, written using census data and an internal "bicycle count," showed that bicycle commuting increased more than 150 percent from 2000 to 2009.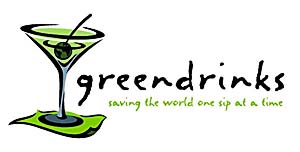 There's a GreenDrinks event, 7-9 p.m.Wednesday night, May 4, at Earth - Bread + Brewery (7136 Germantown Ave., Philadelphia, 215-242-6666) brewpub in Mt. Airy.
GreenDrinks is a national networking group that hosts informal gatherings, often in bars, for people to share how they live, think and work in an environmentally friendly way.
Also on hand will be GreenerU, which performs energy efficiency audits.
Tomorrow there's gonna be all kinds of fun and frolic on Broad Street and other streets, making getting anywhere in Center City a headache. Solution? Head to South Street.
More specifically, get thee to Wooden Shoe Books, 704 South, for the Philadelphia edition of the WorldWide Vegan Bake Sale. This year's event, happening in cities all over the place (in the course of this week), raises money to help Tsunami victims in Japan. The Facebook page explains that "The Worldwide Vegan Bake Sale began in 2009, when nearly 100 groups participated and raised $25,000 for a variety of causes. In 2010, even more participants, spanning six continents, raised more than $40,000 for various causes, primarily disaster relief in Haiti," and states that 100% of the proceeds will go to "AmeriCares, one of the most effective organizations at providing humanitarian relief in Japan."
Your local hosts are the International Vegan Conspiracy (really Randi Milgram and friends, "but great name, right?") who have collected donations from many of Philly's best and brightest vegan establishments, including DN faves Blackbird Pizzeria and Miss Rachel's Pantry. Milgram promises you'll find "chocolate peanut butter cups...coconut lime cupcakes...mocha chip muffins...strawberry lemonade whoopie pies...tomato rosemary scones...raw chocolate truffles..." You'll find them, that is, if you get there ealy enough! The event runs from noon to 4:00 p.m. but if you're smart you'll be camping out on South Street as of 11:15 to be first in line.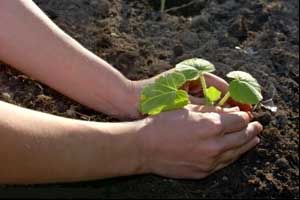 Well, the weather in the Delaware Valley may not be cooperating to get this across, but it's a spring green weekend and there are a few things we wanted to make sure you knew about:
For one thing, it's the city's annual "spring cleaning" litter pick-up day, focusing on a Cobbs Creek neighborhood this year. When the Mayor shows up to pitch in, as is his wont,
He'll see a creekside littered with old tires, a sofa cushion, empty motor oil bottles, clamshell sandwich containers.