Advice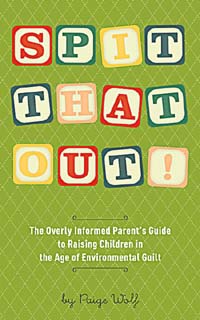 In our last post we tipped you to a few potential stocking-stuffers for the eco-minded on your list. Those were all oriented around technology. Here's one you can give to anybody who's trying to keep up with the New Rules of Environmental Consciousness, but especially those who are parents.
As you might have gleaned from its cheeky title, Paige Wolf's Spit That Out! The Overly Informed Parent's Guide to Raising Children in the Age of Environmental Guilt is too wry to be a straightforward how-to guide, yet it does have plenty of good tips on maintaining our sanity in a world where we're supposed to keep track of our impact in every possible direction - a task that becomes even crazier when you add raising children into the mix (she's a new mother herself). It's important to remember, she says, that while "perfect" is impossible, we can all do "better."
Earth to Philly attended Paige Wolf's launch party - or at least, I did, as an authorized Earth to Philly representative - at Arcadia Boutique in Northern Liberties and took a couple minutes for a recorded chat, which we've turned into this 5-minute podcast.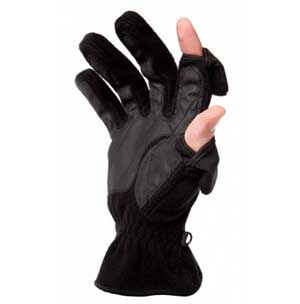 Tis the season for blog posts about eco-friendly gift ideas, and who are we to argue? Rather than trying for the definitive all-encompassing guide, we'll just mention three products that their PR firms were good enough to send to Earth to Philly for testing. These are all things that would be appropriate for your "green"-oriented friends, or for tech geeks, or preferably for both.
Freeloader Pico - This is a phone charger that's called "freeloader" because it gets its power from the sun (and "Pico" because it's the small unit in this line, I guess). Yes, a solar-powered charger. Great to have with you on the go, in case of emergencies or whatever - though you need to plan ahead to a certain extent as it takes 10 hours of full sun to fully charge, and then 10 minutes to charge your phone (or similar small electronic device).
I was never able to get the ideal conditions to charge this for 10 straight hours, but it did indeed charge up my phone from the exposure I was able to give it, and it's very lightweight and easy to stash somewhere to bring along. Find out about the Freeloader Pico, available for around $26, at freeloaderpico.com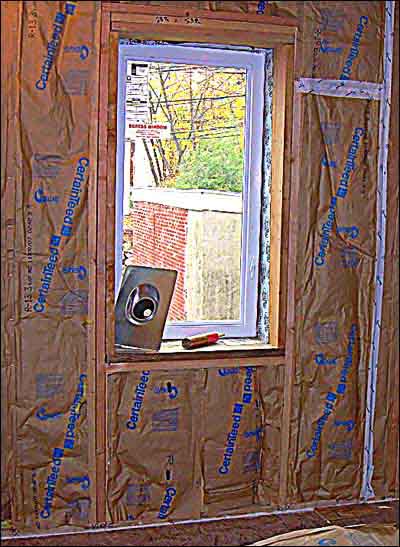 A heavily tabbed binder nearly bursting out of its three rings: this is the unpretentious foundation of a LEED for Homes rating. We just placed the one labeled "822 Cherry Street" on our shelf for completed projects, having awarded Habitat for Humanity Montgomery County their first LEED certification.
Developed by the U.S. Green Building Council, LEED, stated simply, is a long checklist for building a green home. The more "credits," or points, received, the higher the rating.
The construction industry leaves a tremendous carbon footprint. It was ECA's job, as the third-party rater, to provide technical assistance as well as verification for all the steps Habitat took to make the rehab and occupancy of 822 Cherry St. as resource-unintensive as possible.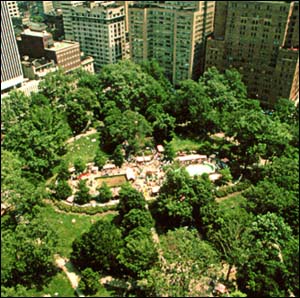 We don't have to wait for a sustainability czar to turn Philadelphia green... one zip code at a time. Check out this press release about a new series of confabs to improve 19103...
Greening Neighborhoods, Celebrating Community
Sustainable 19103 BYO

Where:
Trinity Memorial Church
2212 Spruce Street
Philadelphia, PA 19103
When:
Thursday November 18, 2010 from 5:30 PM to 7:30 PM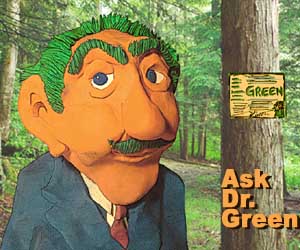 October plays host to a variety of events: playoff baseball, Columbus Day, Halloween, and Breast Cancer Awareness Month. But one side of October often escapes the public eye. October is Energy Awareness Month. Who knew?
Energy Awareness Month isn't exactly a household phrase. After all, there's no World Series of Insulation, you don't get to skip school on Weatherization Day (October 30th, by the way), and green is not nearly as fun to wear as pink.
But that may be about to change – at least in the Greater Philadelphia region. EnergyWorks, the first serious effort to upgrade the energy efficiency of the region's buildings is set to launch. EnergyWorks brings together an unprecedented array of rebates, tax credits and low interest loans with highly trained and certified building analysts and contractors to deliver real energy savings and better, more comfortable buildings to the Philadelphia region.
EnergyWorks has been made possible through a grant from the U.S. Department of Energy (DOE) to the City of Philadelphia, and is available to all homeowners in Bucks, Chester, Delaware, Montgomery, and Philadelphia counties. The Gold Star level, which leads to the highest energy savings, starts with an energy analysis by a Building Performance Institute (BPI) certified Building Analyst. Homeowners can qualify for IRS tax credits of up to $1,500, significant rebates from PECO Energy, and a
0.99%
interest rate loan through the
Keystone Home Energy Loan Program (Keystone HELP)
.
Energy efficiency is the best investment any homeowner can make right now. The rate of return is typically 12% to 20%. With all the financial incentives included in EnergyWorks, that could double. The benefits of home energy efficiency improvements typically include:
Significant savings of $250 to $700 per year every year
Improved comfort
Elimination of health and safety problems in the home: high carbon monoxide, gas leaks, moisture, mildew, etc..
Higher home value
Local job creation
Lower greenhouse gas emissions permanently
With PECO rate caps expiring at the end of December, and PGW and Water Department rate increases already in effect, there will never be a better time to act. So celebrate Energy Awareness Month by Saving Energy and Saving Money. Learn more about EnergyWorks at
www.ecasavesenergy.org
or by calling 215-609-1052. The sooner you act, the more you save.
And of course, Happy Weatherization Day.
Cool Roofs Follow-up:
Thanks to the inquiring minds of "Earth to Philly" readers, I have received phenomenal follow-up questions about cool roofs. Why, you ask, is it beneficial to put a cool roof on when winter is already upon us and it gets so cold? Wouldn't my home benefit from a hot, dark roof in the winter?
A cool roof combined with insulation is the most effective way of keeping both heating and cooling bills down. The climate in Philadelphia can help us understand why that is.
During the summer, the sun is higher in the sky, which gives us more hours of sunlight and hotter roofs. , A cool roof helps you keep your house cool for less in the summertime, reducing cooling load by 22%. During the winter, the sun is lower on the horizon, and the hours of daylight are shorter, so the heat gain from the sun on your roof is not as substantial. In Philadelphia, there is a theoretical 3% heat gain from solar radiation on a black roof. A properly insulated, cool roof is the best solution, keeping your home warm in winter and cool in summer.
Thank you for the insightful questions—keep 'em coming!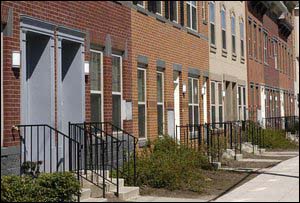 The Daily News has got a few good 'green' offerings today, starting with our Editorial section: Thomas Walsh has an op-ed about how Philly rowhouses are already notably energy-efficient and how they can be made more so.
Both sides of the aisle these days are claiming green as their own, so this issue is as win-win as you can get. Conserving energy means saving money - green times two. As winter approaches and energy costs rise, think of those PECO and PGW bills when you're eyeing a heftier shovel for the snow.
And in a venue very much related to the Editorial section, namely the blog It's Our Money (home of our Marcellus Shale Money Watch), there's a post, Marcellus Crash Course, that will link you to another good piece, this one by John Baer explaining the whole Marcellus Shale situation in a pithy Q & A. We've certainly done our share of attemptng to educate the public about 'fracking' and its pitfalls, but only John Baer would get the message across this way...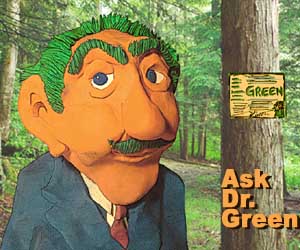 Q: The other day, I saw an ad for free portable air coolers that use almost no energy! It seems almost too good to be true. What do you think, Dr. Green?
A: If it seems too good to be true, it's either not so good or not so true. In this case, it's a little bit of both.
On Wednesday, August 18, 2010, Fridge Electric LLC ran a full-page advertisement for the MIRA-COOL air cooler in The Philadelphia Inquirer. The advertisement explains that the products are "being called a miracle because they use 95% less electricity than a typical room air conditioner, yet blast out ice cooled air without any windows, vents or Freon." It promises free air cooling units to the first 2,423 readers who call the phone number listed.
Let's look at the ad closely. The promise of "free air cooling units" refers only to your second air cooling unit—the first one costs $298, not including shipping and handling. It's the most expensive "free air cooling unit" I've ever seen.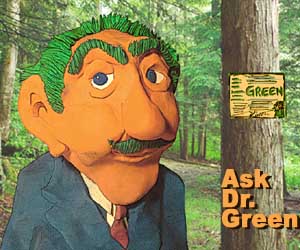 Dear Dr. Green: I've read about white roofs and heard a lot about Philly's Coolest Block Contest, but that was before the recent heat wave. Ninety degree temperature seems like too much for a measly coat of paint to handle. Does that stuff really work?

A: Skepticism is natural, but this isn't snake oil we're selling. A white roof really will save you money, make your home more comfortable, and help slow the rate of climate change.

Let's first look at the science. During a heat wave, black asphalt roofs can reach 195 degrees Fahrenheit. Much of that accumulated heat radiates into the building, rendering it uncomfortable and, in some cases, dangerous. Air conditioning systems consume great amounts of energy as they fight to counteract the effects of the sweltering roofs.

Experts recommend acrylic, elastomeric white roof coating as an effective way of cooling homes. Roofing materials with an EPA ENERGY STAR rated solar reflectance of more than 65 percent re-radiate much of the solar radiation back into the sky, reflecting heat much better than a traditional roof.

A healthy suspicion never hurt anyone, but ignoring the truth about white roofs can cost you. White roofs reduce air-conditioning bills by an average of 22 percent. White and reflective roof materials also extend the life of a roof by approximately 10 years, greatly reducing lifetime maintenance costs.

Still don't believe it? Try this on for size: because so much less heat is absorbed, the benefits extend beyond your energy bill. White roofs essentially restore a piece of the polar ice caps: research shows that by increasing the earth's reflectance (or albedo) and returning the sun's heat to outer space, they help both you and the climate stay cool during a heat wave.

Without a doubt, houses with white roofs feel cooler and are more comfortable to live in. But don't take our word for it—just ask people from the 1200 block of Wolf Street.

As winners of the Coolest Block Contest (CBC), all participating homes on the 1200 block of Wolf Street are receiving a free energy audit, air sealing, insulation, and white roof coating. The homes have yet to be fully retrofitted, but residents are already reporting that their homes are cooler on account of white roofs.

CBC winner Terry Jack perceived a change in her home almost instantly. "I have to say that there actually is a noticeable temperature difference on the second floor on the really hot days," says Jack.

Cory Suter, founder and chief operator of BioNeighbors, the contractor responsible for installing the white roofs for the 1200 block of Wolf Street, has received very positive feedback. "There is a tremendous difference to the interior comfort of the house," explains Suter. "People have been really impressed with how much cooler their upstairs is and how much less their air conditioner is running after installation."

You must be kicking yourself that you don't have a white roof. Luckily, the opportunity to get one hasn't passed you by. It's not too late to install a white roof! It can take as little as one day to install and you can start feeling the benefits almost instantly. So get comfortable and give yourself, your air conditioner, and your wallet a break.

Believe it or not, white roofs are super cool.
Our energy Q & A column from Philly's Energy Coordinating Agency has a special expert, Dr. Green, to answer your questions at energy@phillynews.com.