Hello, this is Flavia Colgan, and I know it's been a while since I was a blogger here at Earth to Philly, but I've been graciously given this special opportunity to let you know about a passion project of mine called Cost of Construction and an event here in town that is coming up. Here's some info:
In the wake of April 29ths worker memorial day procession in Philadelphia to commemorate worker safety in America and the worker related deaths here in Philadelphia, the documentary film Cost of Construction - which is investigating the failings of the worker safety system in America - is holding a fundraising event to help finish the film with the quality and attention to detail it deserves.
This documentary, three years in the making, is being produced by me and directed by filmmaker Jordan Ehrlich. Please come support the event and the cause this Monday night (June 20th) at 5:30 at Tavern on Broad (Bellvue Hotel) The contribution is $25 for food, drink and sneak peeks of the film. Thanks!
In case you missed yesterday's Daily News editorial, we've reproduced it here. It's short and to the point, and has a nifty animated GIF showing the before and after in question.
CALL IT extreme makeover, waterfront division. The before-and-after images - (below) of Washington Avenue - were unveiled last night as part of a public presentation of the Central Delaware Master Plan. These are more than pretty pictures of what a transformed waterfront could look like.
They are pictures of what a transformed public-planning process can look like. The master plan, which segments the central Delaware into three major planning sites - Spring Garden, Washington Avenue and Penn's Landing - combines low-rise residential development, retail, parks, trails and boat basins, and is the result of a public process begun by Penn Praxis that involved thousands of citizen hours.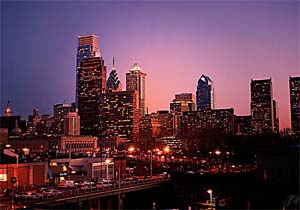 Earth to Philly has long pressed Mayor Nutter, both on this forum and in person, for more actions in more areas to back up the promise that Philadelphia will become "the greenest city in America." Yet periodically lists of such cities - the top 10, the top 15, even the top 20 - come out with Philadelphia nowhere to be found.
Maybe that's changing, as Grist just released a ranking that has Philadelphia at #8 - a far cry from the greenest city, but, as with our transit system, it indicates that "We're getting there."
But what's this? The #8 ranking is arbitrary because we're actually tied with #7 - which is... are you ready? New York!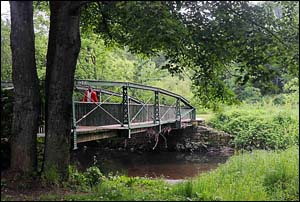 We wouldn't go so far as to call it a victory lap - but let's acknowledge some of the serious progress that has been made on the parks in 10 years - possibly with the help of the cheerleading of the DN Editorial Board (including here at Earth to Philly), but also, definitely with the help of the Philadelphia public. Here's the opening:
A FEW MORE ACRES, a lot less neglect.
Ten years after this newspaper's editorial series "Acres of Neglect" began a multiyear focus on the poor conditions, bizarre governance structure and unrealized potential of the city's parks, we are pleased to report significant change - in fact, a transformation.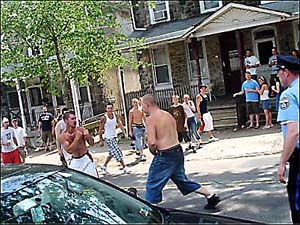 "Man, it's a good thing Stu Bykofsky isn't here to see this!" I mused yesterday as I watched people on bicycles riding the wrong way down a one-way road. Worse, this is a special new roadway that only the bikes have ever been allowed to drive on - cars, keep off!
Some context might help, as this was (in case you didn't guess) during the TD Bank International Cycling Championship, and the cyclists were all going by in a blur. But they were indeed on a road that has not yet been opened to cars - the ramp from Kelly Drive (westbound) to Ridge Avenue. (PennDOT says we'll finally be able to drive that one next month.)
This was one of several spots I visited in the course of the race that plows through my home neighborhood. From this spot just east of the Wissahickon creek I walked the route to the Wall and back.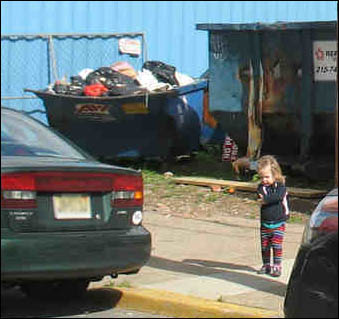 The Daily News is talking trash today, with occasional E2P blogger Ronnie Polaneczky leading the charge in a neighborhood where a Bart Blatstein property-development crew seems very lax about cleaning up after themselves.
For weeks, neighbors had complained to Blatstein-run Tower Investments - owners of the adjacent Piazza at Schmidts - about overflowing Dumpsters on the lot. Scavengers routinely ripped into the garbage, which then blew down the street.

The receptacles were supposed to hold only construction debris from the under-construction Arrow Swim Club across the street. But that's not what was fouling up the block.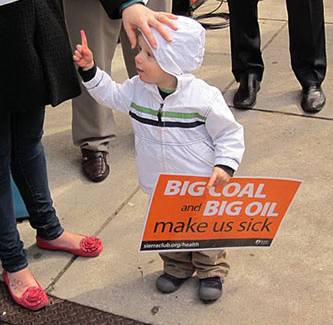 Tomorrow, Philadelphia will be one ring of a three-ring circus. In addition to Chicago and Atlanta, our town will be the site for a public hearing on a new EPA rule designed to drastically cut the amount of toxic mercurcy emitted into our air by coal plants.
The EPA is inviting public comment, and many organizations are going to make sure voices for clean air and water are heard, but the SIerra Club is taking the lead. Outside the Westin Hotel (99 South 17th Street at Liberty Place) where the hearings are to be held the venerable eco group promises a parade of dozens of moms and children in strollers ("Pregnant women and children are at greatest risk from mercury exposure, especially if they consume large amounts of fish and seafood" says the Sierra Club), some wearing breathing masks, chanting, etc. as well as fishermen testifying to the dangers in eating fish contaminated with mercury; all of which will be "waving colorful signs calling for EPA clean air protections."
So yeah, kind of a circus. The organizers want to get the public's attention in the first place, and also get more members of the public to weigh in on the proposed anti-mercurcy regulations, especially here, considering that Pennsylvania is one of the states with the highest concentration of old coal plants, the main source of mercury in air and water.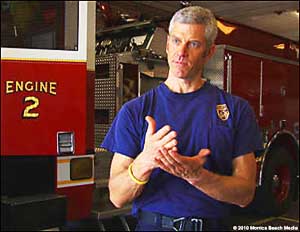 It's too bad the documentary Forks Over Knives opens in Philly just today. That means most of us have just one day to get to a screening before the end of the world tomorrow.
Ha ha! Get it? Some people are so easily persuaded that they actually believe that will happen. But here's no laughing matter: A great many of us are so easily persuaded that we believe there's some kind of need for meat and/or dairy in human nutrition.
Forks Over Knives demolishes that myth, long promulgated by a conflict-of-interest-afflicted USDA (and lately, largely recanted) that for decades pushed the erroneous notion that there were "Four Food Groups" we needed to include in our everyday eating, half of which were meat and dairy.