Biz
Earth to Philly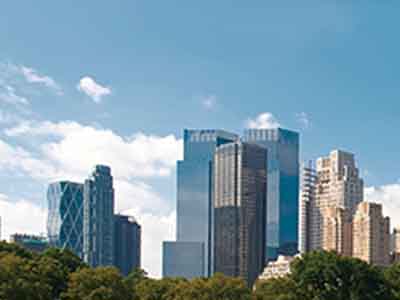 Here's another update from the Energy Coordinating Agency on trends in energy efficiency in Philly.
Last year Philadelphia adopted a city ordinance requiring that commercial buildings benchmark and disclose their energy and water use on an annual basis. Thus Philadelphia joins the growing number of cities across the country like New York and Seattle which are working to improve the energy efficiency of commercial spaces and helping save their owners and tenants millions of dollars a year in lower operating costs.
The Energy Benchmarking ordinance requires that all commercial spaces including universities, schools, and hospitals over 50,000 square feet must benchmark their energy and water consumption using EPA's free software, Portfolio Manager by October 31, 2013. Next year this information will be made available to the public and will be provided at time of sale.
While new technologies and eco-solutions are being generated every minute, you might think some products are beyond rethinking. A pencil. An undershirt. A paperclip.
I probably would have put flip-flop sandals in that category, but if you did, think again, because Pluggz has rethought the humblest of outdoor footwear to create something totally new: Sandals that, for $39 a pair, will bring you the electrical benefit of walking barefoot on the Earth.
That's right, these are thongs you'll get a charge out of. If you check the photo at right you'll notice a little circle near the middle - this is the "plug" - a "custom-formulated carbon and rubber compound" that is situated directly under the weight bearing part of your feet, so that when you walk, you're literally "grounded" by connecting more directly to the Earth.
What with all the rain this summer, you can bet it's been a bonanza for mosquitoes. And for those of us who have even the tiniest patio outside on which to gather for eating, drinking and relaxing, keeping the bugs off of us is always a plus. But how?
The bug zappers from days of yore are energy hogs as well as death-dealing distractions. The coils that you light on fire produce a plume of smoke that works as long as you're enveloped in it. Growing gigantic citronella plants to create an organic fortress is probably the all-around greenest solution, but it takes a lot of forethought and waiting time (not to mention enough fertile ground) to make it work.
The ThermaCELL Mosquito Repelling Lantern ($25 at hardware / home & garden stores) is trying to bridge that gap, keeping the bugs at bay without completely altering the environment, and even providing low-key lighting functionality.
Mobile, mobile, mobile. Whatever it is, gotta have it on the go, and that includes solar energy. Especially on Earth Day.
So the Juicebar Mobile Charger is really using the word twice: It's for charging your "mobile," and it's mobile itself. Best of all, it can be charged on the go.
About the size of an original iPod, the device has a solar panel built into one side and a couple of stylish buttons on the other.
NOTE: Cross-posted from Jonathan Takiff's Gizmo Guy.
Go-green initiatives from the Philadelphia Phillies and Drexel University (what, no Eagles?) have helped jump start the Keystone Solar farm into being. And today to a "2013 Project of Distinction" honor at the PV America East 2013 trade show meeting at the Pennsylvania Convention Center.
Keystone Solar is the state's largest solar panel project, harvesting some 8,000 megawatt hours of sun juice per year. At the PV (Photovoltaic) show today, this Lancaster County install was cited as a "tribute to innovative energy marketing and exemplary project development." The former reflects on Keystone Solar's securing of a 15 year power purchase agreement with Exelon Generation with the backing of retail energy buys by high profile entities including the Phillies and Drexel, plus Franklin & Marshall College, Juniata College, Millersville University, the Clean Air Council and others.
So according to today's Inquirer, SEPTA is pioneering new sources of revenue, extending the "ad-wrapped bus" concept to regional-rail trains.
If this is the future, well, it's not bad. The Prohibition-themed car looks pretty cool, actually, though I wonder how much sunshine the "Sunshine Express" is really bringing into its passengers' mornings ... vs. how much cringing. I also wonder why Colt .45 for buses was nixed, while Bailey's Irish Cream on train cars is fine. And ads for cars on a train? Isn't that kind of self-defeating?
All that is probably moot, though, as I almost never take the train: I'm a bus rider.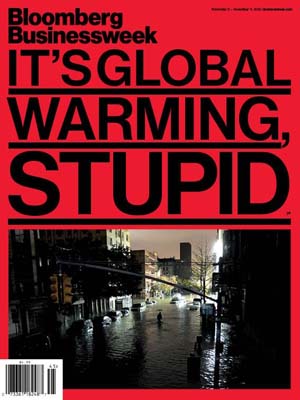 All of a sudden, it's OK to talk about climate change again. The weather event known as Sandy - or, if you're part of the media in-crowd, "Superstorm Sandy" - was so intense and overwhelming that many people who tuned out the warnings about bigger, stronger storms are now seeing things that make them go "hmmmm."
The biggest signal of a renewed climate-change conversation, though, came from Bloomberg Business Week, which pulls no punches in the cover story for its current issue: "It's Global Warming, Stupid." Just one excerpt.
In his book The Conundrum, David Owen, a staff writer at the New Yorker, contends that as long as the West places high and unquestioning value on economic growth and consumer gratification—with China and the rest of the developing world right behind—we will continue to burn the fossil fuels whose emissions trap heat in the atmosphere. Fast trains, hybrid cars, compact fluorescent light bulbs, carbon offsets—they're just not enough, Owen writes.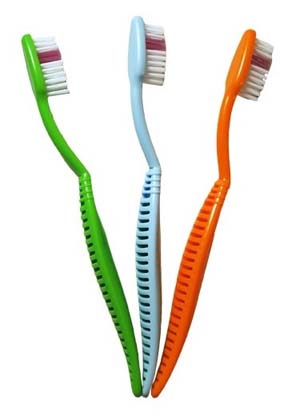 Well, tomorrow's Earth Day, so here's Part Two of our E2P roundup - a bunch of items related to the holiday from products to events to food and film!
Time was, releasing a product with less packaging or some recycled materials was enough for a flurry of publicity about a company's "commitment to sustainability." The field was less crowded, and a token effort would allow you stand out from the mainstream crowd. But with more jumping on the crowded "green" bandwagon, the bar is being raised.
"How high?" you might ask, but the question is really "how low?" when you're talking about compostable Toothbrushes!