Each month Earth to Philly will feature a Dumpster Diver Dispatch, a series of stories and perspectives from Philadelphia's original "green" community of artists, the Dumpster Divers. You'll learn about creative ways to reuse and recycle while you reduce, and about the artists who are making little masterpieces from what others throw out. October's entry is written by diver Sally Willowbee, about whom you can find out more at the end of this article.
Margaret Giancola could have been the poster-woman of the recycling movement, of the movement to wake up and think about our culture's legacy. The hundreds of rugs she crocheted from ordinary plastic bags and tablecloths, and mostly gave away to friends and family, were her legacy to future generations. They will last forever, they won't fade, they won't shrink, and they won't slip!
Margaret was 78 years old, full of spunk with a sparkle in her eye and a positive outlook on life, when I first met her at her home in Collingswood NJ. She had started crocheting rugs years before, when she worked as a health care provider for a woman whose medical condition brought in large quantities of plastic bags. She began with the idea of making place mats; but instead, she decided to crochet a rug much like the rugs she had made from rags and old silk stockings during the depression. Although she had plans to continue crocheting her colorful plastic bag rugs until she was at least 120 years old, she didn't quite make it and passed on a few years ago in her late 80s.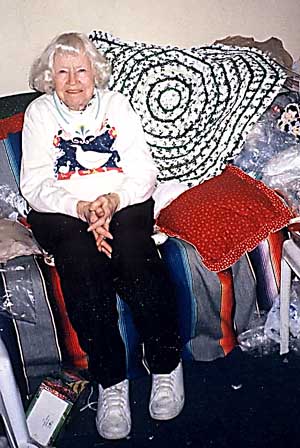 Like the day I first met her, most days you could find Margaret squeezed into the center of her living room couch; dwarfed by clear plastic bags full of colorful balls piled high around her. This was her work place. Her finished and unfinished rugs, large and small, new and used, crowded her living room floor and other surfaces. TV blaring in the background, Margaret spent much of her days and sometimes her nights cutting long inch-wide strips from plastic bags; rolling the strips into balls (just like balls of yarn) and filing them according to color in their designated storage bag. This was her raw material and her palette from which she chose her colors to crochet her kaleidoscope rugs.
An artist of color, Margaret's paints were the many colors of plastic bags and plastic tablecloths; sometimes bright, sometimes muted, sometimes with random splashes of abstract color produced by a store name and logo. Margaret crocheted the story and history of our material culture and consumerism into her rugs. The story is told by the single crocheted row of K-Mart bags no longer available, by Shop Rite's new bags providing an abundance of yellow, and accented by designer bags in shades of lavender, purple and pink and the bright rainbow colors of throwaway tablecloths.
Margaret was a connoisseur of plastic bags. Some bags didn't crochet well; some were too thick, some too thin, and some too stretchy. These were the ones she used to put out her trash. Dressed in her sensible shoes and clothes, she collected her art materials on her walks around town. The neighbors' trash, donations from family and friends and the recycling bin at the local grocery store were Margaret's sources of bags.
Margaret reused those otherwise thrown-away plastic bags and plastic tablecloths and gave them a new meaning and a new life, and ironically, a valued permanence and usefulness. By recycling them, she interrupted the usual route from store… to home… to landfill… where their non-degradable permanence will produce a light far into the future. Margaret crocheted a warning of the fate of our environment.
-- Sally Willowbee
Sally Willowbee is a writer, artist, self-taught furniture maker, and lifelong trash-picker working to interweave her lifestyle, politics, feminism, creativitiy and humor with her concern about our environment. More info at www.quirkyworks.info