Wheels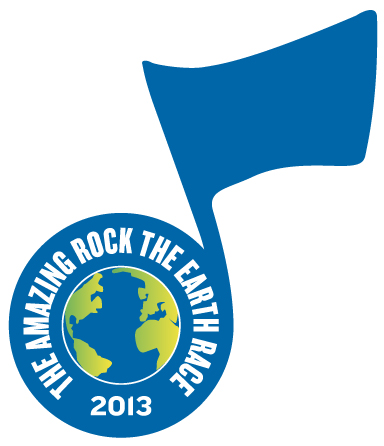 So Earth to Philly got a pitch to write up a new Earth Day event - The Amazing Rock the Earth Race, which will take place over 7 hours on April 21st "in Denver, Boulder and other spots along the Front Range." Specific race details are somewhat sketchy, though there will be "mental and physical challenges."
I'm guessing the main physical challenge won't be getting oneself to Boulder from Denver or vice versa, given that one round trip would equal two marathons - something people rarely pull off within a 7-hour time window. Oh, also, all participants need to be able to drive.
This suggests that whatever else it involves in terms of feel-good earth-friendly consciousness raising, this event exhorts up to 75 2-person teams, i.e. 75 vehicles, to drive all over the "Front Range" for a day.
So according to today's Inquirer, SEPTA is pioneering new sources of revenue, extending the "ad-wrapped bus" concept to regional-rail trains.
If this is the future, well, it's not bad. The Prohibition-themed car looks pretty cool, actually, though I wonder how much sunshine the "Sunshine Express" is really bringing into its passengers' mornings ... vs. how much cringing. I also wonder why Colt .45 for buses was nixed, while Bailey's Irish Cream on train cars is fine. And ads for cars on a train? Isn't that kind of self-defeating?
All that is probably moot, though, as I almost never take the train: I'm a bus rider.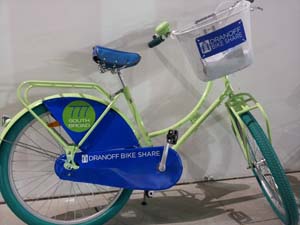 Reposted from Ronnie's blog, So What Happened Was...
It's a bummer that Philly has yet to launch a bike-sharing program, which looked promising two years ago but today, well, not so much.
So it'll be fun to see a way-scaled-down program in action starting Wednesday, when Dranoff Properties launches its own bike-sharing program, which will allow residents of Dranoff buildings the free use of a fleet of bikes.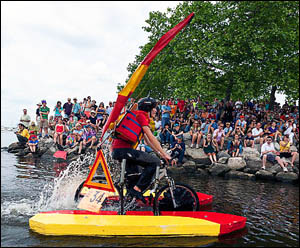 As part of Earth to Philly's Dumpster Diver Dispatch series, I have in the past kept you updated on the progress of the Dumpster Divers team in Baltimore's AVAM Kinetic Sculpture Race. For those coming in late, these are human-powered vehicles tricked out as works of art that must surmount pavement, sand, mud and water. Its a bona fide movement mixing love for art and sustainable transportation, involving thousands of people, started back in 1969 by Hobart Brown after he souped up his son's tricycle with a couple extra wheels. I've also alerted you to the ensuing annual Kensington Kinetic Sculpture Derby held here in Philadelphia, and this year is no exception.
What's exceptional is that the "Dumpster Divers" team (the only team in Baltimore that's done every race) now consists solely of myself -- no longer an official Dumpster Diver -- and my son Skyler, who never was inducted into that group of trash-picking artists.
What's also exceptional was Skyler's determined mastery of the course in his self-designed "Cat-a-maran." And when I put it that way, I'm not just being a doting dad - he brought home an award for the Dumpster Divers, for his performance in exiting the water.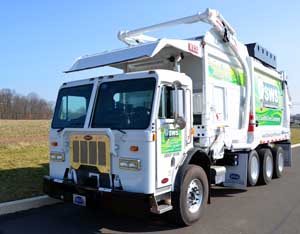 If you go to an Eagles game next season and enjoy a plastic-bottled beer during the game (I know, what are the odds?), that bottle could be part of a former Lincoln Financial Field tarp.
How so? Randy Hendricks, the CEO of Sustainable Waste Solutions, explains: "The Eagles organization has done a tremendous job of looking at everything they buy, and everything they do, for sustainability," and the go-green mindset extends beyond high-profile solar-panel and wind-turbine projects to the nitty-gritty of waste management. Hendricks says the team is on a quest to go "100% landfill-free."
That's where his company enters the picture: "They just had a full field tarp replaced. They were looking into how it could be gotten rid of in the least harmful way, you know, most efficiently - but we said hey, that's a plastic that we can ground up and recycle. That's going to become a beer bottle or something."
NOTE: This piece on a new car-sharing model is cross-posted from Jonathan Takiff's Gizmo Guy blog.
What's environmentally friendly, socially responsible and can make you money? RelayRides, putting a new spin on "car pooling" and today hanging out its virtual shingle nationally at www.relayrides.com.
Like ZipCar and regional deals like Philly CarShare (now owned by Enterprise Rent-a-Car), RelayRides operates on the principle that many people only need a car on a "spot" basis, for a couple hours now and then.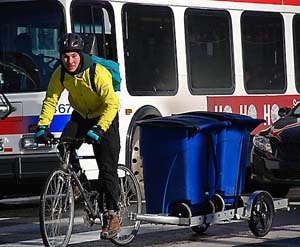 After a much-too-long hiatus, I was able to make it to a Green Drinks Delaware Valley event last week -- this one at the Standard Tap, where Green Drinks is the first Wednesday of each month - and as always I met some colorful and committed people who are trying to bring sustainability to Philly in various ways. Also, as happens sometimes, I got a couple brief audio interviews with some of these people.
Gabriel Mandujano has started a business called Wash Cycle Laundry, which pushes commercial laundering (and everyday household laundering too) into the Green zone. Their wash system has several efficiencies that Mandujano explains in this four-minute podcast interview, but the main hook for now is that all their pickups and deliveries are done by bicycle.
Listen for our discussion on whether bikes might someday also be used to power the machinery involved, a win-win if people could be persuaded to ride them for the exercise. Even more so if they would pay to do so. Hey, you never know, maybe Michelle Obama's "Let's Move' will kick in some funding to help people stay fit while they wash clothes!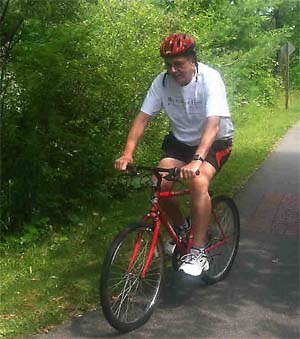 He's at it again: Philadelphia's self-appointed bike-culture critic Stu Bykofsky today ratchets up the volume in his cri de coeur against the two-wheeled onslaught. While he's crowing about a "Pushback against those who pedal," the latest installment shows signs of nuance that temper what was previously an ongoing broadside against no-good cyclists. Maybe his much heralded bike-riding photo-op earlier this summer has softened his heart?
Consider:

* Stu comes out in favor, more or less, of the "temporary" (like Stu, most of us don't buy that qualifier) removal of a lane along JFK Boulevard between 15th and 20th.