Hearth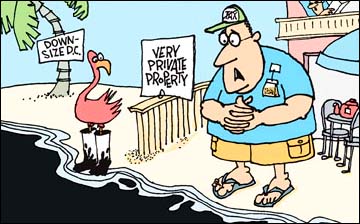 Here's today's editorial from the Daily News:
GUSH, BABY, GUSH.
The environmental catastrophe unfolding in the Gulf of Mexico can't be described as a "spill" - not when 200,000 gallons of oil a day are gushing from three ruptures in a well a mile below the surface - and no one has figured out yet how to cap it.
Last year, as you'll recall, E2P reported that Earth Hour turned out to be more fun than imagined. Turning off all the lights and electrical applicances in the house sounds like kind of a boring way to entertain oneself, but the secret is what happens next. What are your plans? (Note: If they're "turn on every light in the house," please - that's so 2009.)
And will Earth Hour live up to the hype this year? (And by hype I mean: "LARGEST CALL FOR ACTION ON CLIMATE CHANGE IN HISTORY") So far Mount Rushmore, Las Vegas Strip, Empire State Building, Golden Gate Bridge and other classic American icons of the extravagant expenditure of energy will be going dark for the hour. Might've been nice to see Philly represented on one of these pages - what, was Billy Penn not willing to play ball?
In our email inbox we find that a company called Direct Energy is concerned that only seven percent of Pennsvylanians know about Earth Hour. So in addition to sending out Energy-Saving Tips (these are helpfully color-coded for savings/difficulty) they're doing their part, as are we, to get the word out.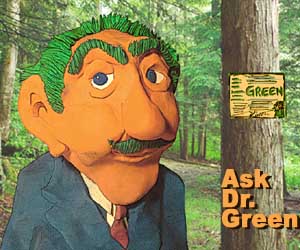 Our energy Q & A column from Philly's Energy Coordinating Agency has a special expert, Dr. Green, to answer your questions at energy@phillynews.com.
Dear Dr. Green,
I watched President Obama speak earlier this month about the Home Star Energy Efficiency Program, or "Cash for Caulkers." What's this program all about – and how can I cash in on its rebates?
Two pieces in today's Daily News take off on Mayor Nutter's proposed trash pickup fee from different directions.
In our news page, Catherine Lucey looks at the Recycling Rewards program from the standpoint of the trash fee: Will savings people receive via coupons (in exchange for their recycling achievement) make up for the extra charge for trash?
Councilwoman Maria Quinones-Sanchez, a critic of the trash fee, applauded efforts to increase recycling, but questioned whether coupons would truly defray the added trash bill.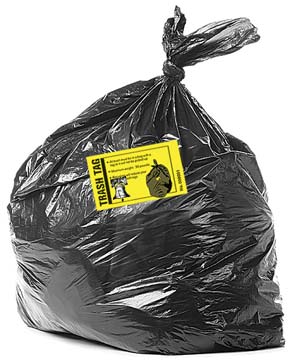 In my neighborhood, trash pick-up day is Friday. We used to put our garbage at the curb on Thursday nights, but scavengers would rip our bags open in search of stuff to sell (used and dirty Saran wrap, anyone?).
Friday mornings, our sidewalk would be littered with our own trash, which we'd then have to rebag for the sanitation workers to haul away.
Needless to say, we don't put out the trash on Thursday nights any more. We wait until Friday morning, when scavengers no longer have the cover of night to hide the mess they once made with impunity.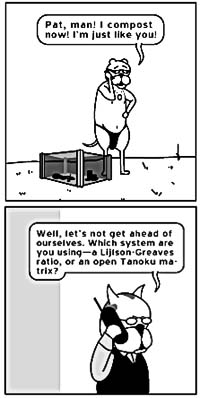 To anyone familiar with Achewood, the very first panel of the Jan. 31 strip will likely induce anticipatory giggles, or even guffaws: Ray, the cat in the thong, is in almost every way the polar opposite of Pat, a fact that becomes evident in the ensuing argument about exactly how composting should be done - an argument that somehow leads to Ray convincing John Mackey to have helicopters fly over potato fields reading People magazine aloud.
Ray and Pat's spat could have been avoided if both had sat down at a proper composting conference and got their facts straight. And if a composting conference sounds like something that would only happen in the exaggerated-piety world of Achewood, think again: A week from today, on Feb. 10, the PA Horticultural Society will host Compost Matters, a conference devoted to just that topic that will be held at the American Philosophical Society in Old City. Here's some of the details:
With a focus on new developments in food-waste composting practices, the forum will bring together innovators, policy makers, and visionaries in the field, examining current barriers to food waste recovery, public policy issues, and successful models from the region and around the state. The conference is geared toward sustainability professionals from local governments, institutions, and businesses; municipal and state officials; and the interested public. Participants will learn about current opportunities for composting food waste and how to include food recovery efforts in their operations. Tours of local composting sites will be offered on Wednesday afternoon and Saturday morning, February 13.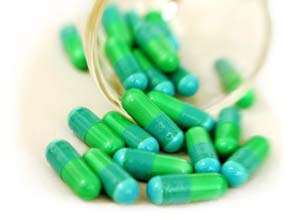 Local boy makes good on the evening news!!! Katie Couric will be interviewing Steve McDonnell, the founder of Applegate Farms in Buckingham, about how he raises their animals without antibiotics. The segment, about the overuse of antibiotics in industrial farming, will air on the CBS Evening News January 20 and 21.
As a "New Hope Farmers' Market News" email that was forwarded to me noted, the vast majority of antibiotics used on farms are given to healthy animals. It goes on:
Antibiotics are often fed to livestock to help them grow faster. However, the antibiotics have created increasing resistances in some animals to antibiotics, and have allowed diseases such as malaria, tuberculosis, and staph to morph into strains that are more resistant to medicine. These resistances are then passed on to humans as they eat the drug-resistant pork, chicken, and beef around their dinner tables.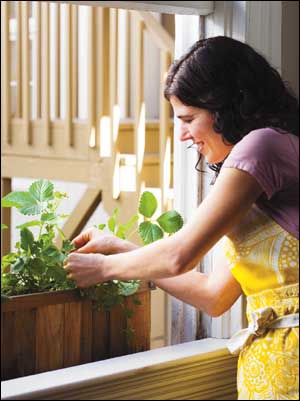 You'll have a whole new perspective when you open your refrigerator after reading this story about Philly-born Louisa Shafia, a seasoned cook (at New York's Aquavit, among others) who says there's much more to eco-conscious eating than organics and local ingredients. Read on for some great tips ­- and click through for more, plus recipes and a related fitness column from Kimberly Garrison.
ARE YOU COOKING with a clear conscience?
When it comes to guilt-free eating, the concept should extend beyond overindulging in fried foods and rich desserts. It's possible to "green your cuisine," according to Louisa Shafia, Philly-born author of "Lucid Food: Cooking for an Eco-Conscious Life" (Ten Speed Press, $22.50), by making Earth-friendly food choices, sourcing animal products ethically, buying local to reduce your carbon footprint, gardening and more.