Art
It's been a while since we caught up with the latest goings-on of Philly's Dumpster Divers, the collective of artists who make cool stuff out of found objects and other throwaway elements. You may recall their previous awards banquets, the first South Street gallery, the second South Street gallery and other endeavors.
Partially, the lack of E2P coverage is because we just weren't posting as frequently in 2012. But another factor is that this "fringe" group of "offbeat" creative types has, over the past few years, been mainstreamed.
Not that the artists have changed their attitude or output - rather, society seems to finally be catching up with the Divers. This is evident in the title of their newest exhibition, which opens tomorrow and runs through Feb. 10th: "Upcycling Trash to Treasure." All along the Divers thought they were just creating fun and/or useful objets d'art out of trash - turns out they were "upcycling!"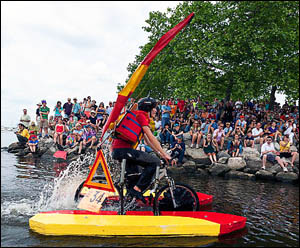 As part of Earth to Philly's Dumpster Diver Dispatch series, I have in the past kept you updated on the progress of the Dumpster Divers team in Baltimore's AVAM Kinetic Sculpture Race. For those coming in late, these are human-powered vehicles tricked out as works of art that must surmount pavement, sand, mud and water. Its a bona fide movement mixing love for art and sustainable transportation, involving thousands of people, started back in 1969 by Hobart Brown after he souped up his son's tricycle with a couple extra wheels. I've also alerted you to the ensuing annual Kensington Kinetic Sculpture Derby held here in Philadelphia, and this year is no exception.
What's exceptional is that the "Dumpster Divers" team (the only team in Baltimore that's done every race) now consists solely of myself -- no longer an official Dumpster Diver -- and my son Skyler, who never was inducted into that group of trash-picking artists.
What's also exceptional was Skyler's determined mastery of the course in his self-designed "Cat-a-maran." And when I put it that way, I'm not just being a doting dad - he brought home an award for the Dumpster Divers, for his performance in exiting the water.
Now, you may recall The Golden Flipper as the award he and I won in 2009 when we entered the water and our vehicle immediately flipped over. However, the award is not for flipping per se, but for "the craft with the most interesting water entry." Often this does involve either flipping, or falling apart, or otherwise engaging in comical catastrophe (don't worry, everybody has a life jacket).
At this year's awards ceremony, the emcee specified that breaking with tradition, even though there were plenty of spectacular failures among vehicles entering the water, they were going to award it to the "most interesting water exit:" Skyler, going for an "Ace" award (no help getting through any obstacles, no pushing or walking the vehicle) had the waterfront park crowd on the edge of their seat as he contrived to pull himself up the ramp by rotating his front wheel with his feet. What the crowd didn't know was that his chain had gotten stuck in the highest gear at the outset of the race, so even once he could use the pedals it was still a gritty, heart-stopping, crowd-pleasing feat, to the point that the race judges decided -- exceptionally -- to award the Golden Flipper this year "not for failure, but for success."
Now, you doubtless will assume I'm going on about this one epic moment last weekend because of my personal connection to the pilot. Maybe so. But I'm also trying to illustrate a larger point: I want Philly to have the kind of event that can generate such moments of glorious athleticism -- mixed as it is with the fun spirit embodied in the fact that Skyler was doing this while made up as a cat, with Gorilla-tape ears on his helmet.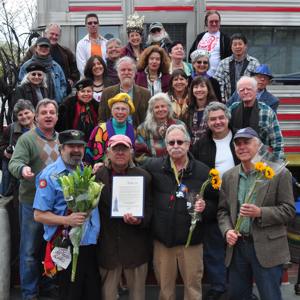 It may have sounded to some like an April Fool's joke, but it was as real as a metal trash can: Yesterday the 20th anniversary of Philly's legendary "trash art" group The Dumpster Divers was marked with a group photo and an official Mayoral Tribute from Michael Nutter.
The celebration was held at the site of the first meeting, April 1, 1992, at the American Diner at 5th and Spring Garden. Silk City diner, which now resides at that location, was gracious enough to allow the Divers to use their premises as the site for their revelry.
The Dumpster Divers' motto is "one man's trash is another man's treasure," and the group has established a name for itself by creating art of trash, recycled materials and found objects, turning traditional notions of artistic beauty and worth on their head while generating some of the most eye-catching and original works of art and craft anywhere. (Disclosure: I was a member of the group from 1994 to 2008. I resigned membership upon launching Earth to Philly so I would be able to chronicle the group's exploits with the crystal-clear eye of objectivity required of all jounalist-bloggers.)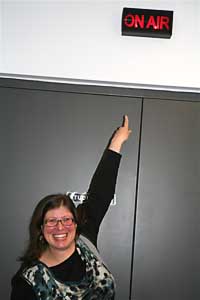 Last week a milestone of sorts was reached in the world of people-based media here in Philly. At an event attended by Earth to Philly and members of other interested groups plus the public at large, PhillyCAM quietly went from playing only prerecorded videos to putting out live, local programming to the region's cable subscribers.
Well, actually it wasn't all that quiet. Mayor Nutter stopped by in the afternoon for an official ribbon-cutting, and the party in the evening was boisterous that I was hard-pressed to do any interviewing on-site and decided to follow up on the event later.
I spoke with two of the head honchos, Executive Director Gretjen Clausing and Programming Director Debbie Rudman, about how things are shaping up for PhillyCAM after a quarter-century fight to bring public access television, something that's been long enjoyed in other cities, to Philly.
Clausing appeared along with other staffers in the initial live-programming spot, which included interviews and clips detailing the long slog activists undertook to get PhillyCAM to happen (even though it was already mandatory for the city and Comcast to do so). After coming out of the studio, she was entertained by the number of people who said "I just saw you on TV!"
The show was livestreamed and public-access advocates around the country tuned in. One show host who was also interviewed in that first live show "got so many texts from so many people his phone died" that night, said Clausing.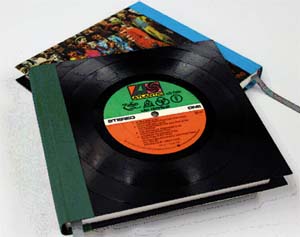 While vinyl is in the midst of a resurgence as a listening medium, there's still way more old vinyl records than there are hipsters to listen to them, and many old, previously cherished LPs wind up in the wastestream as their owners re-collect the content in digital form. This reflects some of the ambivalence a lot of us have about our old records - they have a special meaning, but not so much that we're going to try to get that turntable working again to hear them.
Katie Pietrak understands that dynamic and is capitalizing on it with Vintage Vinyl Journals, a new product that combines acid-free writing journals with covers made from actual vinyl LPs. "We rescue forgotten vinyl and repurpose it," she told me, adding that people use the journals for all kinds of things, including school notebooks, scrapbooksand other tomes that they consider worthy of a special package.
Pietrak stressed the high-quality acid-free paper in the journals and the glue holding them together, she said, is free of VOCs (volatile organic compounds - at first I heard this as BOC, and wondered what she had against Blue Oyster Cult records). In addition to their marginal eco-friendliness these items call us back to what the company's literature calls "a simpler time - when albums started with a pop and a hiss as needle met groove and thoughts were recorded pen to paper."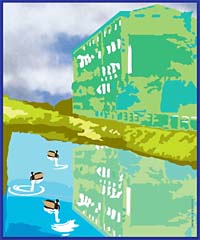 Manayunk's Eco-Arts Festival is back again this weekend, with Main Street (up to Green Lane - so our headline is close enough!) again stuffed with arts vendors, music, kids' activities, an eco-car show and general enviro-education in a festive format.
I could go on about the event - and indeed we tipped you to its ramping-up developments back in July - but you'll find the main details right here.
Worth noting is (relatively) new mom Paige Wolf, the author of Spit That Out! and a tireless advocate for sustainable events in and around Philly. She'll be doing a "green living seminar" she describes this way: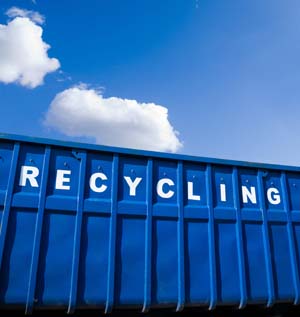 It's a theme we've touched on before here at Earth to Philly, but today the Daily News does it up right, asking the musical question, Why don't many Philadelphia businesses recycle, if the law requires them to? Only a quarter of the city's businesses, after all, have even filed their required recycling plans with the city, and many apparently aren't even aware that they have to.
The short answer to the "why" question is that the City doesn't have the same financial stake in getting business owners to recycle as it does for residents.
The city makes $65 for every ton of residential trash it recycles, but makes nothing from most commercial recycling, because that money goes to private haulers. And the amount of money that the city could collect fining businesses wouldn't cover the cost of handing out the fines.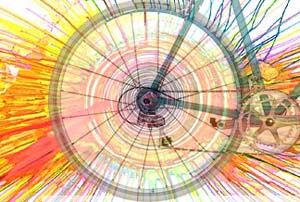 If you missed Manayunk's Eco-Arts Festival last September, or even if you were there, here's your chance to step up your game this year and be a star of the show. Well, one of the stars, anyway. OK, a featured supporting player.
The annual celebration (this is the second - last year it drew 30,000 attendees) brings together eco-minded artists, green businesses and environmentally-oriented community groups for a free event on Main Street, sharing resources and education about green and healthy living.
A press release promises that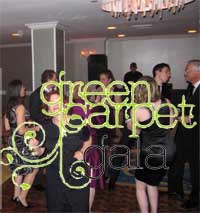 A few weeks back, Earth to Philly tipped you to what was sure to be a happening event - the Green Carpet Gala, which was held this past Saturday night at the Warwick Hotel off of Rittenhouse Square.
A fundraising party thrown by Peace Advocacy Network, a relatively new group of volunteer activists who care about animals, environmentalism and social justice, the Gala was a terrific success. A vegan dinner and desserts framed a night of dancing, speakers, video presentations and a silent auction, and doubtless helped raise a little consciousness along the way.
In the midst of the action Earth to Philly had a brief chat with PAN board member and event co-planner Allison Memmo Geiger to get the whole scoop on the Gala and PAN itself. Allison discusses how the group's goals dovetail with sustainability concerns and what they are planning next. You can hear it here in podcast form (MP3, 5 MB).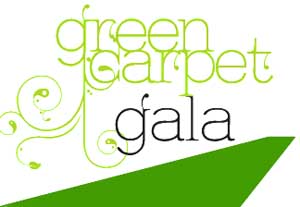 On St. Patrick's Day, all of us who have a perceptible amount of Irish blood get to trump it up and get all ethnic-like about the "wearin' of the green." While some quasi-Irish folks (and a lot more non-Irish) will advise you to go for the green beer (or, what the heck, any color), others will go for dying public fountains green or wearing a shamrock to church services.
Here at Earth to Philly we want to tip you to one of the greenest things you can possibly do this spring, which will at the same time save you some green: Sign up now for April's Green Carpet Gala, a deluxe event sponsored by the Peace Advocacy Network. If you do so today or tomorrow you can take advantage of the special early-bird discount.
The event is a benefit for the local nonprofit Peace Advocacy Network (PAN), which was founded here in Philly about a year ago. It's a grassroots group run completely by volunteers. As its mission, PAN says it "strives for the absence of violence in the lives of animals - human and non-human alike."