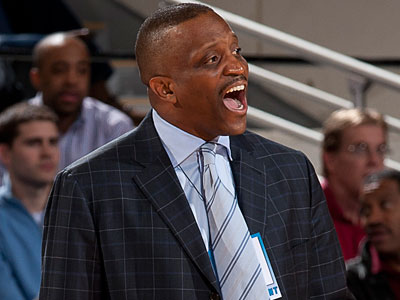 Major Canady, a 6-foot-3, 205-pound combo guard, committed to the Drexel basketball team over the weekend.
Canady averaged 12 points last season for the Kiski School, near Pittsburgh. He has been courted by Wake Forest, South Florida and Stanford, among others.
Drexel set a single season school record for wins this season during a 29-7 campaign that the Dragons couldn't determine a single Most Valuable Player so they split the award.
Sophomore point guard Frantz Massenat and senior forward Samme Givens were named the Dragons Co-MVPs.
Massenat was a first-team all-Colonial Athletic Associations choice after averaging a team-high 13.7 points. He also led the CAA in both assists (4.8 per game) and three-point field goal percentage (.450).
Sometimes the opponent deserves credit and that's the case with the University of Massachusetts. Yes, Drexel squandered a 17 points lead with under 16:30 left in the second half, in Tuesday's 72-70 loss to the visiting Minutemen in the NIT quarterfinal, but UMass showed unbelievable heart, spirit and conditioning.
The Mintuemen didn't even appear to be breathing heavily despite their relentless pressure.
After trailing 53-36 following a three-point play by Frant Massenat, UMass went on a 28-9 run to take the lead for good, 64-62 on Terrell Vinson's driving layup with 6:31 left.
No. 5 seeded University of Massachusetts (24-11) at No. 3 Drexel (29-6)
What: NIT Quarterfinal.
When: Tuesday, 7 p.m., Daksalakis Athletic Center (2,532).
Northern Iowa basketball coach Ben Jacobson had the same impression on Drexel that many of the Dragons opponents have.
After watching tape of the Dragons in preparation for Sunday's 11 a.m. second round NIT game at Drexel, Jacobson said his initial concern is getting consistent offense against the Dragons, who are allowing 55.4 points per game.
"In looking at them, you realize how good they are defensively," Jacobson said in a phone interview. "They just get at you and they are also a very tough rebounding team, so we will have plenty of challenges."
Drexel coach Bruiser Flint is happy to be playing in the second round of the NIT, even if it's a little earlier than usual.
The Dragons (28-6) will play host to Northern Iowa in Sunday's 11 a.m. matchup at the Daskalakis Athletic Center.
"We'll see how it goes on Sunday morning," Flint said laughing. "When I was in college 11 a.m. on Sunday was awful early."
Drexel will host Northern Iowa in a second round NIT game at 11 a.m. on Sunday. The game will be televised by ESPN.
The Dragons (28-6) are the No. 3 seed in the Region 3, while Northern Iowa (20-13) is seeded seventh.
Northern Iowa beat St. Joseph's, while the Dragons are coming off an impressive 81-56 opening round win over the University of Central Florida.
It was all in the start for Drexel.
The Dragons had a few days of pent-up frustration and needed a good start which is exactly what they got in their opening 81-56 NIT win over visiting University of Central Florida.
Frantz Massenat, who had 18 points and 14 assists, said the players fed off the crowd.