Archive: August, 2009
Amy Rosenberg
Suddenly, it was sunny. After an all day Danny deluge that, frankly, lacked the epic drama that KYW seemed to want it so badly to have (David Madden, you're the best, but telling people to stay out of the surf when it's pouring out is just, kind of dumb. I mean, we're staying out of the surf. Not only that, we're headed to Best Buy.) Anyway, around 5 p.m., it seemed to dawn on every one that it was suddenly a gorgeous day out. And so as the sun set over our shoulders and the moon rose over the ocean, and, kind of unfortunately, the lifeguards headed home, everyone, it seemed hit the beach and boardwalk. Even the lamest of boogie boarders (me) could catch a big ride this evening. And little chick boogie boarders (my daughter) finally felt the call of the surf board. The water was tres warm, the sky was sunset streaked and it was a happy island in the sun. Here's Weezer, at last September's Borgata show, doing a Jersey version of their (hip hip) happy song. Here's to an awesome found evening on the beach.
Amy Rosenberg
DUDE!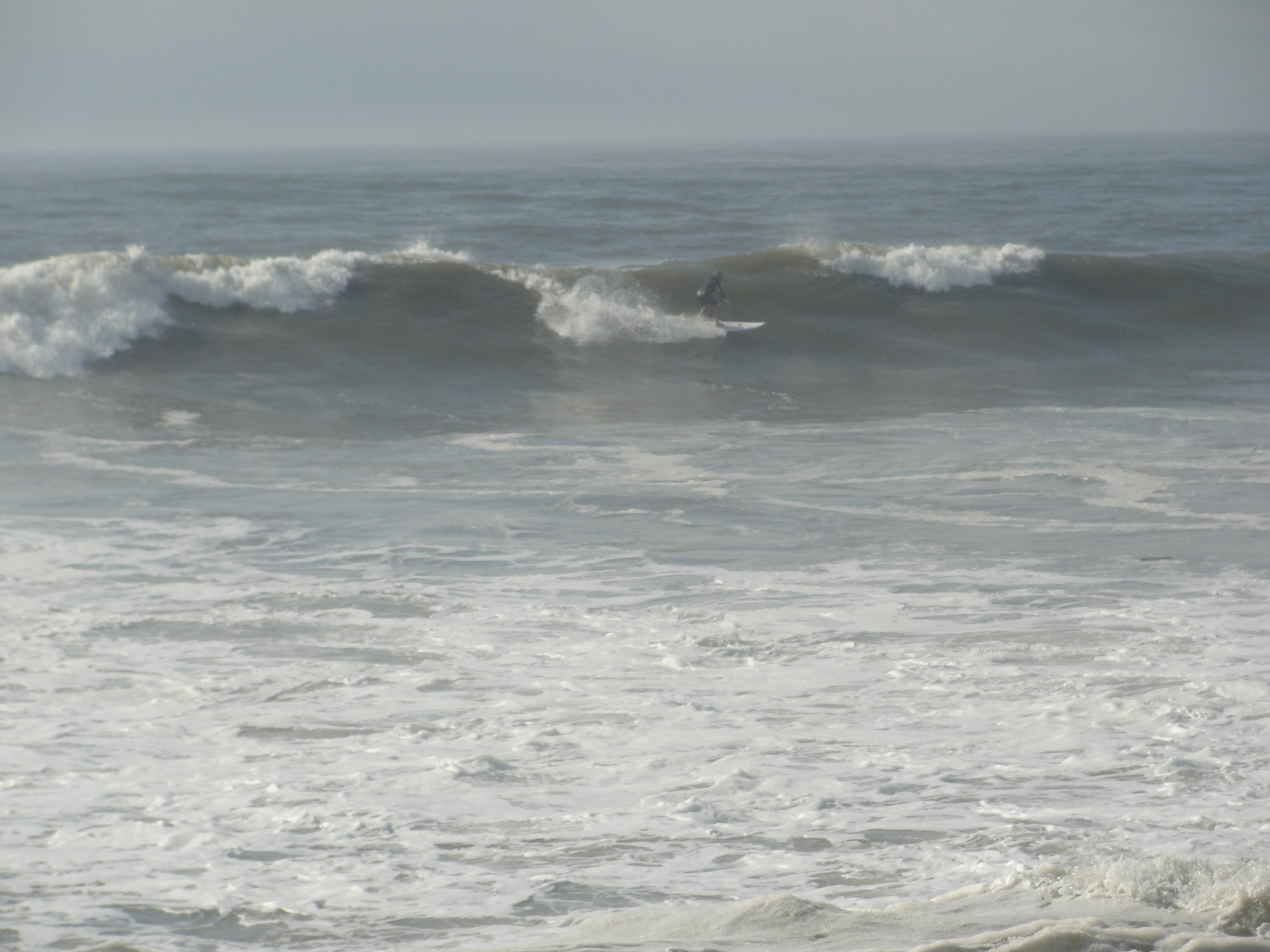 Surf was way up this morning, and surfers and little surfer dudes gathered at the Ventnor Pier to check out the 10 foot swells:
Amy Rosenberg
Maybe it was the heat, or maybe I just run with, and run into, a jaded crowd. But it seemed Wednesday's third annual Thunder on the Boardwalk did not generate as much awestruck-ness as in the past. It still generated an awesome crowd _ 750,000 , according to local estimates _ and a cool flotilla of people watching at sea. Still, it seemed everyone I spoke to on the beach and later was a little ho hum about it. We've been through three of these now, and nothing will top the first one for utter shock and awe, beginning with the buzz-through the day before over the tops of our homes in Ventnor. Wow! That was very loud! And low! Seems they've refined their flight patterns a bit so they're not looping around low enough over my garage to take a very cool turn at the basket during HORSE. I guess I'm not much for using military power for entertainment purposes in general, but the air show was definitely were a more pleasant diversion than prior ones this summer on the beach. As a friend put it, last week flies, this week fly-overs. Good line, wish I could take credit for it. But listen, nothing has been more pleasant this summer than the water temperature, which is hovering past 80 like it means it. In any case, I was much better this year snapping photos than in the past, so here they re. The trick, you see, is to get the planes AND the beach. Here's a pretty good one: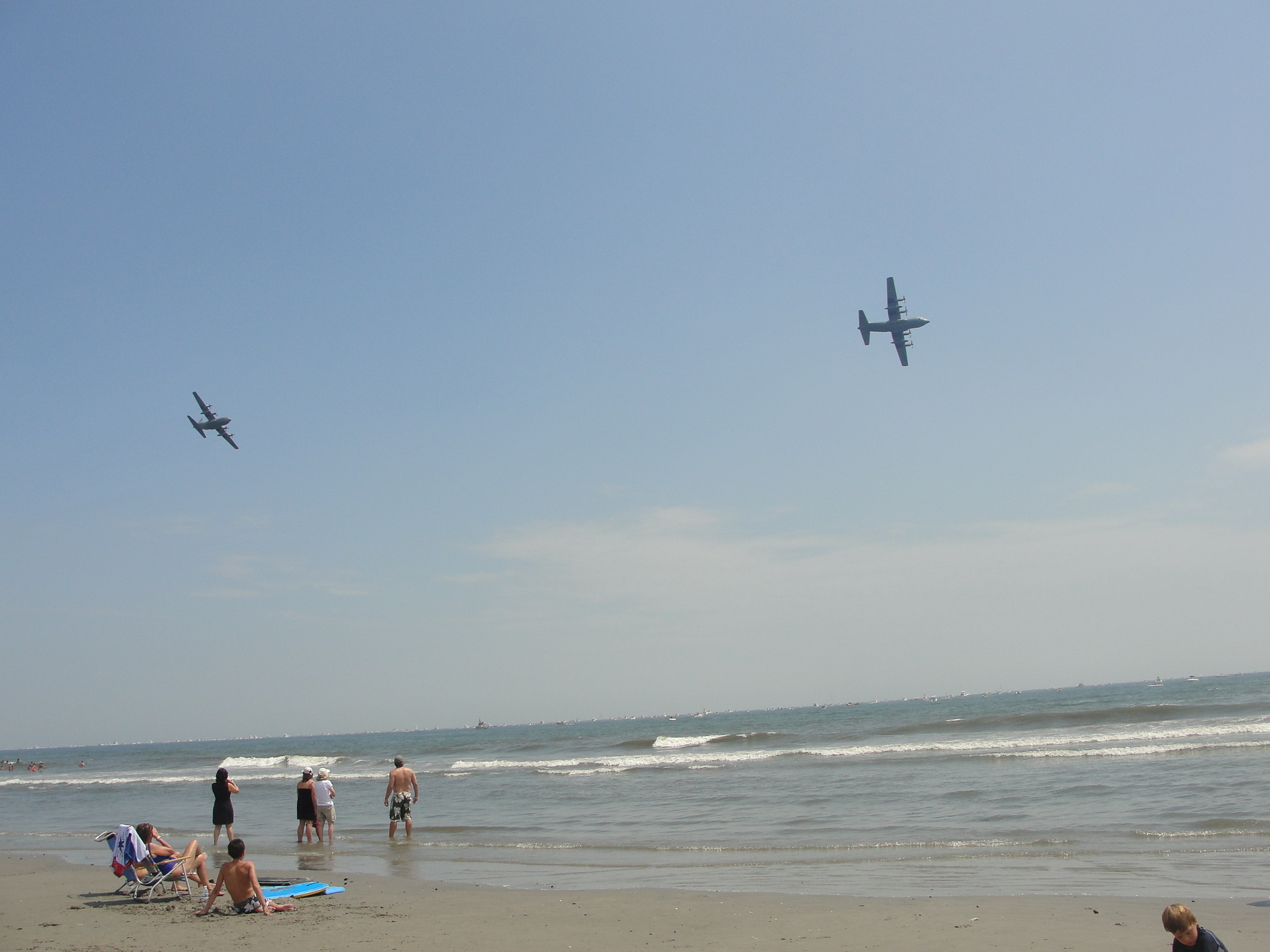 A little loop de loop:
Amy Rosenberg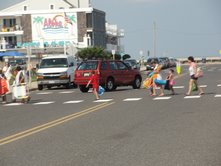 So this week we bandied about the whole vexing pedestrian vs car at the Jersey Shore question. My story on a new crackdown on cars that do not yield to pedestrians in the crosswalk is here. Starting next week, Longport, Ventnor, North Wildwood and Sea Isle City will be among 15 towns in South Jersey to start using undercover police officers as "pedestrian decoys." Which means that in addition to your speed trap vulnerabilities to tickets, now the police are going to jump out and slap you with $100 fine and two points for not letting one of their finest across the road. You've been warned. Now, I've given a lot of thought to this whole question. Up until recently, I felt really strongly that pedestrians were often at fault, and that motorists were wrong, especially in a four lane street, two in each direction, to wave beach goers across without being able to guarantee that the other three lanes would also be safe to cross. This drove me crazy, really. In the guise of being nice, hey, we're at the shore, let's slow down and wave the pedestrians across, they often set these walkers up for more danger, trapping them in the middle of the street, or waving them to a lane where the driver was not stopping. But I see now that what's needed is not a case by case risk assessment, but an entire cultural shift. People should be all about slowing down to let people cross. To be clear, the law states that pedestrians should not leave the curb until it is safe and it is reasonable that a car has the ability to stop for them. Once in the crosswalk, that's where the burden shifts, obviously, really, to the car. But clearly, cars driving up and down those busy shore streets are more interested in making the light than allowing every last boogie boarder and double stroller with chairs attached to stop their momentum. Perhaps the decoy program, or at least the publicity about it, will help that shift along. Along the same lines, how about some accommodations for bicycles as well? How ridiculous is it that the Atlantic City Boardwalk is not available for bicycle commuting by casino employees after 10 a.m.?
In any case, here's a photo of Captain Vincent Pacentrelli of the Longport Police demonstrating the ins and outs of crosswalk etiquette. Not sure if Vince himself will be making like a surfer dude and trying to spread the yield-to-pedestrian word next week, but take a good look. Longport's got a long history of catching me coming off that bridge a couple few miles an hour too fast, once while I inconveniently had like $13 unpaid on an old Wildwood parking ticket from a few years back, and as anybody who lives in Jersey knows, that's a pandora's box not easily closed. But Office Vince was very nice about it, and after I interviewed him, he looked up my entire driving record on his computer and made jokes about it. But like Andy Reid, he's all about second chances. Thanks, dude. I will be staying out of Longport as much as possible.
Amy Rosenberg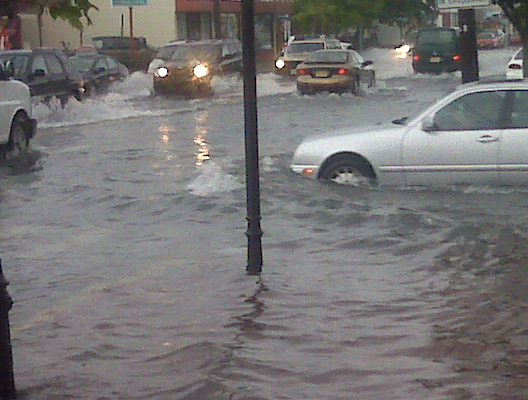 Flooding!!! In Margate!! Ventnor and Adams Ave., right in front of Rita's Water Ice!! Awesome. You know, I've traveled up to Sandy Hook, and down to Cape May Point, and traversed all of LBI, all in the name of beach journalism, but sometimes, the cool stuff is right outside your doorstep. Literally. Especially when it rains really hard, a nice drenching downpour with thunder that was really welcome after all that awful heat, humidity and pestilence that was so bad for beach morale. This corner of Margate always floods, something about tides and the back bays and poor drainage. Channel 6, which has offices up the street, likes to film from this area, because it looks so cool! Of course, a few blocks away, there's no flooding at all. But I will feel very intrepid having to take off my sneakers to get to my car parked out back. Why didn't I wear flip flops like a true professional beach reporter???
Here's another photo I took leaning out the door of the office.
Amy Rosenberg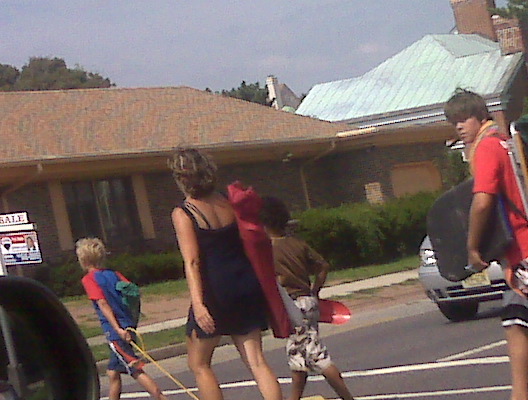 Above, fleeing the beach in droves...
So in theory, the place to be in this week's heat would seem to be the beach. Right? In theory. In reality, the beach today and yesterday was, by all accounts, downright miserable, with reports of biting flies coming from Long Beach Island, Ventnor, Margate and, not as bad, North Wildwood. I guess you'd call these pests see-ems, as opposed to the ones that sneak up on you, because this strain of Jersey Shore black fly boldly march up like parasitic beach bag checkers, spread out their fly towels and act like you'd invited them to hang out around your ankles for the afternoon. It was a war out there, really. One friend fleeing the beach after about an hour - unprecedented for this local beachfly - described reading her book, looking up and seeing a mass of black flies around her ankles, biting, and saying to herself, "What the heck am I doing out here?" And then, like the people above, abandoning beach. Or heading back into the water, which at least was warm and offered a brief respite from the blood suckers. The land breeze is, of course, the culprit, and so we can only hope it shifts by tomorrow, bringing the breeze again from off the ocean, making the beach again the proverbial "cooler at the shore" and sending the flies back to the mainland, or at least to Brigantine, where they belong.
amy rosenberg
So the Ladder Ball story which ran this week got a pretty big bounce, especially online. Here is a picture of our heroes, who were excellent subjects, appearing as if on cue in Ventnor on the day I went looking for a game in progress, and launching into an excellent discussion of possible philosophical underpinnings of their hanging balls game within 30 seconds of me wandering up to them with a notebook and a very weak brown colored pencil that I dug out of my beach bag. It's that kind of thing that makes reporters give thanks to the journalism gods. They even stuck around while I went back home to get a pen and my camera. (Beach reporting can sometimes leave a person unequipped.) The comments attached to the story are pretty funny, though a little too much discussion of the people pictured in the photos, but yea, for once, it's not a girl in a bikini who was most prominent in a beach photo (though she's part of the gang, above.). Deal with it. And as to whether an elaborately assembled, competitive ball game is the most highly evolved way to spend time on the beach, or some sign of lack of appreciation for the simple pleasures of sand, surf and sky, the debate rages on.
Also, Tom Colicchio, foodie rock star, pulls one out of the oven. And updated with the story from the A.C. Food and Wine Festival.