Archive: July, 2013
Jacqueline L. Urgo
Like Miss America's love-hate-love relationship with Atlantic City, beauty pageants at the New Jersey Shore may come and go.
But one that will apparently never leave its beloved perch in Ocean City is the Miss Crustacean Hermit Crab Beauty Pageant, a tongue-in-cheek event that will return to the Cape May County resort for its 40th year on Wednesday, Aug. 7.
"We would never move the pageant to Las Vegas or any other location," said Mark Soifer, founder of the pageant and chairman of the National Association of Crab Activities at the Beach, or NASCRAB.
Jacqueline L. Urgo
It may be hard to believe that the Cape May-Lewes Ferry will be 50 years old in 2014.
But it will.
And to celebrate that milestone, the Delaware River and Bay Authority which operates the ferry — actually a fleet of five ferries — is asking the public to share favorite experiences, memories, photos, and any other memorabilia for a special exhibit being created by the agency.
Jacqueline L. Urgo
It may not be the tallest, but Hereford Inlet Lighthouse in North Wildwood may be New Jersey's most quaint lighthouse.
Looking more like a residence than a lighthouse, the unique Swiss Carpenter Gothic-style structure, built in 1874 to mark the mouth of the Hereford Inlet, provides an ideal backdrop for a festival this weekend to celebrate the state's rich maritime history.
Historians and authors are expected to join artists and crafters for the 2013 Hereford Inlet Lighthouse Maritime Festival on the lighthouse grounds and along Central Avenue in North Wildwood. The festival will take place from 9 a.m. to 5 p.m. Saturday and from 9 a.m. to 4 p.m. Sunday. It also will feature food and music and is billed as a "celebration of life by the sea."
Jacqueline L. Urgo
Dave Mason really rocked the Ocean City Music Pier this week during a one-night engagement that was part of a season-long Monday night concert series, which began in June with a Led Zeppelin tribute band called Get The Led Out and will eventually feature the likes of the Marshall Tucker Band, Leon Russell, and Jay & the Americans.
The Music Pier, on the Boardwalk at Moorlyn Terrace, is a great venue for live performance. The 1928 art deco-style music hall built on the ocean-side of the boardwalk, features various attractions throughout the summer, including the Miss New Jersey Pageant and weekly concerts by the Ocean City Pops Orchestra.
But the place really rocks when performers like Mason, 67, come to town.
Amy S. Rosenberg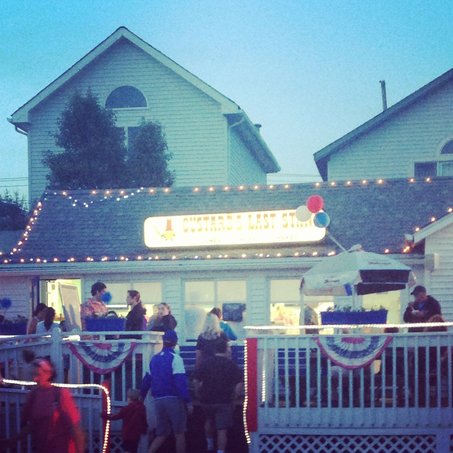 I've wondered since the storm, what would summer feel like this year? Would people come back after Sandy? Would it feel the same? Would it feel like people were missing? Well, the streets and beaches of the Jersey Shore, and the roads leading onto the barrier islands over Fourth of July weekend answered that with clarity. But very little elbow room. Even long time locals said they could never remember a holiday weekend that felt as choked with people as this one.
It was surely odd to see the old haunts lit up again, like Custard's Last Stand, above, in Ventnor Heights, a part of town pummelled by Sandy flooding, where homes are still vacant, many for sale "as is", newly elevated on cement blocks, simply abandoned to foreclosure or vanished to demolition, awaiting a new home and a new elevation.
Jacqueline L. Urgo
Watercolor artist Marie Natale likes to paint New Jersey Shore landmarks that are the kinds of places that people have loved for generations — like Ocean City's Ninth Street Bridge or its iconic Yacht Club — but may have changed over the decades in a nuanced way few readily notice.
Her latest exhibit, "Looking Back/Moving Forward," provides just that contrast. The Ocean City-centric offering, which is on display July 1 through July 31 at the Ocean City Arts Center, features a look at local places from past decades and today.
For example, the new and old bridge and the former Mack & Manco, now called Manco & Manco after a family dispute changed the name of the beloved pizzeria. In the collection are the Flanders Hotel with its famous salt water pool, the restaurants Hogates and Chris's Seafood, and a travelogue of other locally famous places. All the paintings are for sale.