Archive: June, 2011
Amy Rosenberg
Well, it's July, the first of FIVE July weekends this year, something that hasn't happened in more than 8-- years. Yippee! And the water's warm! And the jellyfish are running. As the little boy said to me as he passed me on his way from the beach, "THERE ARE THESE REALLY BIG WHITE JELLYFISH ON THE BEACH!" So weird, he had to tell someone, anyone. But he was right:
That was a relatively small one, about the size of a coffee saucer. The others I saw were big momma dinner plate, full moon weirdness. Or, as my sister-in-law, a midwife, said, "Very placenta-like."
Amy Rosenberg
For my money, the moments that best captured the Dave Matthews Band Caravan at happened on the Albany Avenue drawbridge leading to and from the Bader Field site just over the intracoastal waterway.
For the nightly exodus, Atlantic City Police officers shut down the roadway from the bridge to the Monument to cars for about 20 minutes to clear the tens of thousands of people leaving Bader Field. It turned into a joyous march over the bridge and down toward the Boardwalk. All the cops I talked to thought it was the coolest thing to watch. It really was.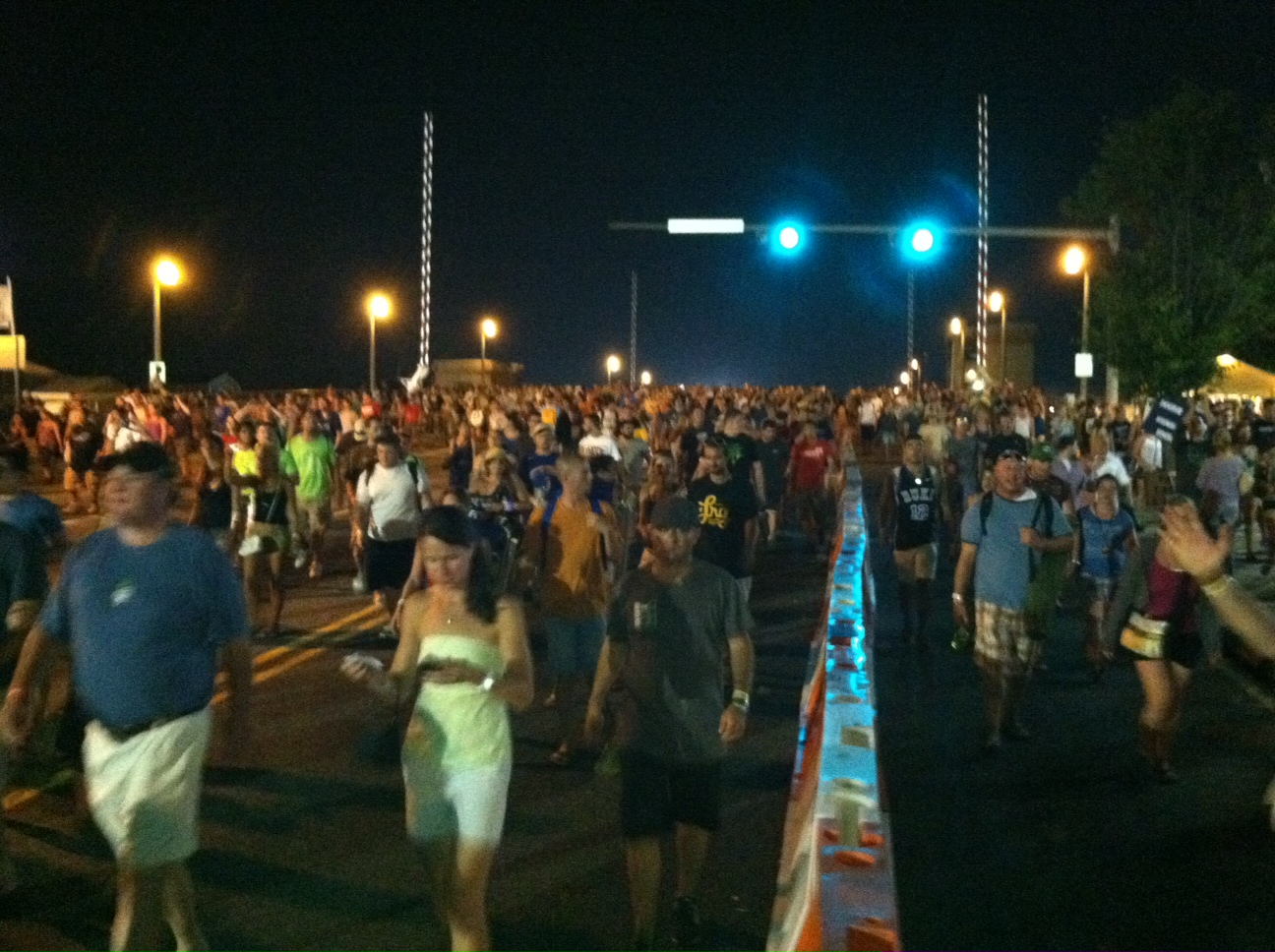 Amy Rosenberg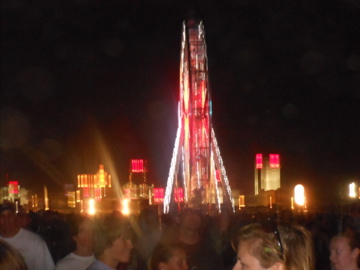 So I really thought the first day of the Dave Matthews Band Caravan (#DBM twitter.com/amysrosenberg for the play by play on Friday), was a huge success for all involved.
Bader FIeld, despite an inordinate amount of dirt left over from the big burn, turns out to be an excellent and scenic and roomy spot for a music festival. The old municipal airport right by the side of Route 40 just west of the Albany Avenue bridge is a roomy venue, right on the water, and three stages, plus food plus merchandise plus farmer's market and even a drive your jeep thing, fit easily on the site. The walk to the venue over the bridge felt cool, and when the bridge went up, it allowed a little pre-festival camraderie to develop right there over the intercoastal waterway. LIke these dudes, from Michigan, who lost their hackey-sack into the water while waiting for the bridge to close and said, memorably, "What river is this?"]]>
Amy Rosenberg
Well, got to say, Bader Field is fulfilling its potential as a music festival venue with nary a brush of dirt off its shoulders. It's a little dusty, lots of dirty feet in flip flops, and the tarmac gets a little hot, but honestly, it's a beautiful venue for the Dave Matthews Caravan. See photos and pictures at twitter.com/amysrosenberg and more to be posted here in a few. People are here from all over, and seem charmed by the walk over the Albany Avenue Bridge (one Michicgan group lost their hacky-sack in the bay when the bridge was up ("What river is that?" they said.) Knife and Fork at Pacific and Ventnor set up a two-buck budweiser stand on their porch, people were tailgating at the parking lot at the Boardwalk and Albany. Beautiful view of Atlantic City, the old baseball stadium. All that and Guapos Tacos. Carolina Chocolate Drops had the distinction of performing Bader Field's first ever encore with a rousing Sourwood Mountain. Looking forward to Head and Heart and Ray LaMontaigne and the Flaming Lips. And, I suppose, the Dave Matthews Band. Great use for an old municipal airport, and hopefully more to come.
Happy Dave Day! Yes, the much anticipated experiment in hosting-cool for everyone's favorite down and out but not dead and possibly coming back beachside resort, Atlantic City, begins today, day one of the Dave Matthews Band Caravan at Bader Field, just off Route 40 heading into town. Here's a link to the schedule each day (Inquirer music critic Dan DeLuca recommends today as your best bet, I like Sunday as well).
Amy Rosenberg
This year, instead of one night here, one night there, Atlantic City's putting all its Fourth of July fireworks into one night, the actual Fourth of July. Should be very cool. Grucci family produced Fireworks will start over the Marina at about 9:20 p.m. and run for 22 minutes. (These marina shows are awesome, best viewed from the Farley State Marina. Last year, the wind was blowing such that anyone watching from what was then Trump Marina (now Golden Nugget) probably just got a big smokey gust.)
Three minutes after the end of the Marina Fireworks this year, at about 9:45 p.m., the fireworks will start again over the Pier at Caesars, best viewed from the Boardwalk or the beach. The beach is always a sweet place to watch, especially if there's a nice moon and stars situation, which then means you have to ponder the beauty of natural light and sky and lapping waves versus manmade boom and burst power.
Some of the best spots probably are in an anchored boat, though I've never done that. These Boardwalk fireworks will run for 24 minutes. Ocean City will be doing its fireworks around the same time, not to mention the always festive Margate Mother's Club fireworks on Huntingon Avenue. All of which gives you multiple angles to surround yourself with fireworks.
Amy Rosenberg
Here's your cool site map for the Dave Matthews Band Caravan, which takes over the old Bader Field airstrip off Route 40/Albany Avenue this Friday, Saturday and Sunday in Atlantic City. Great pre-DMB lineup beginning at 1 p.m. each day, three hour block of Dave Matthews each night from 8 to 11. Not sure I understand the street names in this map, other than Boardwalk, guess it's a holdover from some other city. Should be interesting to see how the old resort holds up under the pressure of a three-day jam festival, should be nothing considering that only about 35,000 people are expected each day, compared to, say, 750,000 for the annual airshow. Still, Exit Two off the Expressway will be shut down, and Albany Avenue will be shut down at varying times, sometimes just one lane, to allow the big walk to and walk back from the festival each day. Get your Margate bridge passes handy, shoobies.
Previously: Atlantic City Fireworks on Fourth of July From All Angles
Amy Rosenberg
Clarence Clemons died today of complications from a stroke. So so sad. The Stone Pony in Asbury Park will be opening its doors Sunday at noon for people to gather to remember Clarence. Nils Lofgren will be at the Borgata Music Box July 3.
Bruce Springsteen said:
Clarence lived a wonderful life. He carried within him a love of people that made them love him. He created a wondrous and extended family. He loved the saxophone, loved our fans and gave everything he had every night he stepped on stage. His loss is immeasurable and we are honored and thankful to have known him and had the oppurtunity to stand beside him for nearly forty years. He was my great friend, my partner and with Clarence at my side, my band and I were able to tell a story far deeper than those simply contained in our music. His life, his memory, and his love will live on in that story and in our band.
Amy Rosenberg
UPDATE: Blog reader John writes of some other awesome Osprey residents of the shore, the ones with the very cool Osprey camera trained on their nest, courtesy of the Wetlands Institute of Stone Harbor. "My wife and I have become quite addicted," John writes, "first baby was born a few days ago."
Here is the link for the Osprey cam, it's sensational.
http://wetlandsinstitute.org/education/osprey-camera/