Archive: May, 2009
amy rosenberg
Atlantic City is a town where you're supposed to believe all things are possible. And sometimes, it works a little magic for you. If there's a place where the concept of "sold out" is as fungible as this seaside resort, I haven't been there yet. Last year, I thought it was pretty nifty when I walked up to the box office at a long sold out Steely Dan concert at the Borgata and was promptly sold two front row center seats, with an explanation that a high roller probably was still rolling and wouldn't be able to make it (perhaps not as long as Patricia Demauro, who set a record at the Borgata Saturday night for hanging in at the craps table for four hours and 18 minutes with a $100 buy-in. The casino will not say how much she won.) On Saturday night, I showed up last minute with my daughter at the sold out Penn & Teller show at Harrah's and was given massive frowns at the box office and told the show was beyond sold out and there was no way we'd be able to get in. So, we just kind of hung around a minute or so, until someone in a suit with a Harrah's name tag walked by. Calling on two decades of experience showing up at places on deadline and having to locate the muckety-muck who can give you what you need immediately, I figured, nothing to lose, and asked this guy, any way my daughter and I can get inside? He paused, looked us over, both of us in flip flops, my daughter in pj pants, figured we were maybe worth being nice to, just because, and told us to just wait by the box office. Then he immediately had another thought, and said, "Well, I have an extra single ticket" and opened an envelope and just handed the thing over to us. Then he started to walk inside the theater, followed by another mom with her kids. I figured, what the heck and just followed them in. The waters parted, the ushers knew who he was and we were all shown to our seats in, where else? _ front row, center. Turned out the guy was indeed a high up in casino land, though I don't know who exactly, and the other mom was a relative and my daughter and I were, well, lucky nobodies. Penn & Teller were great, with their shifting now you're in on the joke, now the joke's on you paradigm, though I'm still a little unsettled that the woman from the audience refused to throw the knife at Penn with her eyes open, but once she was blind folded, was perfectly content to send a deadly weapon in his direction, but, to be honest, the best trick was ending up with the best seats in the house, without pulling any strings (having none to pull) but simply asking. In Atlantic City, you never know.
Previously on Downashore: Hello Pennsylvania!
amy rosenberg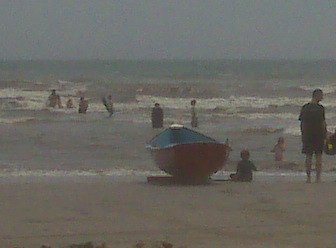 Hey, that worked out pretty well, didn't it? Once again, it was a visceral shock -- but in a good way, honest -- to suddenly see streets around my house filled with cars with Pennsylvania plates. (It feels a little passive-aggressive, though, because unlike Jersey plates, which announce themselves from both ends, shoobie cars have, as you know, no plates in the front, so it's always a little delayed reaction in identifying the offending car that's making a sudden turn in front of you. HAH! I kid. No traffic problems this weekend at all.) But it's still kind of funny to live in a place where on a commonly agreed upon day in May, the switch is pulled and here everyone is, from Pennsylvania! I'm happy to see everyone coming around my way, I really am. I spend so much time in the off season driving up to Philly, I'm glad to be back in the place where people escape to, not from. On my block, the grandchildren of the second-home owners -- barely noticable last summer, newborn that they were, are taking over the joint this year. There were even shoobie dogs that paid a special visit to my block to see whether my dogs would still bark at them as they passed by, so they could still pretend to ignore them. The regulars dropped by, as regulars do, and we love them for it. We did a little dropping in ourself. And on Saturday, the weather was beautiful, and it felt extremely beachy and summery. Then, on Sunday, the place emptied out, a little inexplicably. The weather was still pretty good, but the masses seemed to have fled. If Saturday felt like the beginning of summer, Sunday felt like a cool, cloudy Labor Day, and what a season it was! Monday was an afterthought and today, well, at this rate, we'll see everyone on the Fourth of July.
amy rosenberg
I guess this is the before picture, the groomed but empty beach, still a trace of dog prints, 'beach closed' sign still nailed to the lifeguard boat hanger (a misnomer, because lifeguards or not, the beach is not closed during the winter), bright sunshine but still a slight chill that has people in sweatshirts not bathing suits. Soon, like three days soon, it will be the same landscape but, unless that weather forecast truly goes south, will be completely transformed. People seem ready down here for the world's attention to refocus on them, or at least the attention of Philly. I've got New York peeps headed this way this weekend, which seems to reflect a trend. Sometimes the humble Jersey shore starts to look pretty attractive to those New Yorkers who in better times never venture south of LBI, unless they're headed for Cape May. Seems to be a bit of rain in the forecast for the weekend, but never mind that. I'm sorry my dogs will be banned from the beach after an awesome off-season, and I guess I'll have to give up singing out loud to the ipod, which is one perk of running on a deserted boardwalk and beach, but is probably a good thing all around. In any case, in honor of all the moms who are going to learn to surf this year at surf camp (see my story here,) here's a video of the Aussie surf band The Atlantics, setting the scene. And here's the link to the philly.com shore guide.
amy rosenberg
It's been a strange spring, hasn't it? First, we had that monster shore weekend in April, everyone acting like it was mid-July. I mean, everyone came down, put on the suit, set up the chairs, forgot the sunscreen, got sunburned and even bought ice cream. A few brave souls, including this one, went into the ocean. Because, you know, when it's like this last weekend in April, you HAVE to go in the ocean. Chilly, but lovely. Then, as everyone knows and has extensively documented in facebook stati, it rained and rained and rained. This was not a bad thing, because I got carried away during that April heat wave and planted a bunch of flowers, even though I know that late April, early May is usually way to early near the beach to think about annuals. But they are looking great. Today, we had all the weather. It was foggy, then the sun came out and it was buggy, then the wind shifted and it was beautiful, then the fog rolled in and it was kind of cool, then it shifted and the beach was foggy but it was clear near the ocean, and now it's sunny again, the fog's kind of hanging around. Don't know what this means for Memorial Day and beyond, but nobody can complain after getting that insane jump on the season.