Archive: February, 2010
Amy Rosenberg
So far, anyway.
Amy Rosenberg

Sad news from the old time elegant restaurant world of Atlantic City. Arleen Dougherty, who married into the storied Dougherty family of Dock's Oyster House fame and became the face of the restaurant, presiding over the place nightly, died on Thursday after a very brief bout with lung cancer. She was 70. Dougherty was a petite and very cool woman born in Trenton and educated as a social worker who embraced the family business after marrying Joseph Dougherty, grandson of Harry Dougherty, who founded Dock's in 1897. Joe died in 1999. As the death notice so eloquently puts it: "no one who walked through those doors did not remember the petite but dynamic woman who, martini in hand, clearly ran the show." The Dougherty family also rescued the Knife and Fork restaurant from the notoriously bickering Latz family and has run that landmark with similar grace and style. We once ran into Arleen eating at the bar at the Knife and Fork late one night shortly after the family bought the place, and she was great company, talking amiably about the restaurant business and Atlantic City in general. And I have Arleen to thank for seating my extended family in that cool little back alcove room at Dock's for my niece's 21st birthday on July 4th weekend a few years back and for taking my brother's word that I was only outside parking and would be there any minute. She knew how to take care of her customers. As the death notice says "she never truly left social work but continued to practice with her Dock's "family." She will be missed. The viewing is set for Monday from 9:45 a.m. to 11:45 a.m. at St. Nicholas of Tolentine CHurch, 1409 Pacific Avenue in Atlantic City, with a Mass of Christian Burial at Noon.
Amy Rosenberg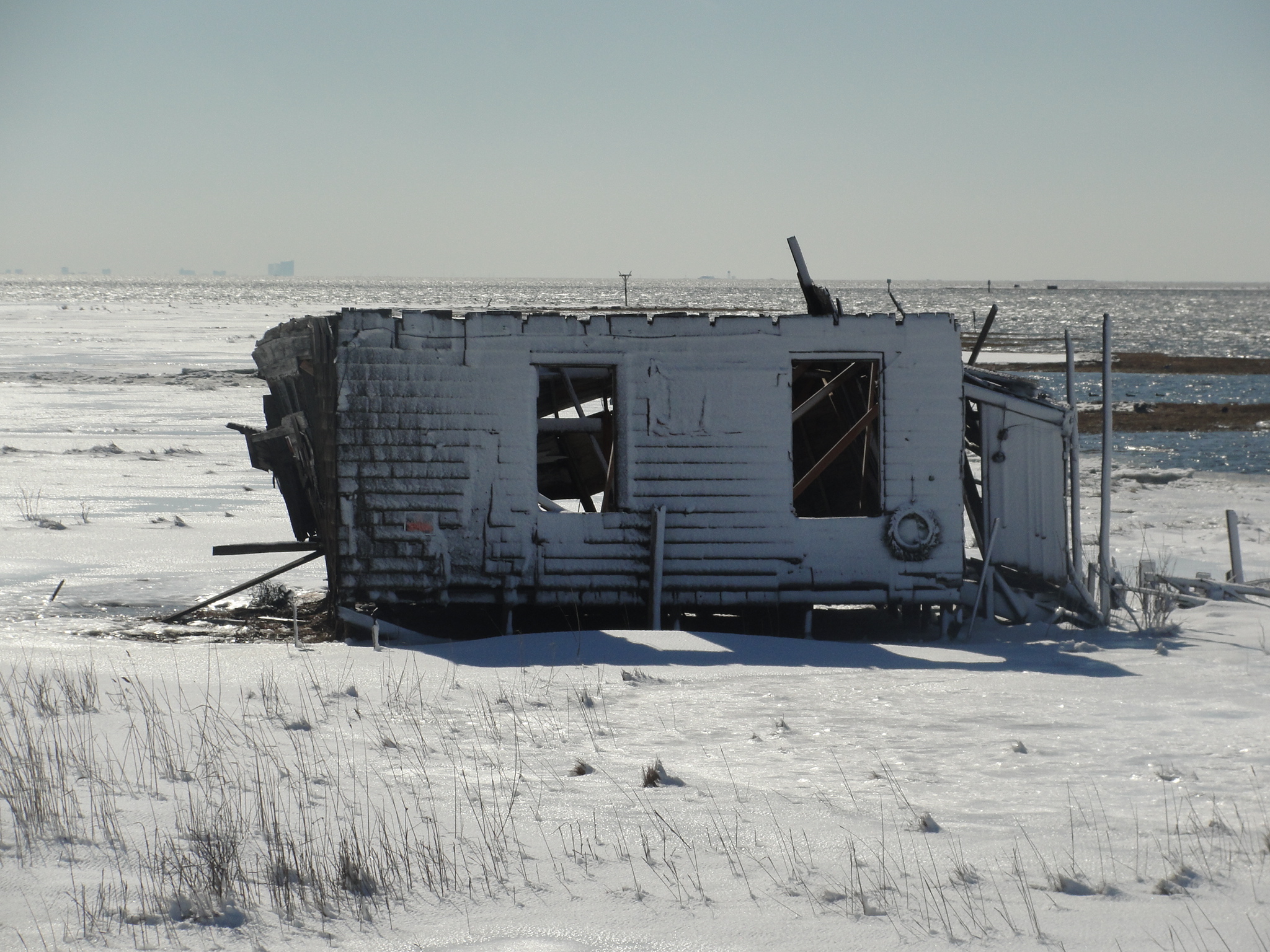 Yea, it'll take more than a couple feet of snow and blizzard conditions to topple this landmark on the causeway heading into Long Beach Island. Long live the Shack.
Amy Rosenberg
Memorial Day will be six weeks later? Nah. The sun is out! But this winter, the snow shadow probably means one other thing. A ton more snow coming. My snowy island! Punxsutawney Phil's got nothing on these gulls (bottom right).
Here's another riddle: What do you get when you roll a snowball down the Boardwalk?
Amy Rosenberg
We didn't end up getting more snow down here during the great snowmaggedon of 2010, as was hypothesized during the great build up, but we got a ton of the heavy stuff (and after nightfall, like an extra dollap of whipped cream for dessert, the storm dumped another half-foot or more, for a total of about a foot and a half). It does make for pretty monochromatic gray on white on gray pictures from the beach and ocean. Caused some extensive power outtages, more in Cape May County, where some rural folks were pretty isolated for hours.The Cape May County Herald facebook page had one story in which a teenager went pleading to a man in a truck, who lent out two propane tanks to heat the lad's home. In Ventnor, we were pretty well cut off from each other anyway just by virtue of the Dorset Avenue Bridge being closed for repairs. Ventnor kept one plow on one side of the bridge, the other in the heights, and most of the roads were pretty passable. Late this evening, a couple of fire fighters were riding along Atlantic Avenue holding onto the back of a city ambulance, stopping to shovel out utility boxes and hydrants. At least one Bar Mitzvah mom had to make the tough call to postpone tonight's party, but the service itself went on this morning, and four generations made it there (the great-grandmother wore uggs in a very good move) and the good hardy people of Ventnor and Margate turned out. Mazel Tov Sammy Brog!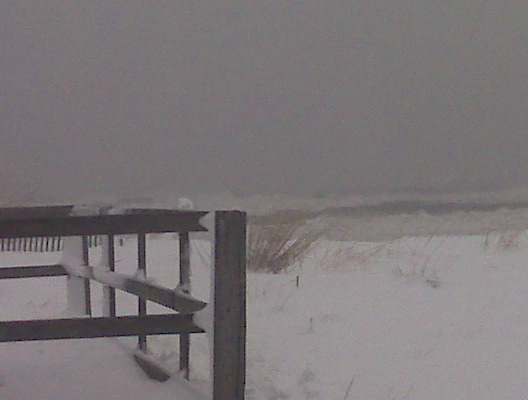 Amy Rosenberg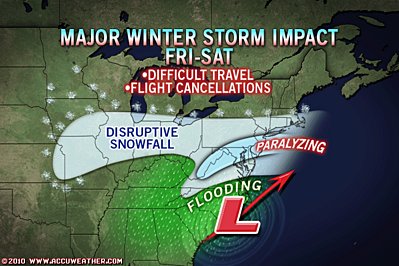 Aw, come on. Paralyzing? Disruptive? Difficult? Jersey Shore living has become rather severely winter-ish this year. Every weekend, another foot or two of the stuff. Getting a little tough for those of us on the Bar/Bat Mitzvah circuit, but that's another story. It's kind of a shame we don't have any mountains on the island, what with all the snow. There should be plenty of cross country opportunities on the Boardwalk. In any case, I am doing what I can in preparation for the paralysis. So far, that means nothing much.