Archive: November, 2009
No not those beauty queens. But the word is, plans are afoot to bring back one of the other casualties of the Miss America Pageant's move from Atlantic City to Las Vegas (beyond the pageant itself, whose ratings slipped to 3.5 million viewers on TLC last January, compared with 9.8 million in 2004, in Atlantic City and on ABC). The Miss'd America Pageant, the traditional day-after drag queen revue and fundraiser that has been dormant since the pageant skipped town four years ago, is plotting a return to the Boardwalk. Mortimer Spreng, a most talented Drag Queen, perennial Miss'd America contestant, flower arranger and man about the Boardwalk, says the AIDS fundraiser is looking to revive itself on the traditional day after the pageant (scheduled for January 30 in Vegas) not on the deck of Studio Six nightclub as in the past (Studio Six has closed) but right on the stomping grounds of the real thing: Boardwalk Hall. The tentative title of the show, in the past written by the very talented Bob "Sandy Beach" Hitchens, is, fittingly, "This ISN'T It", a takeoff on the Michael Jackson movie, says Mort. Look for an official announcement next month, and let the bad puns, innuendo's, sequins and makeup applying begin. Too bad Vince Fumo won't be around to judge, as he has in the past. The last time I went, it was all a green apple-tini blur, but I still managed to get Mortimer's signature "Lipstick Kisses" autograph. Thanks, Mortimer. At the very least, this gives us a chance to run our favorite picture of Miss Mortimer, a dead ringer for Audrey Hepburn. Lipstick kisses, Mort! See you on the runway.
Stumbled upon this three alarm Boardwalk show last night at Schiff's Central Pier in Atlantic City while attempting to go eat at a Thai restaurant nearby. The fire destroyed several stores in the pier and left a charred facade and made for hours of fire watching for the crowd. And nicely lit, too. The pier, owned by the reclusive and eccentric Schiff Brothers, who have refused to sell or develop their Boardwalk property into much more than is evident above, 99 cent stores and go Karts, was mostly shut down for the season. But the pier had plenty of arcade stuff in its inners to send black plumes of smoke into the air for several hours and bring firefighters from all over the city before it was tamped down. Hoses stretched along New York Avenue, which naturally led to more than one person stumbling out of the Irish Pub to trip over a hose. Was a little bit of an odd way to end a week that started with a trip to New York to see HBO's recreation of the Boardwalk on a Brooklyn lot. The real deal can still put on an excellent show of her own, it seems.
Here's a video update from the Atlantic City Firefighters, via the Press of Atlantic City website tonight.
As the sun sets, literally, on the great pounding, soaking, flooding, road-and-bridge-closing, house shaking, dune-eviscerating, step-busting November noreaster of 2009, I have to say. It sure looks pretty out there tonight!
Being in the middle of all the hubbub, I have to say, it didn't feel as bad as it sounded on television or in the papers. I mean, we're used to high tide road closings and back bay street flooding, and nor'easters that chop up the beach and shake the house. Mostly, we went about our business, at least in Atlantic County, which was not as bad off as the barrier islands in Cape May County. And it was fun to see all the summer people down to take a look today! Everything's pretty much still here! Still, when I went out this evening to take a look arond (I had been deported all day to the pristine and dry astroturf of a field somewhere in Cumberland County for a riveting and relocated Pleasantville Jokers-Ventnor Pirates football game), it was clear Ida definitely took with her a chunk of the beach in Ventnor, at least below New Haven. You can see here, the steps no longer reach the beach.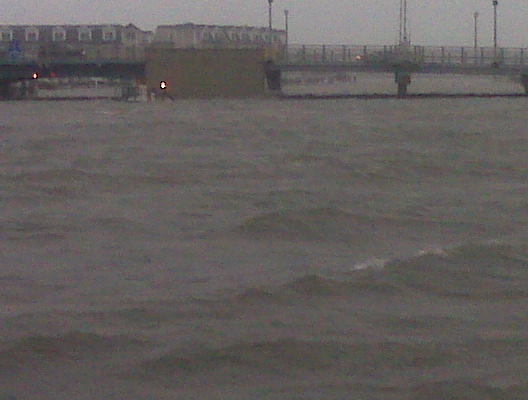 Ida is packing a punch today, with winds so strong I thought the Angelo's Fairmount Tavern sign hanging from the iconic restaurant was going to break off, it was swinging so hard. Up above, cool looking white caps pounding toward the Albany Avenue Bridge at nearly high tide this afternoon. Last night, the winds were so strong on the beach that it was like a desert storm out there, like the beach itself was a roaring river, the sand was moving at such a rapid pace. Needless to say, the dog walk did not get very far. My dogs do not like sand in their eyes. Atlantic City schools sent kids home at 1 p.m. to beat the high tide and are letting them sleep in until 9:40 on Friday, again to avoid bus drives in high tide, where streets look like this: (This is along the Coastal Evacuation Route on Fairmount Ave., at California, somewhat troublingly perhaps):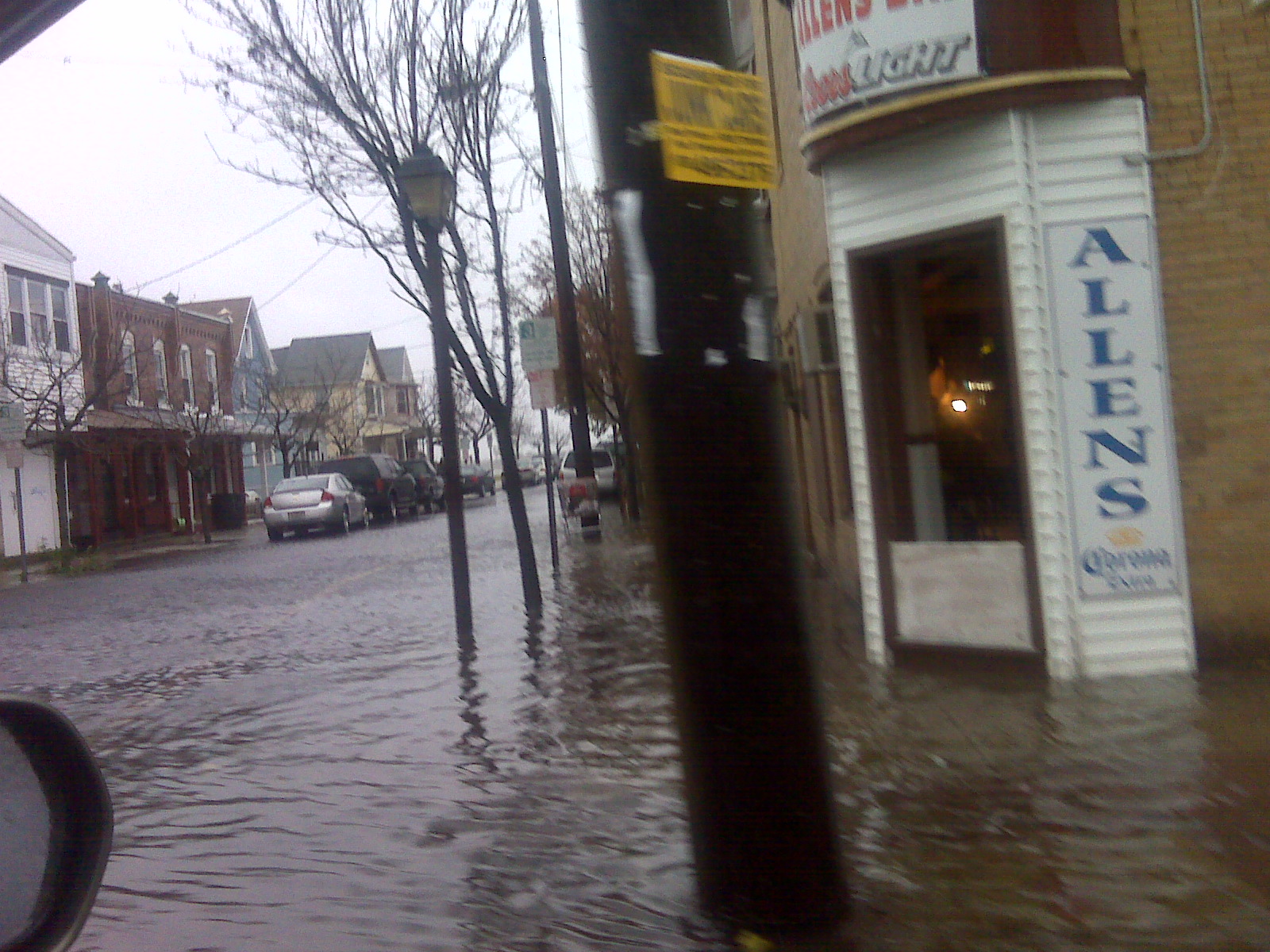 Oh alright, having sat out on the Housewives of New Jersey chit chat, I guess I'll weigh in on this latest television insult to Jersey, MTV's upcoming "Jersey Shore!" reality show. This one looks completely ridiculous in the "not my Jersey" way that gets our resident outraged Jersey blogger, Jersey Shore Jen Miller very riled up. But, as the trailer for the Dec. 3d premiere pleads, don't be a hater, Jen. It's all in ripped muscle, stained under the arms T-shirt, big hair, girls throwing punches, any-other-groaner-cliches-MTV? Jersey good fun, yes? I've never seen these types anywhere from LBI on south. If they exist at all, these characters are right out of North Jersey, from their accents (hair rhymes with yeah), to their actual right out of the 80s hair to their self-proclaimed guido-ness. Stay tuned, I guess, if that's what it takes to get you over your shore-less winter.