On the six-month anniversary of Superstorm Sandy, which struck the New Jersey Shore on Oct. 29, 2012, with crippling force, creating an historic level of damage, the cool rainy weather and choppy seas on Monday served as a grim reminder of the infamous hurricane.
Sandy was the second costliest hurricane in U.S. history. It is also the largest Atlantic hurricane on record, with winds that spanned 1,100 miles and killed 285 people across seven countries. In the U.S., damage spanned seven states. So vast and long-lived was the storm, officials had days beforehand to prepare. Tens of thousands of residents in the state's four shore counties – Atlantic, Cape May, Monmouth and Ocean – were evacuated to higher ground.
But even with days of notice about the approach, there was probably no way to adequately prepare for such a monster storm.
Six months post- Sandy, it's still tough to get a handle on the full extent of how Sandy has and will continue to change the Jersey shore as we know it. I stopped over at the Ventnor City Hall on some business this morning, and they are elbow-deep in preparing for the storm of money that will be flowing down from the feds, the state and the non-profits. The event was so unprecedented that it has taken a longer time than I think anyone really expected to even see a direct path to recovery in the future. Experiences are truly varied: some people seem to have made quick turnarounds and have figured out a way to get back quickly into damaged homes, others seem paralyzed by either insurance issues or indecision over how to rebuild. Once FEMA settles on its long term flood maps, the choices should be a lot clearer. Raise your home, don't raise your home. Pay higher insurance rates, or relocate. The fear is that people will start to walk away from damaged homes with no easy or affordable fix, and leave tax bases and populations _ and characters of these quirky barrier islands _ shadows of their former self. Towns like Brigantine and Ventnor have been thriving year round places for a long time and healthy summer destinations, and it seems hard to believe they will be anything but that in the near future, though in the not-so-near future, the debate will probably be pretty much moot as sea levels continue to rise.
In any cases: Gov. Christie, in addition to commemorating the six month anniversary on Morning Joe and announcing plans to distribute federal money through Community Development Block Grants, also issued a handy Sandy By the Numbers chart. Among the entries: $3.23 billion in insurance payouts; $718 million in Small Business Administration loans; $384 million in approved FEMA grants; 8 million cubic yards of debris removed from the streets; 130,000 people counseled through N.J. Hope and Healing; 38,000 e-mails or phone calls related to Sandy to Gov.'s constituent services; 28,000 donors to Mary Pat Christie's non-profit Sandy Relief Fund (with $34 million raised); 4,000 mold informational flyers or posters distributed (mold is bad; don't ignore it); 1,000 housing choice vouchers made available; 816 unemployed or National Guard members placed in temporary clean up jobs; 734 Sandy related tweets by @govchristie; 192 families being housed in FEMA trailers or at Fort Monmouth; 93 percent of total insurance claims considered closed (at least by FEMA).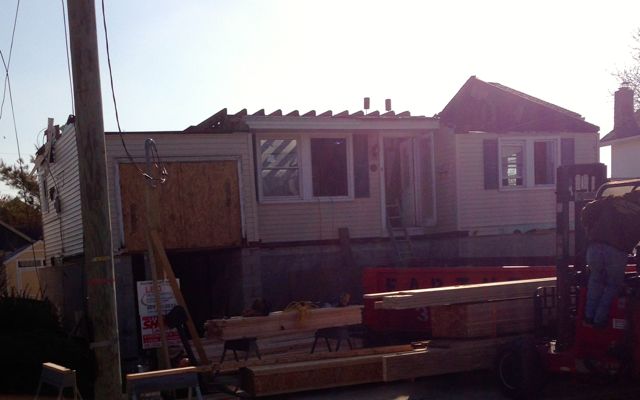 (Above, in Ventnor Heights, a homeowner takes the raise and rebuild approach).A new poll jointly commissioned by the Rutgers-Eagleton folks in New Jersey and the Sienna Research Institute in New York shows a deeply divided populace on the issue of rebuild or retreat from the Jersey Shore and other vulnerable areas post-Sandy. In New York, where Gov. Cuomo has been clear about advocating a buyout public reclamation of damaged property, there was a 15 point plurality, 48 to 33 for just the opposite: giving peoiple money to rebuild. In New Jersey, meanwhile, where Gov. Christie has until recently been all in on rebuilding, residents were split evenly - 43 percent advocating rebuilding, 43 percent advocating buyouts.
"Jersey shore residents are just as evenly split as most of the state on the best way to use these Sandy relief funds," said David Redlawsk, director of the poll and a political science professor at Rutgers. "But those living in the northwest exurban counties do have a preference: there, 56 percent prefer buying damaged properties and tearing them down."
(Inquirer photo by Elizabeth V. Robertson/staff photographer)
So the moral of the story is, the squeaky flooded out wheel gets the endlessly-stalled insurance settlement money. In the case of Maurice Corkery, above, in his gutted little slice of paradise in Ocean City, N.J., his frustrations really touched a nerve with the many people whose insurance claims - despite FEMA reassurances - remain up in the air, stalled, or in need of appeals and supplement. But about a week after Corkery went passionately and eloquently public about his endless bureacratic frustrations with FEMA Flood Insurance - have your engineer talk to my engineer about sums it up - the Hartford Insurance Company told him they were cutting him the $79,300 check he had sought in order to tear down the ruined little rancher and put up an elevated modular home that meets all FEMA requirements. (The settlement was $88,000, minus depreciation and deductible). Corkery, who spoke with the passion of a WIP caller complaining about former Eagles coach Andy Reid, told his tale in the Inquirer, and then leveraged that into an appearance on Fox Business Network and an outraged on his behalf Gerri Willis. It touched a nerve, judging from the response, among people like Corkery who paid their insurance premiums, spent their savings on modest beach homes and hoped to secure a little bit of Jersey Shore goodness for their families (in Corkery's case, a new grandson). "I will be installing pilings to 13 feet," Corkery reports, "and putting a new home on them." Corkery at first thought the check would mean the home would be ready by June, just in time for beach tags. Now, he's thinking mid-July is more realistic. "I have applied for demo permits," he wrote in an e-mail Monday morning. "The modular house has been ordered. My builder told me O.C. still has only one guy who approves the permits. I hope it moves fast." One thing is certain: the new house will be the same yellow as the old one. "My wife thinks it is a shore color," he said. Agreed. Stay tuned sports fans.
OCEAN CITY – A quaint downtown stretch along Asbury Avenue that has mostly managed to avoid corporate homogeneity by favoring hometown mom-and-pops – the likes of Benetton and Domino's Pizza left town long ago after relatively unpopular stints – will be graced by the resort's first Starbucks come fall.
Starbucks will, in fact, occupy Domino's old digs at 11th and Asbury just as soon as designers, contractors, and the franchisees can create a "beach-beautiful" theme in the old pizza joint. Installing snazzy seating for up to 70 people, including a gas fireplace and special lighting features, the space could become a favorite hangout for locals and visitors alike, said Anne Betz, of Betz & Associates of Phoenixville, Chester County, which will operate the location with partner Pierce Keating of the Daniel J. Keating Co. of Narberth, Montgomery County.
The partnership operates Starbucks in nearby Margate and Atlantic City.
With their backs up against the seawall at the end of Brigantine Avenue, U.S. Reps. Frank LoBiondo and Jon Runyan announced they were introducing legislation that would ease some of the burden from the planned whopper of a rate increase to fund the once-hemorrhaging national Flood Insurance program. They were joined by Brigantine Mayor Phil Guenther, above, in the suit and tie. (The Congressman dressed down for the beach).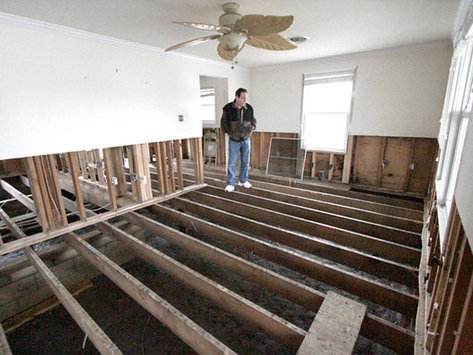 Among the responses to my story today about Sandy victims who can't shake any insurance money out of the National Flood Insurance Program, featuring Maurice Corkery of Delaware County, above, was an e-mail from Anne Cancelmo of Ocean City, who writes, "How about an article on the topic regarding insurance companies when writing a check to cover losses write it to the homeowner (aka morgtage holder) and the bank (mortgager).
When fired ripped through The Gables in Beach Haven just after the dinner service Easter Sunday last year, some feared the devastating blaze would mean the end of the beloved Long Beach Island landmark restaurant.
But the owner persevered and restored the ornate Victorian to all its former splendor in time to reopen just before Labor Day. In addition to a fine-dining restaurant, the establishment offers five upstairs guest rooms that each features Frette linens, marble fireplaces, and luxury bathrooms. It was the second time owner Sondra Beninati had to undertake a massive restoration of what she calls her "Grand Old Lady" after purchasing it in 2006.
Then along came Sandy.