Amy S. Rosenberg
The investigation into Baltimore Ravens running back Ray Rice and fiancee Janay Palmer's after-hours altercation inside Revel Resorts has been kicked up to the Atlantic County prosecutor, following the release of security video showing Rice dragging a limp woman out of an elevator.
Rice and Palmer were arrested by Atlantic City police shortly before 3 a.m. Feb. 15 at the porte-cochère of the Boardwalk casino. Both were charged with simple assault-domestic violence.
Police at the time said both had struck the other and neither had reported injuries or required medical treatment. The video, posted on TMZ Sports website Wednesday and shown below, shows Rice dragging what looks like an unconcious Palmer out of an elevator face down. UPDATE: A police complaint summons, posted online Wednesday by the Baltimore CBS TV station, says Rice stuck his fiance with his hand "rendering her unconscious."
Amy S. Rosenberg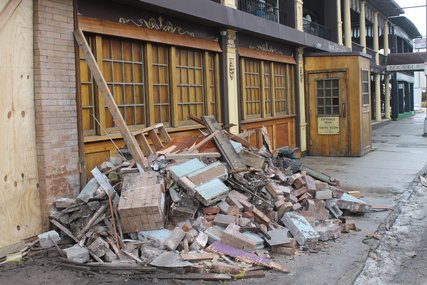 It takes a lot to close the iconic Irish Pub in Atlantic City, most recently it was Hurricane Sandy, but a man who was refused service because he was too intoxicated left the pub on St. James Place Sunday afternoon and had some trouble executing his getaway. Witnesses said he crashed a grey SUV into the stained and leaded glass exterior of the pub and hotel, built in 1900, pushing rubble and bricks all the way to the mahogany bar and denting the brass foot rail at the front. Incredibly, only one patron suffered some minor cuts and everyone who had been in the front had moved somewhere else at the time the car came crashing through.
The place is a classic time warp of stained glass, rugs, old posters, wooden walls and elaborate wallpaper upstairs. It's still a throwback to its Boardwalk Empire days when it operated as a speakeasy during Prohibition. It was bought in the 50s by current owners Cathy and Richard Burke who have presided over its dark and friedly bar glory with a loving and generous 24/7 spirit. "This is a great place, theyr'e so hospitable, they just give and give and give," said City Councilman Steven L. Moore, who stopped by the bar Monday morning to offer his support. "This is your Boardwalk Empire, the part you can still feel today. You can feel Nucky in here."
Amy S. Rosenberg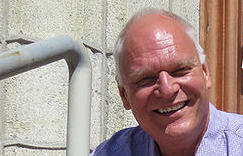 Amy S. Rosenberg / Inquirer Staff Writer
There was an election surprise in New Jersey after all.
In Atlantic City, where Mayor Lorenzo Langford, a local political fixture and Gov. Christie Saturday Night Live punching bag, was expected to win without problem, voters did a pivot. They elected Don Guardian, 60, the executive director of the city's Special Improvement District for the last 20 years.
Amy S. Rosenberg
The enormous electronic Billboard along the Margate bridge causeway that has been vexing the citizens of Northfield, Margate and everyone who drives in between had its day in court recently and lost. For obscure reasons, the causeway is within the meandering boundaries of Egg Harbor Township - that sprawling casino bedroom community whose own mayor admitted to the Press of Atlantic City recently that he could no longer afford its taxes. The EHT planning board gave the billboard a green light and left it to flash on and off every eight seconds so it could cast shadows on the bedroom wall of Dr. Ric Levitt, who lives on the bayfront on the Northfield side and sued.
Last week, Superior Court Judge Julio L. Mendez issued a 37-page opinion that sent the billboard matter back to the township, this time to the Zoning Board, which he said should have been the one to rule on the matter in the first place, since it is a use currently prohibited in a marine/commercial zone.
The billboard, erected in May, has been dark since June pending the legal action. It sits along a particularly picturesque stretch of causeway with osprey nests, old boat risers that look like Jesus's cross being carried, a few wooden billboards and long stretches of marshalnd. If only they allowed bicycles on the Margate bridge!
Jacqueline L. Urgo
Don't let the cooler than usual weather fool you — there's still plenty of summer left at the New Jersey Shore. And plenty of places where you and your family can connect with nature and wildlife before most of the birds and sea creatures migrate to warmer climates for the winter.
One of my favorite spots for this is the Nature Center of Cape May, at 1600 Delaware Avenue, Cape May. Run by the New Jersey Audubon, the place sits right on the Cape May Harbor and has a terrific view.
But the fabulous programming at this all-weather facility is the really cool thing. A lot of what they have is free, including an observation tower, an indoor lounge area, art exhibits, a nature store, touch tanks and aquariums, a children's play area, and a discovery garden. It's not a big place, but there's a lot packed into it.
Amy S. Rosenberg
Dead dolphin number 21 lay zipped inside a blue body bag, 61 inches from the tip of its bottle shaped nose to the point where the boat propeller had sliced off its tail.
A shark had taken some large bites out of its body, but only after its death. Its liver flapped out from the exposed flesh.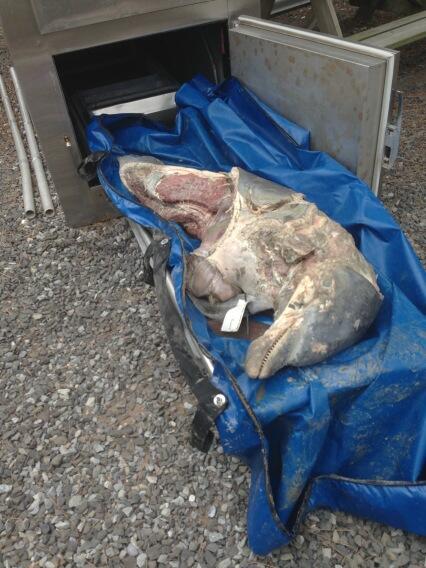 Jacqueline L. Urgo
Like Miss America's love-hate-love relationship with Atlantic City, beauty pageants at the New Jersey Shore may come and go.
But one that will apparently never leave its beloved perch in Ocean City is the Miss Crustacean Hermit Crab Beauty Pageant, a tongue-in-cheek event that will return to the Cape May County resort for its 40th year on Wednesday, Aug. 7.
"We would never move the pageant to Las Vegas or any other location," said Mark Soifer, founder of the pageant and chairman of the National Association of Crab Activities at the Beach, or NASCRAB.
Jacqueline L. Urgo
It may be hard to believe that the Cape May-Lewes Ferry will be 50 years old in 2014.
But it will.
And to celebrate that milestone, the Delaware River and Bay Authority which operates the ferry — actually a fleet of five ferries — is asking the public to share favorite experiences, memories, photos, and any other memorabilia for a special exhibit being created by the agency.