Amy S. Rosenberg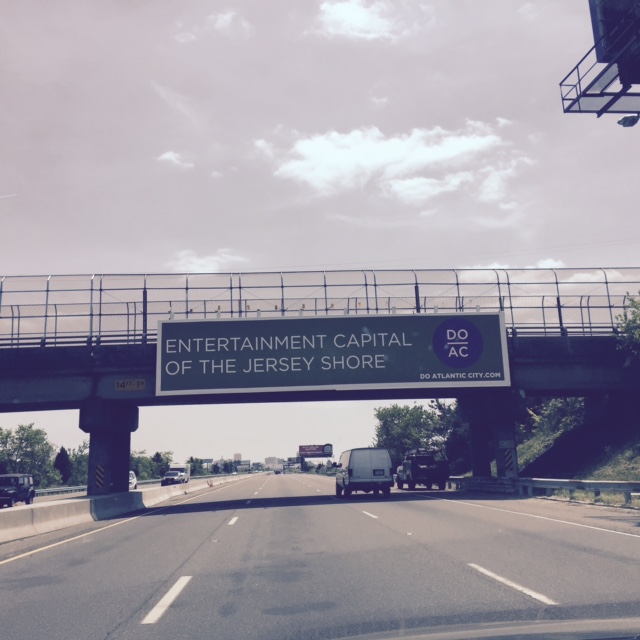 And so the saga of signgate reached an amicable conclusion Wednesday as the South Jersey Transportation Authority - on orders from the state Department of Transportation - sheepishly put back an Atlantic City welcome sign to its iconic, decades old, spot over the Atlantic City Expressway.
The new sign _ with this season's green and purple "Entertainment Capital of the Jersey Shore" brand _ replaced the old "One mile to a million miles away" sign that was removed last week after SJTA bureacrats questioned its lack of permits.
Amy S. Rosenberg
So naturally all of this controversy about the South Jersey Transportation Authority literally rolling up the Welcome to Atlantic City sign, then the state ordering it put back after an outcry, and the quips about "signgate" led to ... a traffic jam. This is, never forget, New Jersey.
With the promise to have a new A.C. sign in place over the Expressway by Memorial Day Weekend, crews had two lanes blocked off on the approach to Atlantic City during the day Saturday, causing a massive tie up until mid-afternoon that had people _ drivers, locals, tourists, casino and other executives _ in a bit of a freakout Saturday.
("All you conspiracy theorists were right ... the State is screwing AC," wrote local resident Cassandra Shober on Facebook (see her photo above), noting that two lanes were closed on the Expressway at noon Saturday for work on the "non-conforming Welcome sign." "Good job guys.")
Amy S. Rosenberg
The state has issued an order that power be kept on at the former Revel property, according to both a lawyer for ACR Energy and new owner Glenn Straub.
The order, issued by the Department of Community Affairs, requires that "the level of power currently being supplied to the Revel Casino and Resort property remain adquate for the continued operation of all required fire prevention and suppression systems."
The two parties, who have been fighting over terms to continue power to the massive but empty failed casino property, had come to a temporary agreement that expired Wednesday.
Amy S. Rosenberg
Kevyn Orr, the former Detroit emergency manager who was hired by Gov. Christie to advice on Atlantic City's fiscal crisis, billed the state at a rate of $950 per hour for his work, according to documents released by the state Attorney General's office late Wednesday.
Orr's total compensation was about $70,000 for about three months work, according to state officials. His hourly rate was subject to a discounted rate of 25 percent to $712.50 per hour if he was paid "in accordance with the New Jersey Prompt Payment Act. His contract allowed for up to 16 hours per week, but at either rate, he apparently worked no more than half that. He recently told reporters in Detroit that he'd been spending a lot of time at home with his children in recent months.
He was also permitted to put in for mileage, copying, telephone calls, and other expenses, but not meals.
Amy S. Rosenberg
Atlantic City Mayor Don Guardian laid out a busy to do list in a media conference call Tuesday about sumer entertainment highlights in his resort.
In addition to declaring the beleaguered but resilient Boardwalk town the "Entertainment Capital of the Jersey Shore" Guardian said he is convening a meeting this Friday to try and salvage Stockton University's Island campus plans. Beyond that, he is overseeing 200 layoffs, mostly in the city's fire and recreation departments.
Guardian said Friday's meeting will include himself, City Council President Frank Gilliam, and representatives of Trump Entertainment, former Showboat owner Caesars and new Revel owner Glenn Straub, who has entered into an agreement with Stockton to purchase the Showboat property, in part to try to siphon off power for Revel.
Amy S. Rosenberg
UPDATE: Power was restored into the Revel property shortly after 11 a.m., Wednesday but the building engineer said it would be a gradual process to actually turn on power throughout the building.
The 47-story tower that once was the $2.4 billion Revel Casino was powerless for 20 days, in a dispute between new owner Glenn Straub and the energy company built to power the 6.2 million square foot property.
Timothy Lowry, attorney for ACR Energy Partners said Wednesday the company's agreement to turn on the power was the result of a short-term deal orchestrated by U.S. District Judge Jerome Simandle that has Straub paying $262,500 for two weeks of power. It had shut off power April 9, two days after Straub bought the property out of bankruptcy.
Amy S. Rosenberg
Kevyn Orr, the bankruptcy attorney whose Detroit credentials set off alarm bells on Wall Street when he was appointed to Atlantic City by Gov. Christie as part of an emergency management team, is leaving the post, the governor's office said Monday.
In a statement, Christie spokesman Brian T. Murray said: "From the start, it was made clear that Kevyn Orr would lend his expertise as a short-term consultant to Kevin Lavin, who continues to lead all efforts to review and improve the operations, finances and culture of Atlantic City's government to bring long-term stability to the resort town. Kevyn Orr will finalize his work by the end of the month, as the emergency management team continues its efforts to stabilize the city's finances and releases its next assessment report in June."
Amy S. Rosenberg
UPDATE: ACR Attorney Tim Lowry said at 5 p.m. that the parties had been negotiating all day to forge an agreement between the power company and Glenn Straub's Polo North Country Club, new owner of Revel. "We're taking a break, going back to our clients, and we'll reconvene at 9 p.m. tonight."
Asked if that constituted progress, Lowry answered, "Trying very hard."
EARLIER: