Amy S. Rosenberg
The failed Revel casino has yet to execute a sale of the property. But its outstanding tax bill at least will be bought, at Revel's typical deep discount. The $32.5 million tax lien against the shuttered Revel casino that failed to sell at a city tax sale this month will be bought by Wells Fargo in a settlement for $26 million, Atlantic City Mayor Don Guardian said Monday.
In addition, Guardian said, the anonymous buyer of the $22 million tax lien against Trump Entertainment Resorts at the Dec. 11 sale has paid the cash-starved city. The city had put up for sale about $59 million in tax liens, which give the purchaser the right to foreclose in two years if property owners do not reimburse them for the paid tax bill. Wells Fargo is the chief lender to Revel and is bankrolling the bankrupt casino as it tries to execute a sale. It had made offers to the city prior to the Dec. 11 tax sale that were turned down.
Amy S. Rosenberg
Charlie Birnbaum, the piano tuner who is fighting to keep his family home in Atlantic City from being seized by the Casino Reinvestment Development Authority, delivered a petition with 100K signatures to Gov. Christie on Wednesday. Plus, his lawyers are now arguing that Christie's plans for Atlantic City make the CRDA's efforts to seize his home even more questionable.
The petition, which has been gathering signatures on Change.org, includes 7,000 signatures from New Jersey and signatures from as far aaway as Chile, Greece, Russia, South Africa and India, according to a press release from Birnbaum's attorneys with Virginia-based Institute for Justice, which has long fought against Eminent Domain.
"I wish the New Jersey state government would open its eyes to this injustice," Birnbaum said in a statement. "Something like this should never happen anywhere, but especially not here in America."
Amy S. Rosenberg
News from Duneboggle land, in which the City of Margate has filed suit to halt the state of New Jersey and the U.S. Army Corps from initiating a beach replenishment project that will involve building dunes on Margate's flat beaches:
U.S. District Judge Renee Marie Bumb has extended her order barring the state from awarding a contract for a $74 million beach replenishment project after bidders agreed to extend their bids until Jan. 26. The bids for the contract, which will be awarded by the U.S. Army Corps of Engineers, had been set to expire this month. The state Department of Environmental Protection, in its rush to meet that deadline, had seized Margate's public easements by filing an administrative order with the County _ a process Judge Bumb rejected during a hearing this month. She advised the state to inititate eminent domain proceedings that would allow Margate to formally object.
Amy S. Rosenberg
There has been much speculation about the fate of Channel 40, the station that broadcasts out of Linwood and reaches the Jersey Shore and home to beloved local heroes weatherman Dan Skeldon and sports guy Pete Thompson. Dropped by NBC as an affiliate, and owned by California-based LocusPoint Networks, which wants the station solely for an FCC bandwidth auction, the station's fate has been as shaky as, well, the Revel.
Station General Manager Roger Powe organized a "Friends of 40" effort but declined to discuss the fate of the station. LocusPoint did not return phone calls. But Tuesday afternoon, the station posted a statement saying that while their management company, Access 1 will not be operating the WMGM-TV channel (4 on Comcast), the company has "taken steps to continue and expand our news product on a new broadcast channel. In the meantime, looks like the newscasts and local content will end on Channel 40 Dec. 31.
Amy S. Rosenberg
The beach town of Margate and its Philadelphia law team has scored a victory in federal court against Gov. Christie's plan to build one big dune along the state's coast. U.S. District Judge Renee Marie Bumb told the state Department of Environmental Protection on Thursday that its reliance on an administative order to seize municipal easements was "misplaced."
She extended a Temporary Restraining Order that bars the state from awarding a contract for the beach protection project until Dec. 17 and urged the state in the meantime to institute legal proceedings to condemn Margate's land in state court. The state had argued that any delay jeopardizes the entire project.
Assistant Attorney General David C. Apy told the judge the state could only do that if bidders for the project agree to extend a deadline for the process, now set to expire on Dec. 31. Assistant U.S. Attorney Anne Taylor told the judge the U.S. Army Corps of Engineers, which will build the dune, is not ready to give up on this "quick take" method of seizing land. That issue will be further briefed in federal court.
Amy S. Rosenberg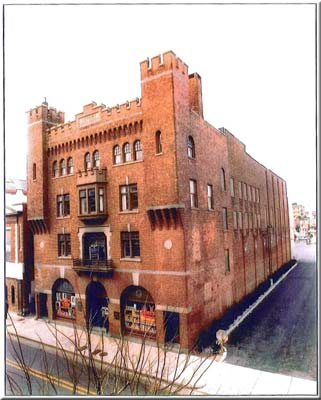 And so on the morning after Atlantic City's Revel dreams fell apart _ again _ there was at least one person trying to stay positive and show the old resort some love: Philly developer LPMG Company, which plans a rehab of the historic Morris Guards Armory Building on the of New York Avenue between Atlantic and Pacific Aves. LPMG sent out a statement Thursday morning proudly proclaiming it is "Rolling the dice in Atlantic City" with a $3 million rehabilitation of the 30,000 square foot building into "an urban feel mixed use apartment building unlike anything that currently exists in Atlantic City." The Armory, which LPMG cooed was "historic and aesthetically stunning" was constructed in1901 as a home for the Morris Guards, an independent military club.
"We love Atlantic City," said John J. Longacre, president of LPMG in a statement. "We intend to address business and housing opportunities for he middle market. We see a tremendous opportunity for Atlantic City to becom enot only a weekend destination, but more of a place where people will live all year long and will also pull from the surrounding suburban markets for shopping and entertainment options."
LPMG specializing in reviving decaying neighborhoods and has been creditied with kickstarting the regentrification of the Newbold neighborhood in South Philadelphia. LPMG is the second high profile Philadelphia developer to buck the Atlantic City is done trend, following Bart Blatstein, who has purchased the Pier at Caesars and targeted for a redevelopment aimed at millenials. Atlantic City planning director Elizabeth Terenik has specifically targeted some of the historic _ and historically vacant _ properties in Atlantic City for redevelopment.
Joseph A. Gambardello
Visitors to Brigantine's 4x4 North Beach recently encountered a tuna's head looking very much like a shoobie buried up to his neck in the same.
Where did it come from and where was the rest of it? folks wondered. This was no small tuna and certainly not something an angler would catch in the surf.
Someone knew and in the latest edition of the Brigantine Times, Andy Grossman, the newspaper's fishing correspondent and owner of Riptide Bait and Tackle, reported that the 225-pound bluefin tuna washed up in the surf, dead but injury free and looking rather fresh.
Joseph N. DiStefano and Amy S. Rosenberg
UPDATE: Ocean City Police Capt. Steven Ang says the family of Corinthian Hammond has now taken custoy of the body through a private funeral home.
The family of the Philadelphia teen who drowned in the surf off the Ocean City beach on June 29 is trying to raise money to bring his body home for burial.
Friends of 14-year-old Corinthian "Corey" Hammond have set up the Corinthian Hammond Memorial Account at Bank of America.