Amy S. Rosenberg
Atlantic City's Emergency Manager, Kevin Lavin, appointed by Gov. Christie in January, did not issue an updated report this month as promised in his previous report, when he recommended $10 million in budget cuts, hundreds of layoffs, and mediators to negotiate with casinos and unions.
He did, however, produce a $375 an hour newly hired spokesman, Bill Nowling, previously the spokesman for Detroit's Emergency Manager Kevyn Orr, who also served as a consultant for Atlantic City. Orr earned about $70,000 for about three months of work before departing in April.
Nowling was in Atlantic City Tuesday from Detroit (he flew in cheap on Spirit Airlines, he said) to meet with a couple of reporters and some of the Emergency Manager's staff, including people from accounting firm Ernst & Young, who have a $250,000 contract with the city, and law firm Skadden, Arps, he said.
Amy S. Rosenberg
Tickets go on sale this Friday for the second non-free big Atlantic City beach concert this summer.
Country group Rascal Flatts will bring their Riot Tour to the beach Thursday Aug. 20, with the odd time on Ticketmaster listed at 4 p.m., along with the fan friendly price of $20. Ashley Monroe will also be on the bill.
Maroon 5, Nick Jonas and Matt McAndrew were previously announced to be the beach acts for Aug. 16. General admission tickets available for that concert at $39.50.
Amy S. Rosenberg
Atlantic City is one step closer to getting its PILOT _ a new casino taxation system _ and other bills designed to stabilize the city's finances and steer the city through rough economic seas. On Thursday afternoon, the N.J. Senate approved a package of bills designed to "bring stability and predictability" to the city's finances, sending the package to Gov. Christie.
The long awaited package of bills, stalled since December amid political wranglng and an unsettled labor situation at the Trump Taj Mahal, have been endorsed by both the casino industry and elected officials, including Mayor Don Guardian, who said the stabilized tax system under the new PILOT was better than defending against repeated tax appeals that have put the city near bankruptcy.
Amy S. Rosenberg
Blake Shelton apparently had such a cool time in his wildly succesful free concert on the Atlantic City beach last summer that he went back to The Voice and told all his friends. Or at least Adam Levine.
In a big coup for the ailing but suddenly musically resurgent Atlantic City, sources confirmed Sunday that Maroon 5 and Nick Jonas will be performing on the beach Aug. 16th. But unlike last summer, tickets will not be free. Maroon 5 is not touring this summer, but will make a special appearance just because, well, Atlantic City.
The country group Rascal Flatts is also reportedly looking at gracing the old seaside survivor with a second beach concert, date to be announced, also paid tickets, but nothing final has been inked.
Amy S. Rosenberg
The Bella, a product of a more optimistic time in Atlantic City, is one of the city's only truly luxury condo high-rise buildings. A block from the ocean at 526 Pacific Ave., units used to sell for close to $500K back in the heady years of, say, 2008. Lately, as Atlantic City's economy tanked, nearby Revel and Showboat closed, and the neighborhood stagnated, prices have dropped precipitously, with some unit asking prices sinking (way) below $200,000.
Now, Credit Suisse Bank, which owns 40 of the units, most on upper floors with ocean views, is getting out, says Bob Dann, of Max Spann Real Estate & Auction Co., and is offering the units at absolute auction. The first 15 units will have no minimum bid or hidden reserve, and will be an interesting test of how low Atlantic City's beleaguered market will sink, even with an ocean view.
"They'll probably sell for significantly discounted price," Dann said. "In the end, they're a very luxury building, the amenities are top notch: the pool, the spa. In the end, it's a block and half from the beach. If you can get a block and a half from the beach with views of the ocean, for next to nothing, you're in good shape."
Amy S. Rosenberg
Unlike a lot of other big announcements in Atlantic City, Bart Blatstein's The Playground looks like it's actually happening. The Philadelphia developer is still planning to be open by his promised July 4th weekend _ tentatively set for June 26th _ for the reworked music and food venue, which he is modeling after music row in Nashville or 6th Street in Austin.
Monday, Blatstein announced that Jose Garces, whose succesful ventures at the Revel _ the Guapos Taco truck, Amada and Distrito, were abruptly TKO'ed by virtue of the now-closed casino hotel's abyssmal performance, subsequent bankruptcy and sale to Glenn Straub, will provide all the food at the new venues at The Playground. (Stephen Starr's Buddakan and Continental will remain on the third floor).
Amy S. Rosenberg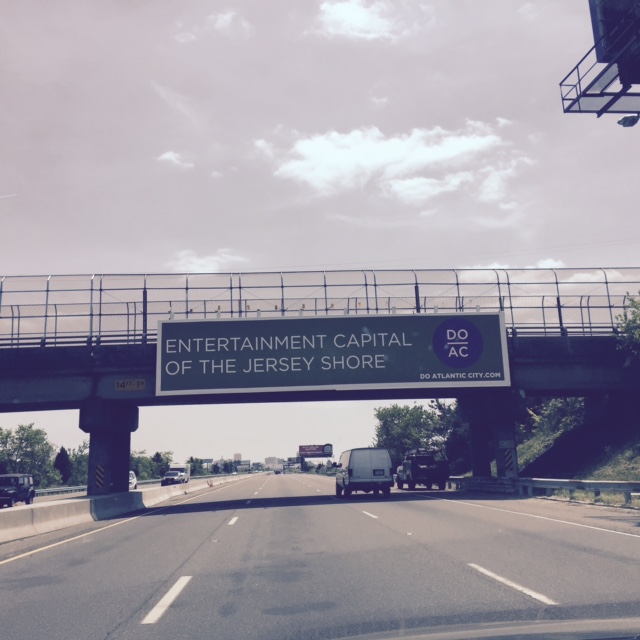 And so the saga of signgate reached an amicable conclusion Wednesday as the South Jersey Transportation Authority - on orders from the state Department of Transportation - sheepishly put back an Atlantic City welcome sign to its iconic, decades old, spot over the Atlantic City Expressway.
The new sign _ with this season's green and purple "Entertainment Capital of the Jersey Shore" brand _ replaced the old "One mile to a million miles away" sign that was removed last week after SJTA bureacrats questioned its lack of permits.
Amy S. Rosenberg
So naturally all of this controversy about the South Jersey Transportation Authority literally rolling up the Welcome to Atlantic City sign, then the state ordering it put back after an outcry, and the quips about "signgate" led to ... a traffic jam. This is, never forget, New Jersey.
With the promise to have a new A.C. sign in place over the Expressway by Memorial Day Weekend, crews had two lanes blocked off on the approach to Atlantic City during the day Saturday, causing a massive tie up until mid-afternoon that had people _ drivers, locals, tourists, casino and other executives _ in a bit of a freakout Saturday.
("All you conspiracy theorists were right ... the State is screwing AC," wrote local resident Cassandra Shober on Facebook (see her photo above), noting that two lanes were closed on the Expressway at noon Saturday for work on the "non-conforming Welcome sign." "Good job guys.")