My friends say I've got enough hair-raising tales for stories-around-the-campfire for a month of Saturday nights — but I'm still a sworn skeptic when it comes to the idea of ghosts.
On an assignment for the paper, I attended a séance and actually slept at Lizzie Borden's house and have interviewed renowned psychics. One even told me I'm like a magnet for ghosts.
I've got creaky stairs and lights that seem to turn themselves on and off, but I would never say I live in a haunted house. My husband snapped a photo inside Mount Vernon of what looks like a young ginger-haired George Washington standing next to me.
This is really amazing. Time lapse shows the storm darkening skies, covering Atlantic City, blowing through with its signature of rain sheets, darts of lightning, feeling of armegeddon, and all is lost, and then it's gone and hey, there's Atlantic City again, the sun's out. Or, as Mo Delgado put it on Facebook: "Nature power washes Atlantic City." Well done, youtube user whose user name is not real and a little scatalogical, so Ill not repeat it here.
I don't know, man, I thought it was pretty good last year out on Bader Field for Metallica's Orion Festival (+ More!). They didn't sell as many tickets as Phish, or Dave Matthews Band Caravan the year before, or, frankly, as many as they said at the time, or that they hoped. Chris Steffen of Rolling Stone described their view of Atlantic City as the immediately classic "suboptimal." not to be confused with the optimal subs available at the White House Sub Shop.
The band is trying out the less suboptimal venue of Detroit this year. "I thought Atlantic City was going to be a lot better than it was," frontman James Hetfield told Rolling Stone at the festival grounds on Belle Isle. "There was some gouging going on in hotels, ripping people off, crap like that. But it's a gambling town, and it's got a reputation for that. We're trying to make this affordable for people, so that wasn't a great thing. Getting in and out of Detroit, I think, is a lot easier."
Gov. Christie announced Wednesday $31 million in grants to three cities and one county as part of his ongoing allocation of $1.8 billion in Sandy aid from the federal government. This is just over half of the total allotment of so-called "essential services" grants to municipalities and governments to cover losses due to essential services impacted by the Oct. 29 hurricane. The money is to cover extra police patrols, increased public works efforts and education services required due to dislocated students. Atlantic City received $7.5 million, Sea Bright $938,000, Ocean County, $7.28 million and Toms River, $15.5 million.
"Several municiaplities and local government agencies have experienced, and will continue to experience, difficulties in meeting the demands and costs for critical public services as a result of the impacts of Superstorm Sandy," said Richard E. Constable, III, Commissioner of the N.J. Department of Community Affairs, which is in charge of distributing the CDBG Disaster Recovery funds for the state. "Essential Services grants are really a vehicle to bridge funding for these Sandy-Impacted local governments as they work to get back on their feet."
Presumably, the money in Atlantic City will not go to this section of famoulsy destroyed Boardwalk, in the northeast inlet, which tourism officials have gone out of their way to point out is a NON-essential part of the Boardwalk. Though I hear there's a plan in the works to replace this section with a concrete promenade linking up with the Marina District.
Watch Harlem Globetrotter Handles Franklin spin his way through 11 Jersey shore towns in a "Stronger Than The Storm" spot filmed last week en route to Wildwood. I spotted Ventnor, Margate, Brigantine, Strathmere, Avalon, Atlantic City and, naturally, Wildwood on first viewing. Globetrotter spokesman Eric Nemeth insists the routine was performed in each of the towns he visited on the way to the Wildwoods, where the Globetrotters will perform Aug. 7 to 10th. "No green screens were used - there is still sand in his sneakers," Nemeth said. Nice spot, nice gesture.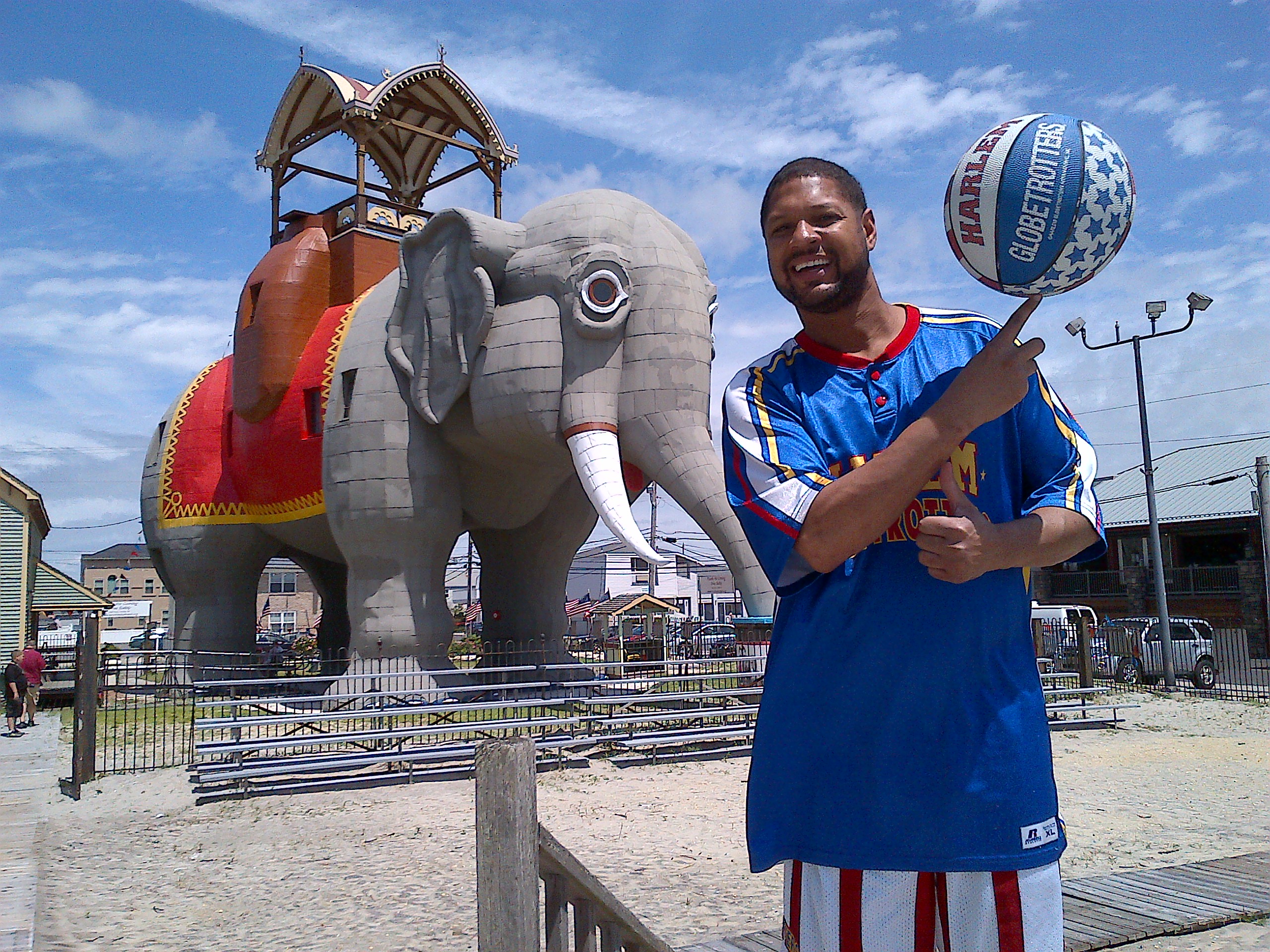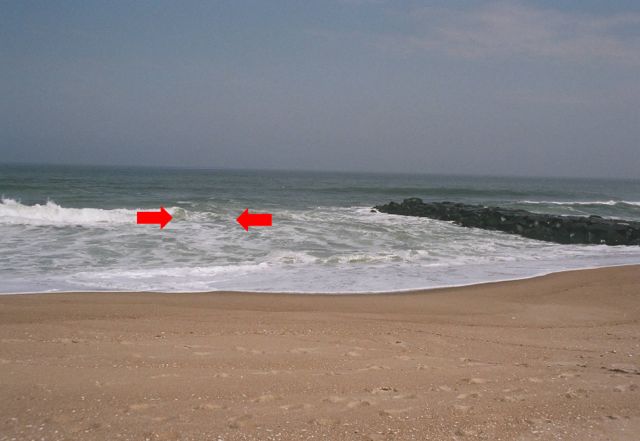 (Photo courtesty of Dr. Tom Harrington of Stevens Institute of Technology, via NOAA website).
So, it's Rip Current Awareness Week in the United States of America and in New Jersey, that inevitably leads to talk of Hurricane Sandy. It seems that in addition to ripping up homes and boardwalks and flooding homes and businesses, the storm rearranged the ocean floor. Severely eroded beaches mean sandbars off shore, which mean rip currents. The built up sandbars are further off shore than normal, which, as the surfer dude students in Dr. Jon Miller's Stevens Institute Classes on beach erosion have informed him. is excellent news for surfers. Creates longer and more sustained waves to surf in, and because they are forming further off shore, keeps the newbies out of the water. So good for the surfers. However, the lifeguards will have their hands full, warns Miller. Sandy's handiwork means rip currents in unexpected places, which the lifeguards will have to scope out on a daily basis. "It will be challenging to keep swimmers safe," he said. "A lot of the beach erosion caused by Hurricane Sandy uncovered a lot of jetties and groins and will lead to rip currents. It's just going to be different, that's the key. It's going to be different for lifeguards and for people coming to the beach."
As always, the advice is the same: never swim alone, never swim in unguarded beaches. If caught in a rip tide, swim parallel to the beach to get out of the current, so it doesn't suck you out to sea. But don't take my word for it. Here's audio of a public service announcement by Olympic swimmer Ian Crocker.
http://www.ripcurrents.noaa.gov/multimedia/CrockerRadioPSA.wav
Volunteers — twice as many as last summer — from Philadelphia's largest physical and cognitive rehabilitation center will be donating their time on Saturday, June 15, for an event in Wildwood Crest called "They Will Surf Again" that gets patients with spinal cord injuries into the ocean and riding the waves again.
Using special, adaptive surf boards, as many as 40 MossRehab therapists, on their own time, will share their professional expertise by hitting the beach at Rambler Road in Wildwood Crest between 8 a.m. and 3 p.m. The public is invited to attend.
The group, which also includes other MossRehab staff and supporters, will aid participants with disabilities to get up and down the beach, get in and out of wetsuits, and will assist surfers as they ride the waves, said Chad DeSatnick, one of the organizers for the event.
One the nation's oldest and probably most iconic outdoor publications, Field & Stream, is teaming up with local volunteers this weekend in a post-Sandy event to plant dune grass and clean up storm debris at Island Beach State Park.
From 8:30 a.m. to 12 noon on Saturday, May 11, as part of the magazine's Hero for a Day program, volunteers can be part of an effort to replace and improve wildlife habitat at the park, which was severely impacted by Sandy. Large sections of the dune system within the 3,000 acre park were heavily damaged.
Island Beach is located on a southern barrier island peninsula at the south end of Seaside Park Borough in Ocean County. As one of the few remaining undeveloped beaches along the north Atlantic coast, Island Beach is particularly beloved of New Jersey anglers because of its excellent surf fishing for striped bass and bluefish.