Amy S. Rosenberg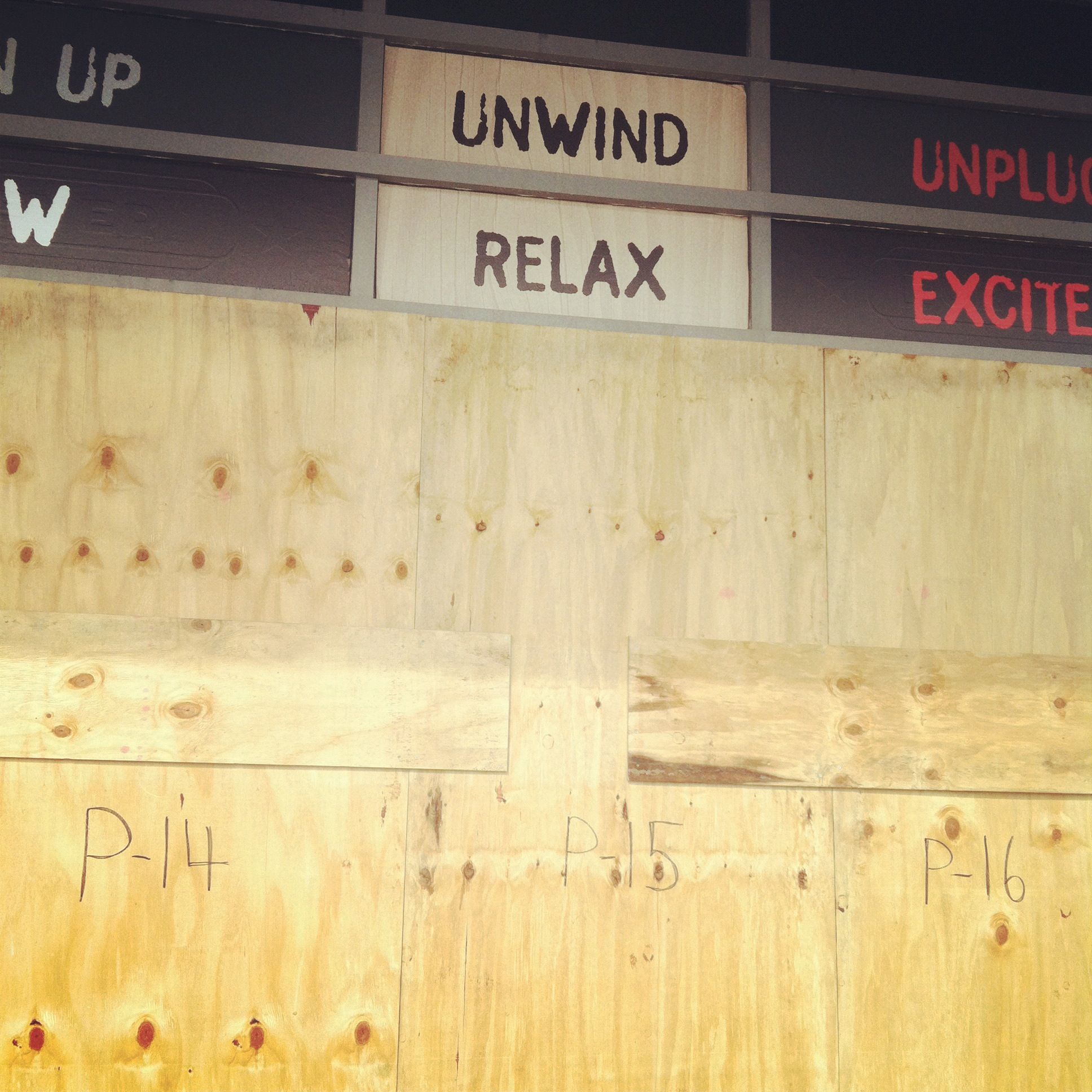 So the Governor has just ordered mandatory evacuations for all barrier islands. Up until then, it was looking like maybe Atlantic City would not be evacuated, there was talk of setting up shelters inside the city and allowing casinos to stay open, but i guess Frankenstorm demands otherwise. For locals, here's an A.C. Press story detailing the city's evacuation plans. (Roads into A.C. will close at 4 p.m. Sunday, roads out will close when sustained winds reach 40 miles per hour.) Please follow on twitter @amysrosenberg
A general twitter feed for Sandy can be found here. I know last time, a lot of people stayed put and were vindicated as places people evacuated to got hit worse than the islands. Sandy doesn't seem worth messing with, I'd have to say. On a biike ride up the Boardwalk this morning, I only saw the casinos on the North end boarding up, Resorts, Showboat (That's the House of Blues with the Unwind, Relax suggestions) and Caesars a little bit, but I guess there's time. Revel seems particularly vulnerable out there on the edge of the island, all glass, that darned ball resting on its giant golf tee, but only time will tell how she holds up.
Amy S. Rosenberg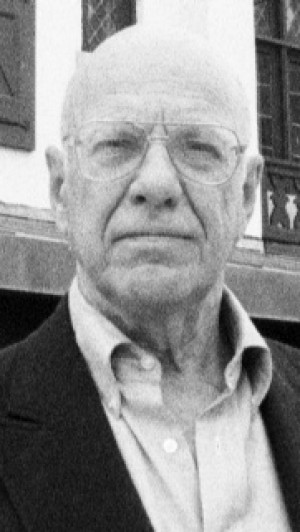 Mack Latz was "a big liver" he once told me, meaning he was hightailing it out of the business to get on with life, having sold his family's crown jewel, the Knife & Fork Inn in Atlantic City, over the objections of his son Andrew Latz, who now runs Latz by the Bay in Somers Point. But Mack - who famously couldn't get along with anyone, especially his brother, causing them to work on alternating weeks - left the great Knife & Fork in good hands: the Dougherty family, which also owns Dock's Oyster House, and, more recently, Harry's Clam Bar. The Knife & Fork is still going strong, one of the city's few remaining ties to the old old days, converting the enclosed porch that once played host to a lunch scene played by Burt Lancaster and Susan Sarandon in the Louis Malle movie Atlantic City to the city's best bar for locals or anyone. The food is still incredible, the atmosphere is pure old Atlantic City charm (so much so, that the Boardwalk Empire inspired Roaring 20s outfits for waiters seemed somewhat superflouous), and the location still unmoved, despite threats, the Flemish building moored to its odd place at the intersection of Atlantic and Pacific. The Knife & Fork celebrates it 100th birthday next week. Alas, Mack Latz, 95, didn't make it, but who knows if he would have bothered to show up anyway. His parents, Milton and Evelyn Latz, had owned the Knife & Fork Inn since 1927 (it was a speakeasy before that, with lockers under the seats for your booze) and made their reputation on period dishes such as Lobster Thermidor. His grandparents were hoteliers in Atlantic City as well. Mack Lack's feud with his son Andrew, who desperately wanted to take over his family's birthright, led to the obligatory lawsuits and press releases, with Andrew publicly accusing his father of duplicity and betrayal, and Mack Latz firing back, "All I want is 6 percent of the gross. A knife and fork in the back, as we all said at the time.
Mack, who raced sailboats when he wasn't running restaurants or arguing with somebody and supposedly had a tattoo of the knife and fork crest on his hand, was a helluva guy who left his mark on a helluva restaurant and a helluva town. He told me back in 2003, in a hostility-filled story that ran, fetchingly, on Christmas Day: "I want money, baby. I have a car and a boat. I race sailboats. . . . All I've wanted is money. Boats and women - it's expensive. Nothing's enough for me. I gotta live. I'm a big liver."
Jacqueline L. Urgo
The tourists are mostly gone, but this time of year the Jersey Shore welcomes another crowd: our fine feathered friends.
Everywhere you look in what veteran birders consider to be the premier North American flyway, there are migrating bird species -- besides the ubiquitous squawking geese. The monarch butterflies put on a pretty good show, too.
To get into the high-flying spirit, one of the best things to do is to head to the Nature Center of Cape May, at 1600 Delaware Ave. in Cape May, for one of its seasonal programs.
Amy S. Rosenberg
Did we mention Nik Wallenda walked on a wire between the Atlantic Club and the Tropicana earlier this month? And that it was seen by about 100,000 people, give or take 50,000, according to crowd estimates. I thought it was super cool, in an unexpectedly subdued and meditative way, watching Wallenda walk high up in the air, on his own personal balance beam. I was relieved he didn't swing off it and have to grab it like a Fab Fiver on the Balance Beam, or meet a worse fate, like his great grandfather, Karl, who fell to his death on a similar walk. To me, it felt like everyone flying the same kite, that same kind of breathless wonder you feel to be connected to somthing so fantastical, so far away. Nik was cool the way he maintained eye contact with people during the walk. In any case, it was a big success for Atlantic City, say the marketers and image-keepers, but that still left Nik Wallenda, his wife Erendira, his mom, Delilah, his cousin Blake and a cast of a dozen or so old-fashioned circus performers _ a contortionist, an aerialist, a quick change of costume artist, a juggler, some swinging rope Guachos, his main man Michael Richter, who plays a clown in the act (with a particularly funny bit trying to get the audience to do a clap, snap, slap your thighs Louie Louie rendition) to go on with the show, which plays the Tropicana through Sept. 22. Nik relentllessly flogged the show, even pointing to the plane banner in the middle of his high wire walk. My daughter and I caught the show Sunday night, along with a bunch of other people who seemed to have gotten free tickets (there was a separate employee section and a comp section in the general admission seating area). Like the Morris Day and the Time show I saw the night before in the party like it's 1978 Superstar Theatre at Resorts, which has somehow escaped the glitzy redo of the rest of Resorts, it was an act that called on a lot of old fashioned entertainment values. Like Wallenda, Morris Day employs his own comic foil, who carries around a mirror. Between the two shows, I felt like I was back in an Atlantic City of an earlier era, maybe even like 1950, though Morris Day dates only from 80s Minneapolis.
In any case, the Wallendas put on an old fashion vaudeville variety act, put Nik and his lovely wife up top high swaying poles out over the audience (see photo above, and I mean way above), and then recreated his great grandfather Karl's signature chair pyramid with bicycles act, the act that caught the attention of Ringling Brothers in the 1920s and brought the famous Wallendas to the United States. It's also an act that when expanded from four people (as it was done at the Tropicana) to seven people led to two Wallenda deaths in 1962. See, these stunts really are dangerous, though Wallenda makes them look like you could just do it yourself. Which, since I can even stand on a paddle board for nore than a second and a half, I know I could not.
Anyway, I dug the show and so did all the little kids around me, though the contortionist guy who put his head through his legs backwards sort of freaked out the teenages. The daring bicycle acts are silly-dangerous but performed to very dark, adventure in the forest music like a movie score. Kind of hokey, but it underscores the serious heart to all the theatrics: this is at its core an homage to the memory of Karl and all the Wallendas that came before them, seven generations back. It was touching to see Nik, his mom, his wife and cousin Blake, continue to pay homage to the unique family legacy, quirky as it is. Who else but the Wallendas does the Wallenda thing? (See video below). It made me think, what would my family do on stage to honor grandpa Murray Rosenberg, our patriarch? Play a little tennis, maybe, and then all together on tables suspended in the air, slice that side of lox paper thin. Thinner, even. A legacy's a legacy.
And the grand finale:
Amy Rosenberg
There may be Thunder over the Boardwalk planned in the real Atlantic City today, but in Greenpoint, Brooklyn, last night, on the HBO set for Boardwalk Empire, there was a heckuva fireball. BOOM. Looks like Season 3's gonna be a doozy. It begins Sept. 16.
Amy S. Rosenberg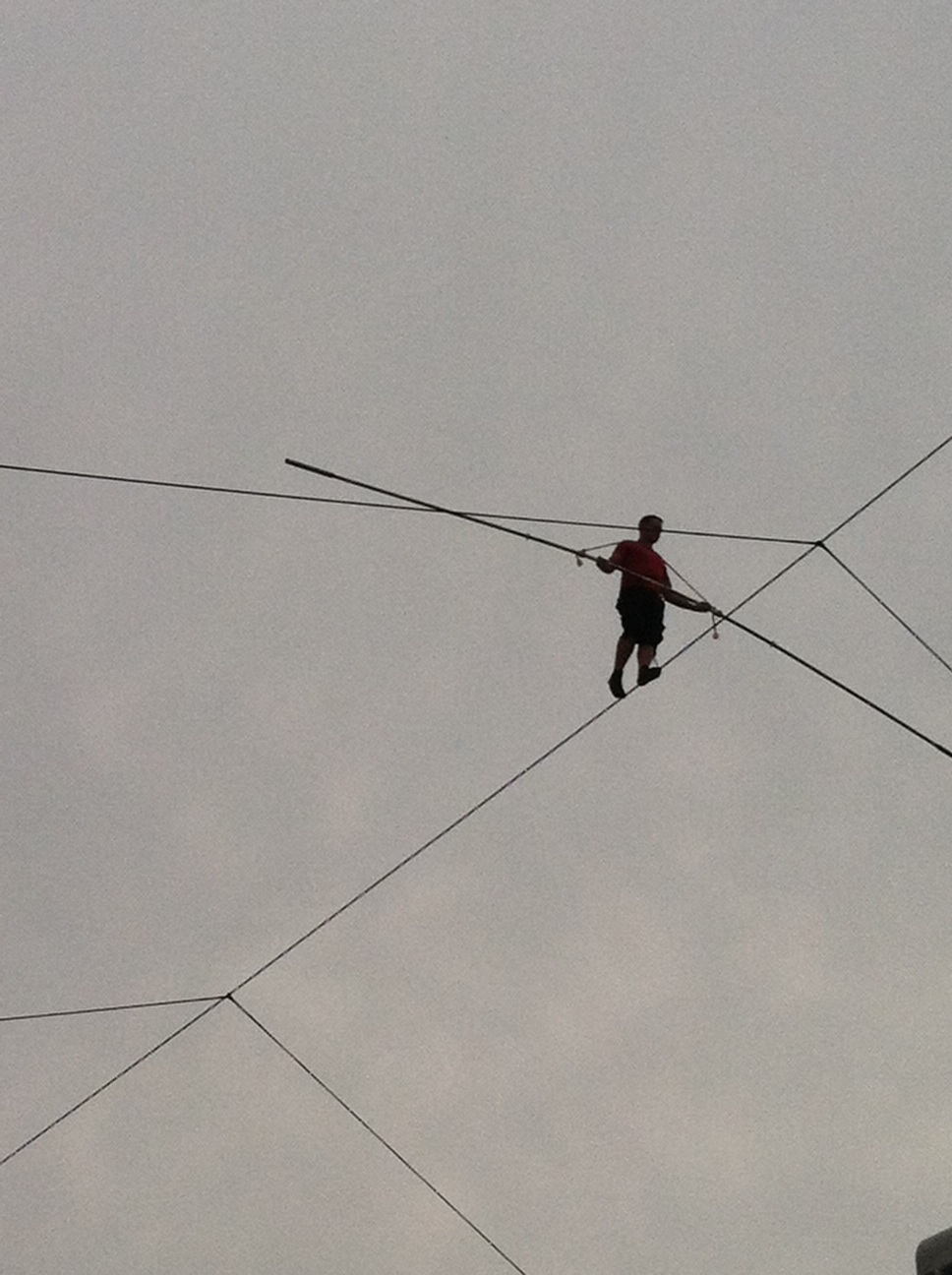 UPDATE: Nik Wallenda said he almost cancelled it when he saw how much sand was left on the wire, and he considered going barefoot, but in the end, he used the special wire shoes his mother made him. He made the trek safely, and without a net.This is Atlantic City after all, the town that embraces risk. Tens of thousands of people _ police are now estimating 100,000 _ lined the beach and Boardwalk, hushed at times and then cheering him and giving him thumbs up.
Wallenda returned the thumbs up, and actually spoke back to a few, and shouted at the Trop and Atlantic Club workers who were volunteering to hold the 40 sets of stabilizing wires to back up, so the ropes wouldn't hit him in the feet. A friend of NIk's said some of the the volunteers were on cell phones. They said the wind was a bit of a factor, but the main issue was the sand, which caked onto the wire while it was lying on the beach the last few days. "I learne a lesson," Wallenda said. "I"ll be telling that story for awhile." Wallenda walked through the crowd and into the Tropicana like a returning hero. He said it was fun and exhilerating and peaceful. It was. "I looked out at the water, the crowd on the Boardwalk," he said. Michael Jordan, a resident of Atlantic City, called up to him, "Beautiful Nik, beautiful." And it was beautiful. Unexepectedly peaceful and intimate, even. Check out the twitter feed for a blow by blow and more photos. www.twitter.com/amysrosenberg
Jacqueline L. Urgo
OCEAN CITY N.J. – In the middle of another brutal heat wave, there are few places on Earth where dozens of people will go to order hot soup for lunch – in a restaurant without air conditioning, no less!
But I sometimes can be found among those on a hot summer noon happily slurping a cup of the Varsity Inn's locally famous baked tomato soup.
What I sweat is whether they'll sell out before I get my white bowl containing the delicious elixir topped with tasty croutons and a hint of melted cheese.
Amy S. Rosenberg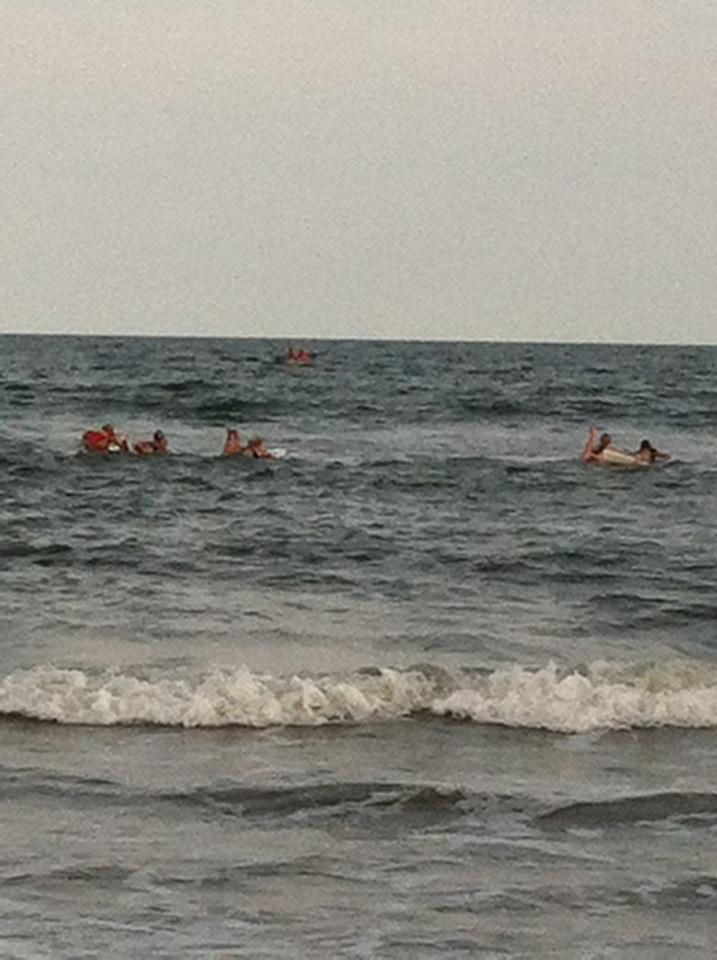 Lifeguard races are one of the great traditions at the Jersey Shore, with the guys competing throughout the summer, with longstanding rivalries and family dynasties to rival any sport you may have followed. The women's races don't attract the same crowds as the men's events (though there are women that compete in the men's events, paraticularly the swim), but they can be just as entertaining. Last night was the Longport Women's Invitational, and it featured a chance to see some of the area's best rowers - Mallory Sykes, whose Drexel boat won the Dad Vails - won the doubles row for the Atlantic City Beach Patrol with teammate Macey Miller - leaving the rest of the boats about an ocean away at the finish. It was a dominant performance, but Ocean City's Erin Curry's back to back wins in the swim and paddle board events resulted in a victory for the Ocean City Beach Patrol. Here's the full schedule from this Press of Atlantic City web page. Next up: the Cape May Point Women's Lifeguard Challenge tonight (Wednesday) at 6:30 p.m. at St. Pete's beach, Cape May Point, and on Friday, the Beschen-Callahn Memorials at 5:45 p.m. on the 15th Street beach in North Wildwood, and the Chief Bill Kuhn Brigantine Invitational Races, 6 p.m. on the 16th Street beach, Brigantine
Here's video of the start of the paddle board event and the surf dash. Find more lifeguard photos at Rusty Silverman's lifeguardart.com and from photographer Michael Martin, who just published a book of photographs of past lifeguard races in New Jersey.
Here's the start of the paddleboard event, in which the women paddle out around a course that is basically a box out in the ocean. This event was won by Erin Curry of Ocean City Beach Patrol won this event, right after she won the swim, without a break in between.
Below is the start of the surf dash event, a relay event in which the women race out into the surf to a post being dutifully held by a male lifeguard.