Jacqueline L. Urgo
OCEAN CITY — To be a smoosher or to be smooshed? That is the question.
Oh, what would Hamlet do?
Don't contemplate it too long, though, at least not at the Doo Dah Weekend event called "Pie-asco" scheduled for Saturday,<NO1>4/14<NO> immediately following the resort's annual Doo Dah Parade. The parade begins at noon at the corner of Sixth and Asbury.
Amy S. Rosenberg
So it's been a pretty wild week, inside the newsroom and out, uptown on the Boardwalk and down. On Monday, you may recall, news crews descended on the Boardwalk near the Inlet to film all the people coming to see the new Revel casino. Meanwhile, the real news was at the other end of the Boardwalk, where a Staten Island man led police on a high speed chase before heading for the Expressway, where, law abiding citizen that he was, he stopped to pay the toll and was apprehended. The police 911 audio is here and is pretty entertaining. Luckily nobody was hurt. Luckily, there were surveillance cameras which captured the fun time on the Boardwalk for all to see. If I had stuck to my original plan to ride my bike to Revel, I myself might have stumbled upon this wacky police chase on my way home. Then again, I might have gotten run over by a car on the Boardwalk, no easy feat. H/T Brian P. Hickey, via Ted Greenberg at Channel 10/NBC News.
Amy S. Rosenberg
This year has felt a little like the summer season arrived in February. The warm temps, the lack of epic snow or any snow, the urge to hit the beach from near and far, the panic of editors suddenly looking for beach stories in March, all of this has made it feel like the high season is now. I even had an afternoon beer-book-beach chair reading hour last month that I usually can't indulge in until June. Kinda nice, kinda freaky. For Doug Frohock, a heating oil and propane salesman and the husband of Barbara Frohock, minister at Sea Isle Methodist Church, it was the back bays that called to him startingly early.
Frohock, 61, has been an ocean swimmer for about a quarter century and is training for his 23d Chesapeake Bay Swim on June 10th, a 4.4 mile swim that benefits the March of Dimes (and where organizers have been known to have to fetch swimmers blown way off course by currents, winds and the like). He's a regular at the Ocean City Acquatic Center, where my friend Bob ran across him, but two weeks ago on a Saturday, with the bay temps calling to him from a balmy 58 degrees, in the lagoon just off the intracoastal waterway, he dove in, a full five weeks earlier than last year's record of April 30. "I've never been in the water in March," he said. "It was perfect in a wet suit and hood."
Last year, Frohock, a father of four and grandfather of six, swam a full seven months of the year outdoors, finishing up on Dec. 5th, when the ocean water dipped to 49 degrees. With the early start this year, he might make it nine months, though he's been back to the indoor pool as temperatures dropped a bit since. In the summer, he's out there almost every day, swimming in the space in a trough between where the waves start to mount and a sandbar. It's peaceful, he says, meditative. Sometimes his wife will paddle along side in a kayak. One time, a dolphin swam with him for a full half hour.
Jacqueline L. Urgo
EGG HARBOR CITY - This tiny western Atlantic County town has tried various ideas in recent years to pull itself out of the economic doldrums.
Though many of its quaint downtown buildings have been repurposed for housing and other uses, the place once sported a thriving commercial center that started out as a health resort in 1855. It became an enclave for German settlers in the late 1800s and early 1900s. A huge parade in 2005 celebrated the town's 150th birthday.
This year, the Greater Egg Harbor City Chamber of Commerce will host a four-hour "International Taste of the Town" on April 29. The event will be held at the Egg Harbor City Volunteer Ambulance Hall, 700 Philadelphia Ave. Proceeds will be used to purchase holiday lighting for the town's main street.
Amy Rosenberg
While Revel was getting all the attention on Monday, the real action was at the other end of the Boardwalk. Atlantic City police were chasing a car that was racing west on the board walk. "He's flying too," the police can be heard on the 911 tape, which can be heard here, thanks to ever vigilant Lynda Cohen of the Press of Atlantic City. John Thompson, 28, of Staten Island was at the wheel, driving past the Atlantic City Club (formerly the Hilton), where a man in his car jumped out and suffered head injuries.
"Families were literally diving out of the way," a police officer says on the tape. "Crazy,' the dispatcher replies. Thompson even provided his own punchline (which Cohen helpfully forwarded on twitter to @jayleno and @jimmykimmel), when in the middle of his high speed escape he got on to the Atlantic City Expressway, police in pursuit, and stopped to pay the $2 toll. He was apprehended, and faces charges of drunken driving, eluding police and aggravated assault.
Amy S. Rosenberg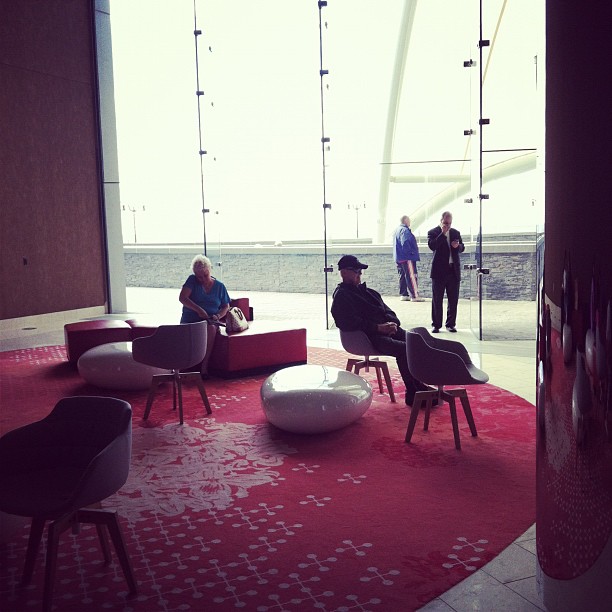 So, I was going to make like a cool local and ride by bicycle up to Revel to have a look see on its first day open to the public. But yo, the wind! Good reminder that the ocean and its breeze are fickle creatures, and while Revel may have hit on something by trying to bring in views of the ocean to its casino, it will also have to deal with the elements. That porte cochere was as beautiful a wind tunnel as I've come across!
I did manage to find free street parking like a half block from the place, and I'm not saying where. Go find it yourself if you're not into casino parking garages. Just watch out on the first and third Monday of the month.
Monday mornings are never a glamourous time for a casino, so I'm not going to judge the vibe from today, but let's just say, New casino, Same people. Not that there's anything wrong with the familiar Atlantic City mix of old folks, slackers and early birds, but who sent out the memo for everyone to wear sweat pants, sensibly soled shoes and windbreakers on Revel's big day? Oh well, I guess that's what they mean by a soft opening, and I guess even a glamourous, cutting edge entertainment, spa and food destination like Revel needs its Monday morning penny slot players, especially the ones who bring their moms (Overheard: "Mom, mom, listen, when the light is on, it means the (slot) machine is broken.) Can't say enough about my breakfast burrito that I got from Jose Garces's Guapos Tacos truck parked near the casino floor, except that I wish it were near an outside seating area, or one with windows. But that's a casino for you. Revel has told its employees not to call it a casino, it's a resort, but you know, it's a casino. With all the reports about the casino floor not being closed off to the ocean view, I was surprised to find the casino floor mostly a dark and windowless place, once you got into it a couple feet. They were swiping drivers liceneses at the edge of the casino floor, so don't look for too many underaged gamblers at this place. The lobby and its rooftop garden are pretty spectacular, with funky furnishings, see below, casual bar and even some cool little books placed on end tables (one, fittingly, "How to design a chair.") This place is going to pop at night and on weekends, when the cool cats show up.
Amy S. Rosenberg
Bo Diddley, Bo Diddley's at the Seaside Bar
We'll run barefoot in the sand, listen to his guitar
-Bruce Springsteen, Seaside Bar Song
So it's bar week on the blog looks like. Last night, Bruce Springsteen, (left, photographed by Inky photog Michael Bryant), reprised his awesome little tune Seaside Bar Song at the Wells Fargo (calm down, he opened with it last time he was in Philly), and you know, speaking of Seaside Bars, I ran across this nice bit of news from the Showboat Hotel and Casino. With Revel opening next week with a new philosophy about their location (look, an ocean!), Showboat is also changing its focus to welcome what's right outside their door. Located at the famously great surfing spot of States Avenue, Showboat announced this week it was transforming its first floor Club Worship into a new Worship Surf Bar, which it hopes will be an apres-surf hangout for lifeguards, surfers, beach goers and their groupies. Don Marandino, the head of East Coast operations for Caesars who usually has a good feel for things, said in their statement: "Delaware and States Avenue has always been a prime location for regional surfers, since way before my days as a lifeguard in Brigantine. With Worship Surf Bar we wanted to crate a really affordable and legitimate surf and sports hangout that would cater to a flip-flop-kind-of-crowd."
Amy Rosenberg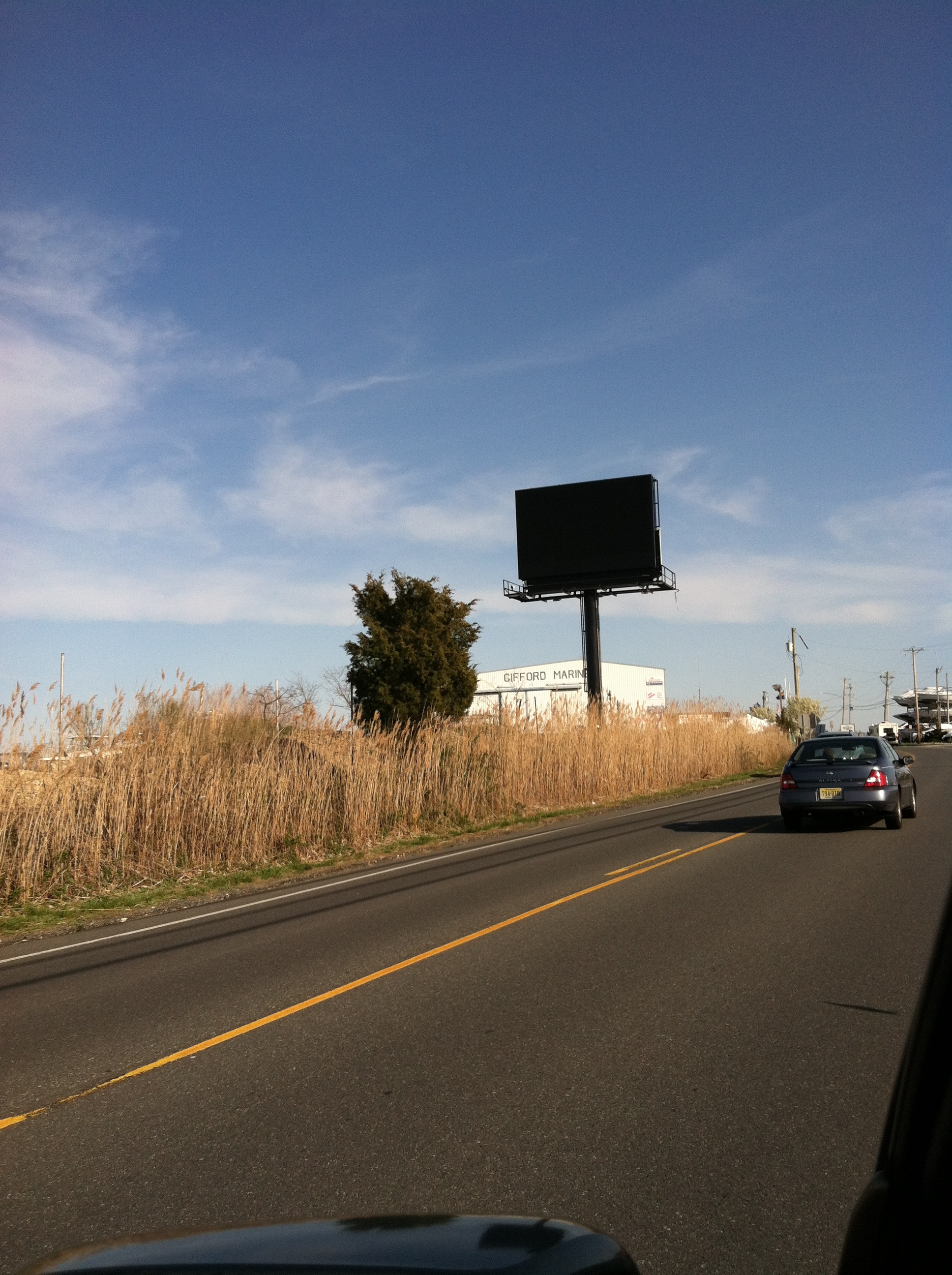 Driving back over the Margate causeway and bridge was a bit of a shock yesterday. I love that drive, the egrets, the ospreys, the wooden pilings in the water with the birds on top, the fallen piling that looks like the cross as it was being carried by Jesus through Jerusalem - man, don't get me started! It's beautiful. Usually the only sign that irritates me is the one informing me that I must pay a toll and, frequently, that the amount of that toll is going up. But yesterday, I got to see the fun new light up ginormous billboard errected in front of Gilford's Marine, bigger and more annoying than any of the old billboards that mar the view. Aw, come on, really? The land is part of Egg Harbor Township, one of those odd boundaries things that stem from EHT once being all of Atlantic County and the towns seceding and drawing their own boundaires. Mayor Sonny McCullough of Egg Harbor Township told me yesterday: "I wish it wasn't as high as it is. It's in compliance withour zoning. There's not much you can do about it. i have discoursaged this type of high profile signs in other areas of the township."
Sigh. I guess maybe market forces can discourage this type of thing, like what business would want to advertise on a billboard that will mostly annoy people on their way to the beach? And who would want to patronize a business that ruined their view so clumsily like that? Or maybe we'll just get used to it like everything else.