Wow, I thought I'd seen everything at the beach in Jersey. But today, wow, worms! At the shore! And I'm not talking about those slimy politicians in Deal. I'm talking actual worms, red, juicy worms, washing up in your ocean onto your beach. Comme ca:
That's a closeup of one such sucker in the sand in Ventnor. The beach patrol guys said not to worry, they are clam worms, and they are your basic bottom of the ocean food chain, bait for schools of blue fish and the like, washed up to shore by all the churning of the seas, the same churning that brought all that slimy seaweed and smelly mussels that were bumming every one out. The lifeguards said they are not harmful, except that we should maybe watch out for the schools of fish that are coming after them, make sure we don't get zapped by some fins or bit by some hungry fish. Ok.
Here are kids playing in the piles of mussels! Isn't Jersey fun?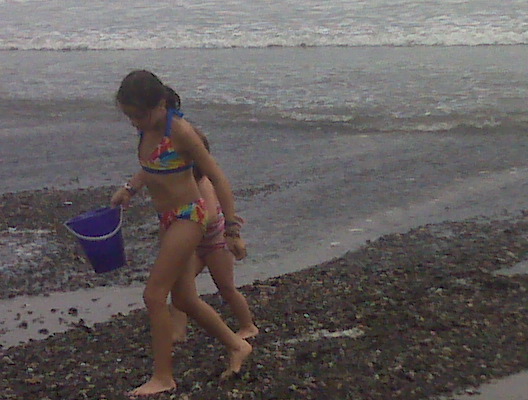 Anyway, mussels a la Ventnor is an old story. The mussels wash up, they dry off, they start to stink. We get it. But the worms, that was freaking everyone out. At least the water was warm though. Definitely in the low to mid 70s. But slimey. Here's another picture of the worm tracks left on the beach.
And, because this is just so gross, here's another picture of the worms swimming around in the ocean as it washed into shore. Again, no health hazard, says the beach patrol. Just another reminder, that this is an ocean, people. But still. Worms!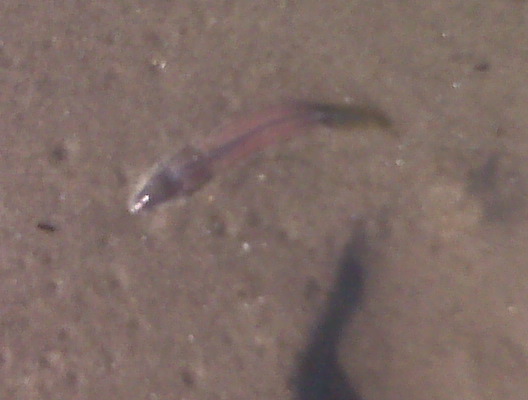 And, just for fun, here's a picture of a human kind of slug I found slogging around the Margate beach, under the fishing pier. And drying his laundry to boot. Nice, dude.
Update on Sunday: Water was much much clearer today, and still nice and warm. The stray skate had washed up on shore, drawing some gawkers, but mostly, it was busines as usual.