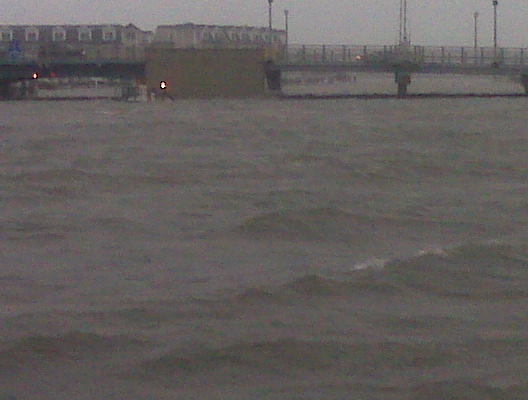 Ida is packing a punch today, with winds so strong I thought the Angelo's Fairmount Tavern sign hanging from the iconic restaurant was going to break off, it was swinging so hard. Up above, cool looking white caps pounding toward the Albany Avenue Bridge at nearly high tide this afternoon. Last night, the winds were so strong on the beach that it was like a desert storm out there, like the beach itself was a roaring river, the sand was moving at such a rapid pace. Needless to say, the dog walk did not get very far. My dogs do not like sand in their eyes. Atlantic City schools sent kids home at 1 p.m. to beat the high tide and are letting them sleep in until 9:40 on Friday, again to avoid bus drives in high tide, where streets look like this: (This is along the Coastal Evacuation Route on Fairmount Ave., at California, somewhat troublingly perhaps):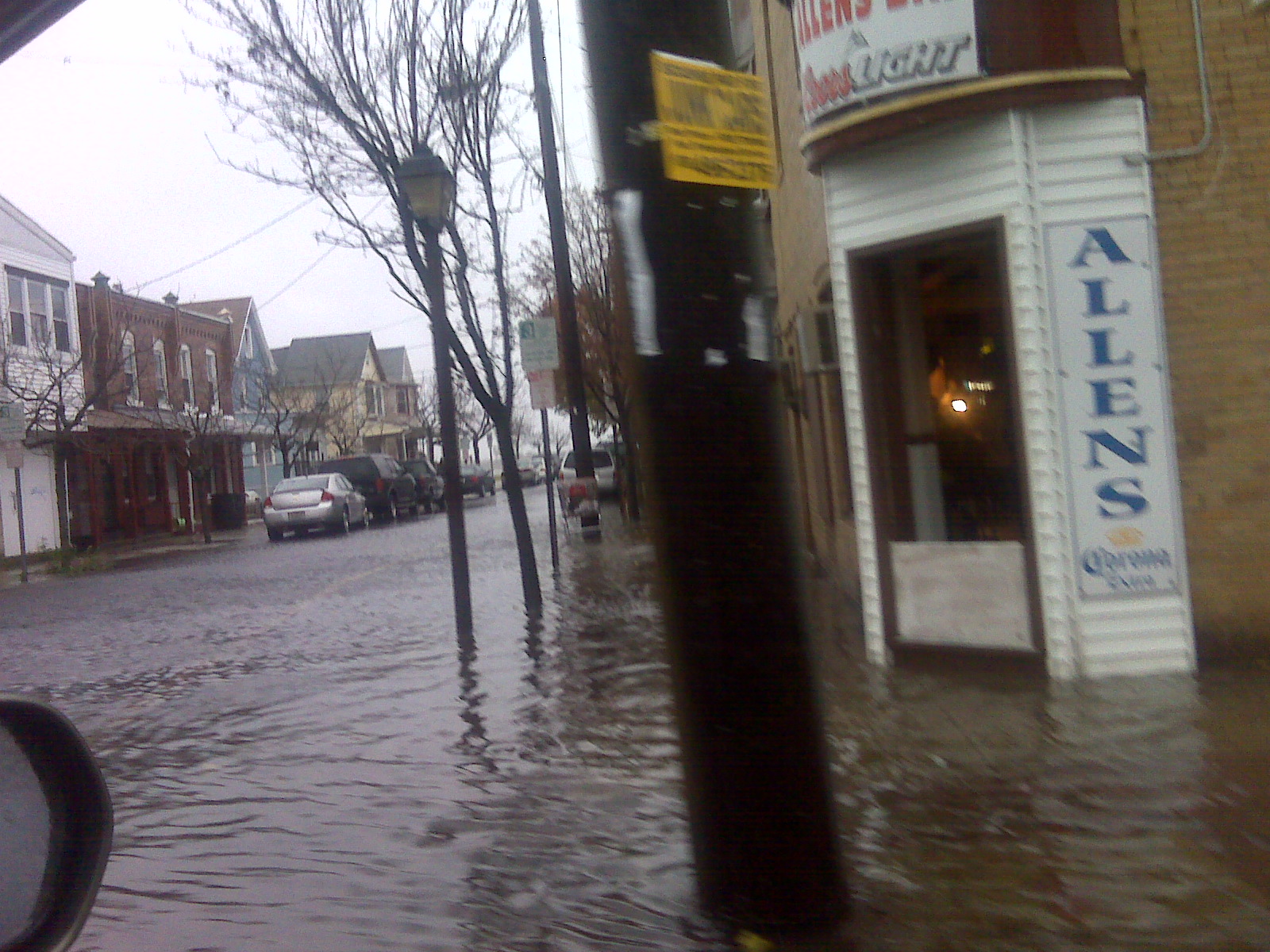 Flags were blowing along with street lights and what's left of our itty bitty trees on the Island. Further south, the rough seas had apparently claimed the lives of three fishermen off the Coast of Cape May and shut down bridges. Feels like a typical nor'easter, but apparently for a Hurricane like Ida to turn into a nor'easter is a rare occurrance, and there were predictions of the worst flooding at the shore in a decade. We shall see.
UPDATE: It's truly wicked windy out there, with a lot of flooding that has shut down various roads hither and yon, including, once again, the Dorset Avenue Bridge and Wellington Ave. in Ventnor, which pretty much leaves our friends in Ventnor Heights to their own little island, with no way on or off. Good thing, there's your WaWa to cling to, good people of Ventnor Heights! One friend was contemplating whether to take a boat or a fishing rod out her front porch. High tide has passed, and the waves are still kicking, and the wind is still whipping, and there's a traffic accident on my corner, and, well, we await the morning's cycle.
UPDATE 2: House is shaking from the winds, Cape May County has declared a state of emergency and is recommending people on the bayside move to higher ground, but not requiring it. Looking to flooding at high tide on the west side of the barrier islands near the back bays, lots of beach erosion. Black Horse and White Horse Pike were shut down leading into Atlantic City this evening, only way in was A.C. Expressway...
UPDATE at 8:50 p.m. Looks like my kids are getting a day off from school tomorrow in Ventnor, due to the expected flooding at high tide in the morning by the back bays, where the school is located. A.C. High is starting two hours late, as of now. We may not get our share of snow days here at the shore, but every once in awhile we get a leg up with a Nor'easter Day. Move the cars to higher ground, and let the kiddie joy spread through our flooded streets.
Previously: Jersey Shore, MTV Style: Meet the Guidos