You can't take it with you, I guess is the moral. There's been a lot of moving out of places people thought were forever going on in the last weeks, the Inquirer from the Inquirer building at Broad and Callowhill, the Archdiocese from the Archdiocese shore home for retired priests on Princeton Avenue in Ventnbor. In both cases, a lot had to be left behind. At the Inquirer building, I found some old pica rulers and a guide to reporters rights written for the Atlantic City Press, and a lot of New Jersey legislative guides, marked not to be removed - ever, it seems - from the copy desk. And there they shall remain.
Over on Princeton Avenue, where the mansion assessed at $6.2 million
has been emptied of its vacationing priests and will soon be listed for sale, assuming those old stories of restrictions on the sale were just stories (the deed reflects no restrictions), some books just had
to be left behind for the recycling bin. I still feel like the story of that house has yet to be totally unraveled, like why does the plaque on the door say that Anne Hogan donated the property when it was her sister, Hannah G. Hogan who sold the place to Cardinal Krol in 1963 for $100,000? The Hogan sisters are wrapped up in a lot of mystery from here to Palm Beach, and certainly amassed a lot of real estate, much of which they transferred or sold to the Catholic Church, which in turn made a good amount of money off them. There's also the part of the priest they knew as a child in Philadelphia who they kept in very good digs down in Florida and who apparently stashed away a lot of their money. Stay tuned for how much the Church gets for the Princeton Avenue property. In any case, walking my dog the other morning, recyling day, I saw the boxes left on the street and took a brief inventory, which is below the photo of the porch, where presumably some of that summer reading was done.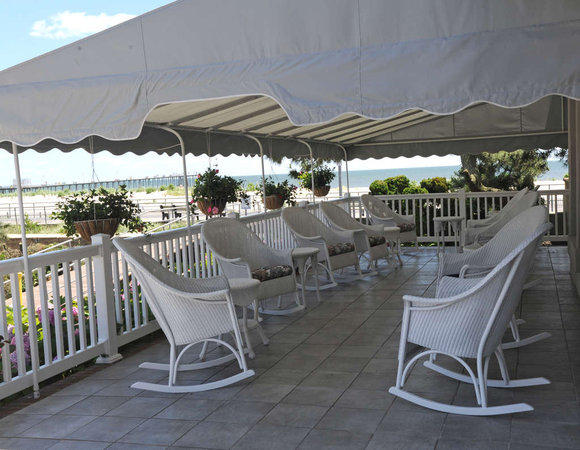 Box one: Up on top was a big maroon "The Code of Canon Law: A Text and Commentary." Other books included: The Sexual Celibate by Donald Goergan; The Priest, an intimate portrait of the Life and Work of a Parish Priest" By Don Gold" St. Paul, Apostle and Marty by Igino Giordani, The Catholic Priest as Moral Teacher and Guide (A Syposium); The 2003 Catholic Directory of the Archdiocese of Philadelphia; Sicilian Odyssey by Francine Prose; Decider by Dick Francis, "a Roma si racconta che' by Margherita Naval, Villanova University Catalog, "Journeys Home," by Marcus Grodi, which tells of Protestant Clergy and Laity "coming home" to the Catholic Church.