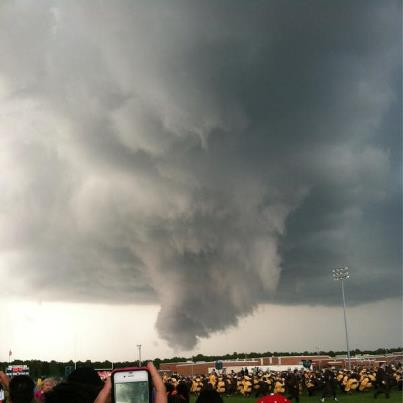 UPDATE: Absegami school oficials are getting a scolding this morning from New Jersey shore weather guy Dan Skeldon, who cannot believe they didn't run for cover at the first sight, at their graduation, above, of, well, something that looked a lot like a tornado! It wasn't a tornado, and the grads managed to get to the hat throwing point of their evening without any casualties, but a lot of is this really happenning consternation. And some awesome video by Matt Blanchard, below. Some parents protested, saying he was being too critical and that school officials and parents did everything they could, given the circumstances. Skeldon scolded: Again, I offer my sincere congratulations to the class of 2012 on your accomplishments, and your graduation is certainly one you will never forget. And I am grateful and consider it very fortunate that no one was hurt seriously. As the video and pictures make the national rounds, I'm hearing two things, awe and surprise. The awe comes from the intense and unfolding meteorological scene captured on camera, the surprise that action wasn't taken sooner. While not assigning any blame to what did or didn't happen in Galloway...I think we can learn from this incident...and all be safer in the future with a local and loud lesson in the dos and don'ts of severe weather safety." Preach it brother Dan! See video below by Matt Blandhard. And Inky weather ace Tony Wood's take is here.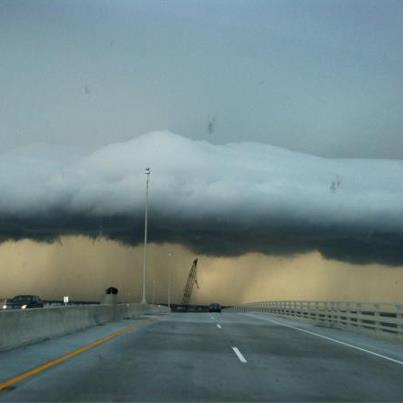 Crazy weather down here at the shore, with clouds rolling in that sure looked like tornados (see above, photo by Rick Henderson (@rickseagles) of the Ocean City causeway looking toward Somers Point. Ace weather guy Dan Skeldon assures all that there was no tornado, just "What look to be some roll clouds, some intense updrafts, downdrafts, rain shadows, mammatus clouds etc. Lots of hail reports, some gusty winds, but again, no tornadoes. That doesn't mean the storms were any less intense...they just were not the rotating kind that lead to tornado touchdowns." Thanks Dan, you're the best. Skeldon questioned why school officials tried to squeeze in their graduation, given the ominous weather bearing down on them.
This video, the fine work of Matthew Blanchard. is nuts! As the Daily News's Jason Nark just pointed out on twitter, people seem "both terrified and happy." Graduations are like that anyway, I guess.