U.S. Army Corps Invites itself down over Memorial Day
In Ventnor, hobie cats are ordered off the beach until possibly June 1st, though Public Works head David Smith says he is hopeful the corps will be done with that portion of their work before Memorial Day.
U.S. Army Corps Invites itself down over Memorial Day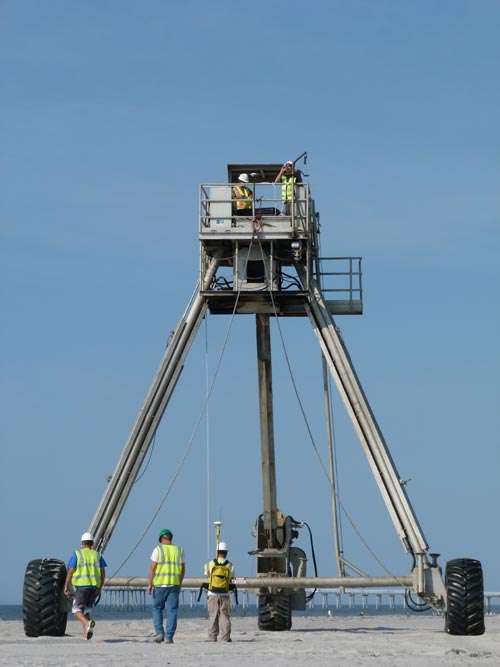 Well, well, well, if it isn't our good friends the Army Corps of Engineers come knocking at our door just int time for Memorial Day weekend. Don't know if they're coming with that crazy beach vehicle they used last summer (above, from the Shore News Today site), but in Ventnor, Public Works Director David Smith has ordered all hobie cats off the Suffolk Avenue beach by May 7th with an end date not expected before June 1, according to an e-mail sent to a few owners of boats (including a friend of mine). So much for that inaugural big weekend sail, though in a phone interview this morning, Smith said he actually believes the Army Corps will be finished with that portion of their job before Memorial Day and the boats will be allowed back. The entire project in Ventnor will be finished by the end of June. It involves shoring back up the dunes built, in a really badly-timed project, last July, from Richards north to the Pier. Those dunes lost about half their sand over the last year, Smith said. They will also pump sand from Richards south to the Margate border, but will not bother with any dunes there, as they have proven to not hold at all. I guess unwanted guests over Memorial Day is a wee bit better than July and August, but these guys have a way of spoiling our fun. They're also very busy, according to Richard Degener of the Press of Atlantic City, removing tons of rocks from some beaches in Cape May that resulted from some new replenishment techniques to avoid the dangerous gullies that formed in the past. Read all about that here.