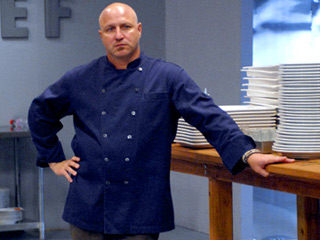 If bald, hunky, judgmental television star chefs are your thing, today is your day to go to the reinvented for 2009 Atlantic City Food and Wine Festival. Noted chef Tom Coliccio, owner of NYC's craft restaurant and top judge on Bravo's Top Chef, will be doing the foodie rock star thing from early afternoon (Healthy Eating with Tom Colicchio at Showboat) to late afternoon (Jeremiah Weed Sweet Tea BBQ Tailgate ... at Bally's Dennis Courtyard ... with Tom Colicchio) to Evening (Food and Wine Spectacular at the Pool at Harrahs ... hosted by Tom Colicchio) to Late Night (Crystal Head Presents: House of Blues After Party ... hosted by Tom Colicchio. Whew. Rock this town, Tom C.
I'll be on assignment for some if not all of Tom Coliccio's big day in A.C. (Who other than Tom could keep up with it all) and will be filing for this week's food section. Tomorrow and Sunday feature more celebrity chefs, including a wine tour with Ted Allen, Feast of Fieri hosted by Guy Fieri, Culinary Demonistration with Ingrid Hffman, The Art of Fondue with Duff Goldman and Ingrid Hoffman, an evening with Emeril lagasse, and, the synergistic shindig, the Malibu Rum Beach Soiree at Bally's Saturday, where all the celebrity chefs will be on hand.
For a complete schedule, and ticket information (some events are sold out), go acfoodandwine.com.