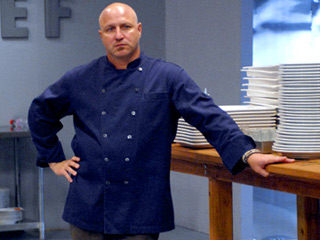 If bald, hunky, judgmental television star chefs are your thing, today is your day to go to the reinvented for 2009 Atlantic City Food and Wine Festival. Noted chef Tom Coliccio, owner of NYC's craft restaurant and top judge on Bravo's Top Chef, will be doing the foodie rock star thing from early afternoon (Healthy Eating with Tom Colicchio at Showboat) to late afternoon (Jeremiah Weed Sweet Tea BBQ Tailgate ... at Bally's Dennis Courtyard ... with Tom Colicchio) to Evening (Food and Wine Spectacular at the Pool at Harrahs ... hosted by Tom Colicchio) to Late Night (Crystal Head Presents: House of Blues After Party ... hosted by Tom Colicchio. Whew. Rock this town, Tom C.
I'll be on assignment for some if not all of Tom Coliccio's big day in A.C. (Who other than Tom could keep up with it all) and will be filing for this week's food section. Tomorrow and Sunday feature more celebrity chefs, including a wine tour with Ted Allen, Feast of Fieri hosted by Guy Fieri, Culinary Demonistration with Ingrid Hffman, The Art of Fondue with Duff Goldman and Ingrid Hoffman, an evening with Emeril lagasse, and, the synergistic shindig, the Malibu Rum Beach Soiree at Bally's Saturday, where all the celebrity chefs will be on hand.
For a complete schedule, and ticket information (some events are sold out), go acfoodandwine.com.
Update: Foodie rock star indeed. Colicchio, he of the bald head and liquidy light blue eyes, was mobbed everywhere he went, so much so that he was basically kept behind ropes at this evening's big event at the Pool in Harrah's, surrounded by security like he was President Obama or something. Meanwhile, chefs from Harrah's, Bally's, Showboat and Caesar's, humped out elaborate little finger food at stations all night long, 1,500 veal meatballs and counting at one station, little tuna tartar and foie gras gelato in tiny cones in another. More sugary deserts than you could shake a white chocolate swizel stick at. More to come.
Another Update: Colicchio and his wife welcomed a baby boy to the world - pulled a bun from the oven, said one headline - the day after his Atlantic City visit. Nice, Tom. Luka Bodhi was born on August 1 at 7:55pm. He weighed in at 6lbs 9 oz.
And here, from Thursday's food section, is the story about my day stalking Colicchio and doing investigatory food journalism for the Inquirer. There were some people very dissatisfied with their experience at the food festival, especially those who paid their own way as opposed to being comped. Seemed the events were widely different, with some, like the clambake, leaving people very satisfied, and others, like the BBQ on Friday, that fell flat. The sessions with the chefs seemed to go over well, less so, the advertised hosting and mingling events, which, at least for Colicchio, seemed to hold less appeal as the day wore on.
Previously: That warm ocean? Nice while it lasted.
Fourth Street Coffee Wars: the debate continues